Teaching Nemo: How I Learned to Juggle Community College While Instructing My 9-Year-Old Nephew From Home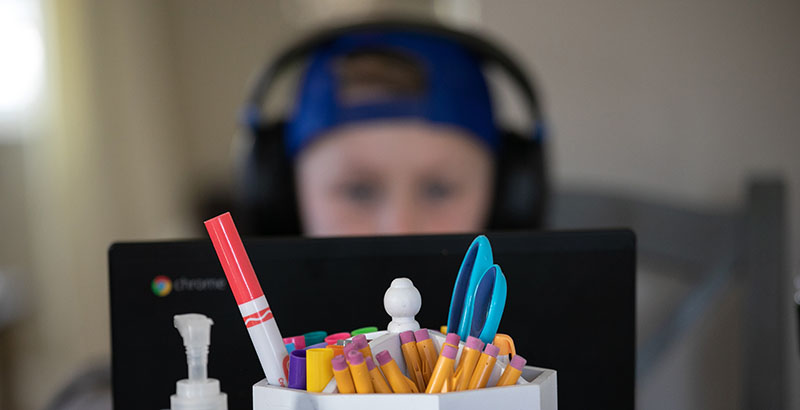 I am a freshman at Middlesex community college, and I've been very anxious about school. We were not able to return to campus this semester, and next semester isn't looking that promising either. I don't know when I will be able to return, I don't know when I will be able to study in the library, and I don't know when I will see my friends.
Oh, and back in March, when all students were sent home from school, I realized I did not know how to teach my third-grade nephew.
I'm juggling a lot. My college classes are all on Zoom. Teachers have seemed to expect us to complete more and more assignments each week. Perhaps they are under more pressure to make sure that we are learning, and that concern translates into additional assignments. Besides that, I have many responsibilities at home. I help translate appointments and pay bills, and I'm now buying most of the groceries because I'm scared to let my mom and dad leave the house.
I live with my parents, my brothers and my 9-year-old nephew, who goes by his nickname Nemo. Nemo loves animals, building Legos and watching Pokémon. Last year, he was diagnosed with autism. At school, he is in a special ed class and has a one-on-one teaching aid. But since the "stay at home" advisory, it's just me and him.
The first weeks after our city's schools closed, Nemo spent every day watching Pokémon. It upset me that he wasn't learning. My mom suggested that I try teaching him. We are refugees and recent immigrants. I have the strongest English in the family, but I had no idea how to be a teacher. When I was 9, I was still living in the ancient city of Samarra in Iraq. Third grade for me was the first year I started learning English.
For help, I reached out to my former high school social studies teacher. She sent me links to math videos, education websites and reading programs. I came up with a class schedule.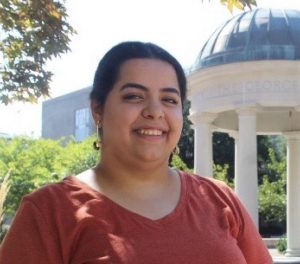 My nephew was confused when I told him I would be his teacher. "Can I have the weekend free?" he asked, a little worried. "Yes!" I promised. "But are you going to be my teacher, not my sister?" (Since he was little, he has called me sister, not aunt.) I laughed. "No, I'm always your sister." He was happy to hear that.
The night before our first day of lessons, I was stressed. Before I went to bed, I worried, "What if he doesn't understand me? What if he asks me a question that I don't have an answer for?" But I hoped everything would go smoothly.
Day one as Nemo's teacher:
9:00 a.m. Nemo is awake before me, already watching Pokémon. "Time to start school!" I said. He jumps up and says, "I have to take a shower first!" He never likes taking showers in the morning! But before I can stop him, he's run away to the bathroom. Sigh. It's only day one.
10:05 a.m.: We finally start our yoga session in my bedroom. Even before I open my computer, he sits, crosses his legs, closes his eyes and chants, "Ommmm." He learned this from a movie he loves. I can't stop myself from laughing. Then he starts laughing. At least we are letting some energy out.
But then he realizes I am serious. We cross our legs on the floor. We twist and stretch our backs up like cats. He thinks it's really fun and wants to do it again and again. My first success!
10:45 a.m.: On to reading. Nemo chooses the book. Of course, he selects one about coyotes that he has read a hundred times before. He reads out loud, but he's basically memorized every page. I try asking questions: What do coyotes eat? Where do coyotes live? Nemo knows every single detail. Maybe I should choose the next book.
11:00 a.m. Nemo wants a break, and because it is the first day, I say OK. I use the time to answer school emails. I have a new English assignment in my inbox, but I can't do it now. I have to focus on Nemo.
11:15 a.m. Since the shutdown, I have been really stressed, and my former teacher suggested I try a meditation app. Today, Nemo joins me. We sit and close our eyes. "Ommmm," Nemo yells. Here we go again! The app tells us to focus on our breath, relax our muscles, let everything go. "Her voice is too soft!" Nemo shouts. "Shhhhhh," I whisper back. I adjust his legs, put his hands on his knees and lightly use my fingers to close his eyes. We focus for three minutes … and then my mom walks in, holding the phone. "Safiya, I need you to translate for the doctor." A few minutes later, we try again. "We are being serious now," I tell Nemo. I have to be serious so he can focus, but inside I'm laughing. Meditation usually takes 10 minutes. Today it takes 25 minutes. And it is in no way relaxing.
11:45 a.m. Time for math. Nemo knows his 1 to 5 multiplication tables. We practice the first multiplication table, and I ask him to write them down. "This is boring!" he shouts. I start panicking. How do I make math interesting? "I'm going to time you," I tell him. He is excited to beat the timer. Success. Now we need to learn the six times tables.
12:30 p.m. A second break: Oreos and apple juice. Nemo excitedly tells me how he wants to become a scientist and find dinosaur DNA. Maybe tomorrow we can study science together?
12:55 p.m. One final book, this one a little harder: Curious George Makes Pancakes. I ask him to read it out loud, but he quickly gets mad. "NO, this is hard!" he says, frustrated that he cannot read out loud and wanting to stop. I end up reading to him. There is a lot of new vocabulary: fundraiser, volunteers, speech. I try to explain each one, and he tries hard to focus. "Can you make pancakes for me?" he asks. I promise him that we will on Saturday. But today, I have two conference calls, three class assignments, one online training for my day care job, and I need to help my dad and brother plant fruits and vegetables in the backyard.
I declare today's school completed.
We've come a long way since that first day teaching Nemo. We are up to the 8 times tables in math, and we've been studying space. He particularly likes black holes. He still laughs during yoga — I'm not quite sure why. And sometimes he still gets impatient with reading.
I have only one student, and it's exhausting. I can't imagine how my teachers manage their classes and support as many as 150 students a day. I appreciate them more than ever before. But I'm also excited and proud that Nemo has continued to learn over the past month even if he can't be with his classmates. I never worried about his education before. Seeing him now as a learner makes me better understand how small things frustrate him, but also how fast he is at math and how excited he is by science.
Given our new reality, there is a lot I feel I don't know. But one thing I do know now is that I can make this new reality positive, productive and loving for my nephew. And that means maybe it can be the same for me.
"Pandemic Notebook" is an ongoing collection of first-person, student-written articles about what it is like to live through the coronavirus pandemic. Have an idea? Please contact Executive Editor Andrew Brownstein at Andrew@The74million.org.
Safiya Al-Samarrai is a first-year college student studying nursing at Middlesex Community College in Lowell, Massachusetts. Her nephew, Nemo, is a third-grader in elementary school.
Get stories like these delivered straight to your inbox. Sign up for The 74 Newsletter