Teacher Strike Delays Start of the New School Year in Seattle
District and teachers union deadlocked over wages, staffing levels and support for English learners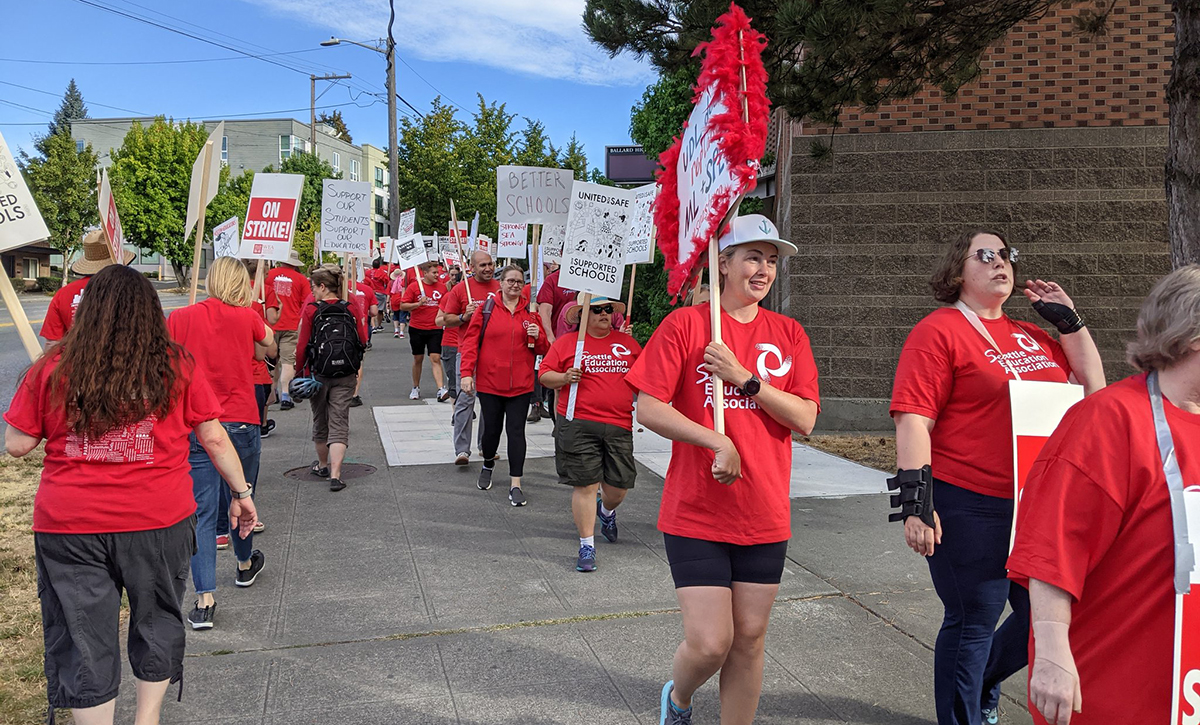 Support The 74's year-end campaign. Make a tax-exempt donation now.
The start of school was delayed for some 50,000 Seattle Public Schools students when teachers and classroom aides went out on strike Sept. 7. Leaders of the Seattle Education Association said 95% of union members who cast ballots voted to authorize the walkout.
While there is no speculation how long the labor action could last in the state's largest district, strikes in other school systems over the last year have ranged from a couple of days in Columbus, Ohio, to three weeks in Minneapolis.
At issue in contract negotiations is higher pay for teachers, aides and other school workers, support for multilingual learners and union demands to protect special education staffing levels as the district implements a long-sought plan to allow students with disabilities to spend more time in general education classrooms. 
Like districts throughout the country, the Seattle school system has lost students since the pandemic began, sparking concerns that lower enrollment — which translates to fewer state tuition dollars — will create budget problems going forward.
Coming out of the holiday weekend, the district had offered across-the-board pay increases to the union's 6,000 members, financial incentives to educators who have or are willing to earn credentials qualifying them to work with English learners, and an increase in the number of school social workers and nurses.
At the same time, after eight days of picketing, educators and district leaders in the Seattle suburb of Kent announced a tentative agreement, ending a delay to the start of the school year for 25,000 students.
The Seattle strike marks a fourth disrupted academic year for students in Washington, where tensions between district and union leaders over reopening schools in the wake of the nation's earliest COVID shutdowns kept many students in remote learning until the final weeks of the 2020-21 year.
According to a school opening tracker maintained by Burbio, Washington state schools had the fourth-lowest rate of in-person learning in the 2020-21 academic year, with more than three-fourths of students in distance learning. Maryland, Oregon and California were the only states less likely to welcome students back in classrooms in person.
As a result, Gov. Jay Inslee issued an executive order in March 2021 requiring districts to offer in-person classes for at least a third of the school weeks. Seattle was among 35 Washington districts that did not receive some federal pandemic aid from the state because of an inadequate reopening plan.
A May 2021 analysis by the Seattle Times found that across the state, compliance with the governor's order varied widely, with some districts providing much more in-person instruction than others. High school students in Seattle Public Schools generally attended classes in person two days a week but for less than three hours each day.
Last year, like districts throughout the country, Seattle schools planned for in-person learning but was disrupted by bus driver shortages, Omicron variant surges and other problems.
The start of the strike sent families scrambling to make alternate arrangements for their children. The district announced that students could pick up free lunches at several school sites and said it was reaching out to community organizations for child care support.
Support The 74's year-end campaign. Make a tax-exempt donation now.