Teacher Residency and Federal Dollars: One Approach to Solving the Rural Teacher Shortage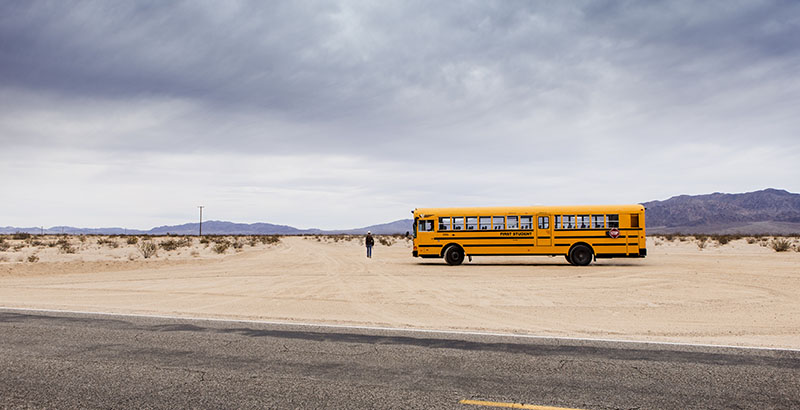 The teaching shortage in one stretch of rural California is so bad that 600 educators are licensed through emergency credentials. The nearest public universities with teaching programs are 50 and 80 miles away.
But a new nearly $7 million federal grant is tapping both online learning and year-long classroom experience to train teachers to bolster the ranks of educators in Tulare County, a large swath of land that's home to Sequoia National Forest and 107,000 K-12 students.
The California Center on Teaching Careers, a statewide body charged with fixing the state's teacher shortage housed at the Tulare County Office of Education, received the grant. The money is part of the latest batch of funds distributed through the U.S. Department of Education's Teacher Quality Partnership program that released $20 million for this year to 31 sites, including several in California.
A 2016 report warned that unless hiring increases, the U.S. will face annual shortages of 40,000 to 112,000 teachers.
Visalia Unified School District, the largest in Tulare County, schooling 30,000 students, will be the main beneficiary of the grant dollars. The grant will establish a teacher residency program there where attendees teach three days a week alongside a senior teacher for an entire school year. One day a week they'll take courses taught by California State University, Bakersfield, instructors. The program could be open to other districts who want to take advantage of the teacher residency program at Visalia.
The hope is that the grant, in place through 2024, will encourage local prospective teachers to receive credentialing and master's degrees to keep them in the area, sparing them half a tank of gas for every day of class and addressing a teacher shortage that's particularly acute in rural California.
Research suggests that the residency model that the program plans to use increases teacher retention. It builds on the medical residency model that emphasizes classroom experience. One 2016 study by the Learning Policy Institute found that 80 percent of teacher residency graduates were still teaching at San Francisco Unified School District, "compared with 38 percent of other beginning teachers hired" by the district and 20 percent of Teach for America corps members assigned to the district.
Last year California lawmakers committed $75 million of the state budget to fund teacher residency programs. This year it put aside nearly $90 million to provide grants of $20,000 for aspiring teachers studying hard-to-fill subjects, enough for roughly 4,500 new teachers and a sizable chunk of the number of new teachers entering the field in the state. In the 2017-18 school year, California issued about 16,500 credentials for new teachers.
Cutting down on teacher churn alone saves rural districts about $9,000, which is the average cost of replacing a teacher in a rural area, according to the Learning Policy Institute. For urban districts, replacement costs can exceed $20,000.
The center intends to apply the residency program's lessons to other rural districts experiencing teacher shortages, said Donna Glassman-Sommer, executive director of the California Center on Teaching Careers. Participants will start in the summer and earn their credentials by the end of the school year. It'll be another six months of graduate school before they earn their master's in education.
Recruitment for the program will include current teachers with emergency credentials, who typically can teach for only a year and have high attrition rates. "They don't have the support that people who are enrolled in programs" for new teachers receive, Glassman-Sommer said. But those emergency credentials have increasingly filled teacher vacancies in California. A 2018 Learning Policy Institute brief pointed out that these permits have "more than quintupled" since 2012-13.
Other sources of potential teachers include new college graduates and early retirees; her center will rely on the services of a staffing nonprofit that specializes in recruiting STEM professionals into the teaching fields. But it's English, not the sciences, that's arguably been the hardest subject to fill in the Central Valley for the past few years, Glassman-Sommer said.
Money from the grant will include stipends of $18,000 for about 20 to 25 participants for each year of the grant, to fund their way through the credentialing and master's degree process. Visalia Unified will kick in another $10,000 for every prospective teacher, said Glassman-Sommer. While the contracts are still being devised, attendees will have to agree to pursue a master's; otherwise they'll likely have to return a portion of their grant stipends. The master's isn't free, but by the time they enroll in that leg of the program, "they will have their preliminary credential and they'll be getting a teacher salary," which allows them to cover their education costs, Glassman-Sommer said.
Participants in the program will also have to commit to teaching for several years in the district, lest they lose out on a portion of the living stipend. Visalia Unified will have the first opportunity to hire the residency attendees. If for some reason program participants can't secure a job at Visalia, "the center will help those candidates get hired somewhere else," Glassman-Sommer said.
Another federal grant of $2.5 million through 2024 will fund Tulare County's efforts to increase the number of mental health professionals working at its public schools. The California Center on Teaching Careers will be recruiting candidates for training to become school-based mental health workers. Participants will earn master's degrees in social work through CSUB or Brandman University and accrue training hours at area schools. A job could await them in the area, "but nothing is a guarantee if it's not a match," Glassman-Sommer said.
Support The 74's year-end campaign. Make a tax-exempt donation now.