Teacher Pay, School Lunches, and Choice: South Dakota's Gubernatorial Candidates Vie to Reshape the Role of Public Education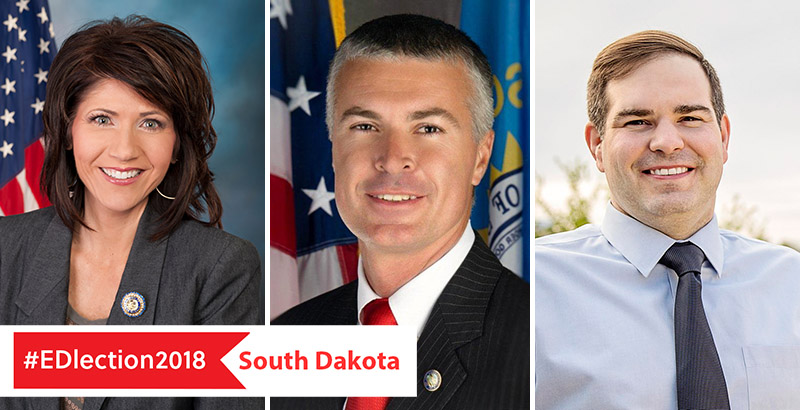 As educators in red states across the country march in the streets to demand better teacher pay, teachers in Republican-controlled South Dakota have reason to be optimistic.
For more than three decades, South Dakota sat dead last in national rankings of teacher pay. But after Republican Gov. Dennis Daugaard convened a task force to study the issue, and lawmakers approved a tax increase to bolster salaries, educators statewide saw an 11.8 percent pay increase during the 2016–17 school year — the largest single-year average raise in the country that year. That raise, according to a recent report by the National Education Association, moved South Dakota ahead of Oklahoma, Mississippi, and West Virginia.
Despite the bump, the South Dakota Education Association offers a note of caution: Without continued improvements, South Dakota could once again find itself at the bottom of the list.
"I would contend we didn't go far enough because we're still last in our region, even when you factor in cost of living," state Sen. Billie Sutton, South Dakota's only Democrat in the gubernatorial election, told The 74. "I think our goal really should have been focused on how we get regionally competitive, but we got done what was feasible."
As candidates vie to replace term-limited Daugaard as South Dakota's next governor, education has yet to play a major role in the political wrangling, said Donald Easton-Brooks, dean of the School of Education at the University of South Dakota. Even though South Dakota's teacher pay fails to compete with that of neighboring states — which recruit talent from South Dakota's teachers colleges — there's a perception that the issue has been resolved.
"I think, for the most part, there is a thought here that education is fine," he said, "but we do have strong challenges, especially with the communities of need" — from the state's Native American students to its growing population of English language learners.
Republican candidates competing in the June 5 primary election are U.S. Rep. Kristi Noem, who has represented South Dakota in Washington since 2007, and Attorney General Marty Jackley, who has been the state's top lawyer since 2009. A recent poll indicates a tight contest between Republicans Jackley and Noem, with results falling within the survey's 5.2 percent margin of error.
The winner of that primary will compete in November against Sutton, the lone Democratic candidate, who has served in the state Senate since 2011. Republicans have held the South Dakota governorship since 1979.
While rankings place South Dakota's public education system in the middle of the pack nationally — a fact, Easton-Brooks argues, that perpetuates the perception that its schools are just fine — a myriad of challenges persist, he said: a staggering achievement gap plaguing the state's native population; growing special education costs; and, despite the salary bump, a teacher shortage perpetuated by educator salaries that remain among the lowest in the nation.
Candidates looking to occupy the governor's mansion have school priorities of their own. Ahead of the primary, here's where the candidates stand on education:
Kristi Noem, Republican
Republican Kristi Noem, who has served as U.S. representative for South Dakota and state representative, is perhaps best known in education circles for her opposition to Obama-era school lunch standards, which required schools to improve the nutritional quality of school meals by serving more fruits, vegetables, and whole grains. But Noem and other Republicans argued that the move amounted to ineffective top-down bureaucracy.
"We all want our kids to be healthier, but a nationwide, one-size-fits-all approach is extremely costly for our schools, jeopardizing the program's long-term viability and putting expensive food on our kids [sic] plates that they aren't even eating," Noem says on her House website, touting a bill she introduced in an effort to give schools more flexibility on school meals.
In a move to "Make School Meals Great Again," the Trump administration relaxed the nutrition standards on whole grains, sodium, and milk last year.
From school lunches and beyond, Noem's campaign website lists accomplishments that closely align with Trump's priorities, including support for tax reform, a bill to withhold funds from "sanctuary cities," and legislation allowing states to pull funding from Planned Parenthood.
As far as school-related accomplishments, she said she "dramatically reduced the federal government's role in education, returning more decision-making authority to states and school districts, and eliminating pressure on states to adopt Common Core."
Although South Dakota lawmakers officially cut ties with the Common Core, an Argus Leader analysis found that the updated standards — the "South Dakota State Standards" — look an awful lot like the Common Core, including bullet points taken verbatim.
Noem's campaign website notes that South Dakota schools consistently produce promising student results, but opportunities for improvement remain. Schools often struggle to make ends meet, she says on her website, "jeopardizing the long-term success of South Dakota's education system."
However, she said, schools are too often evaluated by expenditures rather than student outcomes, arguing that "we need to focus on creating a better system, not a more expensive one."
She offered school choice as a solution, noting that "family is better than government" at raising kids. Although South Dakota is one of just a few states without charter schools, state lawmakers approved a tax credit scholarship program in 2016. Under the law, insurance companies receive tax breaks if they donate to the private school scholarships. She also views performance-based teacher pay, achieved through public-private partnerships, as a way "to financially reward rockstar teachers."
"As a conservative, I will protect the rights of parents to choose the educational path that's best for their child, whether it's homeschooling, public schooling, or a private education," Noem said in her gubernatorial education platform.
Amid a shortage of skilled workers in South Dakota, Noem's education platform also focuses on workforce training. Drawing on her own life experience, she argues that a four-year degree isn't the right fit for all high school graduates — or for the labor market. When her father died, Noem dropped out of college to manage her family's farming operation. After taking online classes, Noem graduated from South Dakota State University in 2012 as a sitting congresswoman. Because college graduates earn more than those without degrees, she said in her education platform, she would work as governor to reduce the cost of a university or technical school degree by simplifying the scholarship application process and encouraging institutions to prioritize affordability.
Job training should also begin in K-12 schools, according to her platform. She wants to strengthen apprenticeship programs, provide career counseling in middle schools, and bolster relationships between schools, employers, and colleges.
Noem didn't respond to interview requests to discuss her education priorities.
Marty Jackley, Republican
A former U.S. attorney and South Dakota's attorney general since 2009, Republican Marty Jackley has branded himself as a fierce critic of "free speech zones" on college campuses, and he promised on his campaign website to "protect the rights of students" to "pray, express their religious faith, and peaceably assemble."
Meanwhile, he boasted suing the Obama administration over attempts "to force students of the opposite sex into locker rooms and bathrooms," referring to an Obama-era guidance document that said schools should allow transgender students to use facilities that match their gender identity. The Trump administration reversed that guidance last year.
The policy platforms are part of the Jackley campaign's "Faith and Family Initiative," in which he advocates for religious freedoms "in the face of federal overreach and unlawful mandates."
Beyond divisive social issues, Jackley's campaign website also outlines the attorney general's focus on workforce development. Referring to young people as South Dakota's most valuable export, he plans to "reverse the trend of youth leaving our state" by creating new job opportunities and encouraging South Dakota expats to return home.
Jackley said he will create partnerships between communities, colleges, and employers to address workforce development challenges. As a board member at Jobs for America's Graduates, a nonprofit school-to-work transition program with partnerships in seven South Dakota schools, he said he aims to improve graduation rates and academic achievement.
"One of the greatest challenges South Dakota employers face is finding young workers ready and able to work," he said on his campaign website. "It is incumbent on us to do everything in our power to keep our at-risk youth populations out of the juvenile justice system, and on track to becoming productive members of the workforce."
While the three leading gubernatorial candidates have pointed to technical education and a statewide labor shortage as top issues in South Dakota, Jackley said his approach would resemble a law enforcement training program, the South Dakota Law Enforcement Training Academy, which he oversees as attorney general.
"We've started up the criminal justice program where we are now training police officers across the state," Jackley told the Watertown Public Opinion. "That's the kind of commitment I've given as attorney general. That commitment will continue as governor."
In order to encourage economic growth, Jackley said he plans to ensure that colleges — in particular, those that offer technical education programs — are affordable through "innovative funding solutions to roll-back [sic] costs for our students." He also argued that colleges should be closely aligned with the state's workforce needs, and he said businesses should be invited to help design curricula that improve the school-to-work pipeline. Business partnerships with schools could also allow for new dual credit and on-the-job work experiences.
Jackley pointed to the state's $50 million Build Dakota Scholarship program, which provides financial aid to students pursuing careers in technology, as a positive example. And while he plans to promote similar workforce development programs, he also aims to ensure that students remain in South Dakota after college.
"By designing our scholarships to incentivize both high academic performance and placement in high-need South Dakota industries, we can expand our workforce in critical areas and help keep education affordable," Jackley said on his campaign website.
Jackley didn't respond to interview requests to discuss his education priorities.
Billie Sutton, Democrat
The lone Democratic candidate in South Dakota's gubernatorial race, state Sen. Billie Sutton won't appear on the ballot until the November election. A former professional rodeo athlete who was paralyzed from the waist down in a saddle bronc accident in 2007, Sutton told The 74 his decision to seek public office was motivated by education.
"After [the accident], it really made me think of things differently, and I started asking myself, 'Where would I be if I hadn't gotten a good education?' " Sutton said. "That answer kind of scared me."
Sutton has served in the state Senate since 2011 and is currently minority leader. During his time in office, he served on the state Blue Ribbon Task Force that successfully raised teacher salaries in South Dakota. And although teachers saw a hefty pay bump, Sutton said he aimed to make South Dakota's average educator salary competitive with those of other states in the region. The state fell short of that goal. If elected governor, Sutton said, he'd look for new opportunities to address the issue again.
Sutton argues that low educator pay has perpetuated a teacher shortage across the state, particularly in South Dakota's rural communities. Sutton wants to create a tuition reimbursement program in high-need areas — similar to an existing state program that offers tuition forgiveness to doctors, dentists, and attorneys who agree to work in the state's most remote corners.
"I thought, 'Well, if we're doing it for doctors, dentists, and lawyers, why wouldn't we do it for teachers?' " Sutton said.
Another top priority for Sutton is early childhood education.
South Dakota is one of six states that do not provide funding for preschool. If elected, Sutton said, he plans to form a task force that would analyze the state of early childhood education in South Dakota and recommend improvements to the state legislature. As a state senator, Sutton proposed legislation last year to create a $5 million public preschool pilot program and a bill to create the task force to explore research on early childhood education. Both bills failed, but Sutton promised a "much more focused discussion" if he's elected governor.
Although he opposes the state private school tax credit program, arguing that it siphons off money that could be used to support public education, he said there are opportunities for reform. Like his opponents, Sutton pointed to the workforce shortage and noted opportunities to improve career and technical education programs. Amid the recession, lawmakers cut the state education budget by 8.6 percent in 2011. Sutton said high school technical classes were hardest hit.
In effect, those cuts hindered the opportunities students had in school, he said, and might have prevented students from pursuing careers in high-demand jobs.
"That really hurt South Dakota, and it hurt the opportunities kids had to learn some of those skills and to maybe fill some areas that weren't being filled," Sutton said.
To improve technical education, Sutton said he would think outside the box, pointing to a program in his hometown, Burke, as an example of success. In 2014, Gov. Daugaard awarded a grant to Burke and three other school districts to offer technical education programs in mobile classrooms that rotated between the districts. From the mobile classrooms, students had an opportunity to take engineering, welding, and biomedical classes.
"Kids would either say, 'I was never interested in health care until I took that biomedical class, now I'm going to go to school for that,' or they would say, 'I definitely know that's something I don't want to do,' " Sutton said. "It gave them more clarity about what they should be thinking about for their future."
Get stories like these delivered straight to your inbox. Sign up for The 74 Newsletter