Tackling Generational Illiteracy in Upstate NY By Any Means Necessary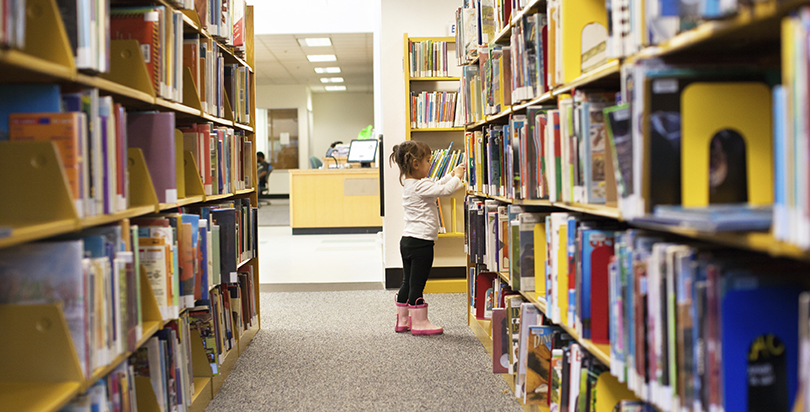 Oswego, New York
Wheels are turning along the coast of Lake Ontario. The bookmobile, a van that travels around with books and snacks for young students, parks in different neighborhoods where families can come and get their kids interesting books and healthy treats like yogurt and vegetables.
In this city some 40 minutes north of Syracuse, teachers and coordinators work to get students not just to read, but to enjoy reading. Both are tasks that educators find difficult to achieve but are fundamentally important for success in the 21st century.
The program coordinator for the
Oswego Bookmobile
, Susan McBrearty says that the bookmobile brings reading materials into people's neighborhoods and helps families create home libraries. There are many families in Oswego who face challenges and don't have the basic tools to encourage students to read, she said.
The bookmobile is an old weapon in the fight to boost literacy, making it part food truck is a newer strategy.
"The bookmobile didn't start off as offering snacks, but it occurred to us that it was the perfect opportunity to bring a healthy snack into these stops and it has worked very well," McBrearty said. "Some families come for the books and happily get a snack. Some families come for the snacks and happily get a book."
Oswego is a small representation of what many students and educators across the nation face when it comes to that most essential cognitive skill — reading. Teachers are using every trick in the book to help children get their hands on books and to help them learn to read, read well and enjoy reading. This isn't an easy feat, especially when students come from homes where books are not within arm's reach and reading is not emphasized.
McBrearty says the bookmobile, which is only active during the summer months, is helpful for students who during the school year are able to receive breakfast and lunch at school. Not only does the van provide food for children during the day, but the books help them maintain their reading skills while not in the classroom, avoiding the so called "summer slide," where children regress because they aren't reading.
In addition to helping create a home library for students, educators in Oswego are trying a variety of methods to get students reading. Donna Miles is a K-2 ELA instructional coach in the Oswego City School district. She coaches other teachers, giving them instruction and aiding them with the best tools to facilitate young readers. She oversees reading teachers like Christine Haessig, a passionate elementary teacher who specializes in getting students to turn pages.
Haessig reflected on a student who only wanted to read books about video games. She said that with kids "you can at least be creative." For this one, she found the books that interested him most and he began to read them.
Technology sometimes serves as a distraction when it comes to educating children, but today's teachers find ways to make gadgets grab the attention of young readers.
"We're up against kids looking at iPads and cell phones," Haessig said. "Video games are huge."
A new reading technology,
myON
, is an online computer program made to give game-oriented students a digital reading method during class. MyON has more than 10,000 books and can match a student's interest while monitoring success by giving content questions. The program reads the pages aloud to students in a human voice while they read along on the iPad or computer. Haessig says that students love it.
Smart phones and tablets are the toys of today and Haessig noted that many of her students are dying to get to play with them. She says that when students use myON, they sit and listen intently.
Haessig and Miles said they have taught generations of students from the same families who leave school without reading and send the next generation of young ones to class, who also have trouble learning.
"It's a cycle that doesn't get broken," Miles said.
A
2012 study
by the National Center for Education Statistics found the United States is below average in literacy abilities for adults between the ages of 16 and 65. The U.S. ranked behind 15 other countries with Japan and Finland occupying the top two spots, respectively.
In 2003, the
National Center for Education Statistics
estimated that there were roughly 15 million people living in New York state over the age of 16, 22 percent of whom lacked the basic ability to read prose. Of the 96,354 people over the age of 16 living in Oswego County in 2003, an estimated 12 percent could not read basic texts.
"We can't do it alone. Everybody has to advocate, I used to teach students one-on-one and even then sometimes I wasn't successful," Miles said.
What it seems to come down to is the need for collaboration. Haessig said the research shows young students need three dedicated teachers in a row. Shockingly, she mentioned some young teachers she's met who say they don't like to read. Finally, and most importantly, are the families who are major players in development. Without strong
encouragement from the family, a young reader might find it tougher to learn to read and even tougher to enjoy literature.
"I wish people realized it's never too early to put a kid on your lap and read with them," Haessig said.
Reading is like a quilt; students need all types of materials to get wrapped up in it.
Shanna Fuld is a writer/reporter, native New Yorker and 2016 graduate of SUNY Oswego.
Support The 74's year-end campaign. Make a tax-exempt donation now.