Swetland: As a Student of Color, I Feel Unsafe After Incidents of Racial Intolerance on Campus. We Must All Be Protected From Hate and Gun Violence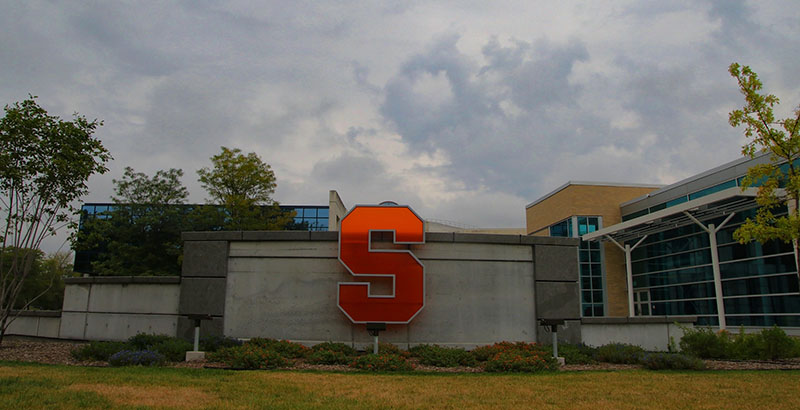 Within the past few weeks, there have been almost a dozen instances of racial and religious intolerance on Syracuse University's campus. In several cases, slurs against African Americans and Asians were written on the walls of dorms and academic buildings, African-American students were verbally harassed in a residence hall and on the street, and a large swastika was found drawn in the snow. Most recently, the same manifesto cited in the New Zealand mosque shootings earlier this year was circulated on campus. This manifesto was Air-Dropped to students in a library and posted on a popular online campus forum, Greek Rank, captioned, "We must secure the existence of our people and a future for white children." Because of the manifesto's context and the white supremacist rhetoric it espouses, students and faculty of Syracuse University have considered this document to be a shooting threat.
In my junior year of high school, I became more involved in advocacy causes, including gun violence prevention, and was a founding member of a political advocacy club at my school. After learning that an AR-15 was used in both the Las Vegas Route 91 and Marjory Stoneman Douglas High School shootings, I began educating myself on the lack of gun safety measures in America. I saw mass shootings becoming increasingly prevalent, and I quickly learned that gun violence is an epidemic that disproportionately impacts people of color, women and members of the LGBTQ+ community. Outraged and frustrated by this reality, I started a Students Demand Action group in southern Virginia, where I'm from. With more than 350 local groups across the country, Students Demand Action is a movement of young people working to end gun violence in America. I soon became a national leader within the organization by joining the National Advisory Board.
As a minority student living in a dorm where racial slurs were shouted in the halls, I feel uncomfortable. With the FBI investigating the distribution of the manifesto as a potential shooting threat, I feel unsafe. And even though the university has agreed to many of the demands of outraged students — expelling students responsible for racist graffiti, implementing zero tolerance for hate speech and reforming curriculum to address diversity concerns — as a person of color, I feel like a target.
In an average year, more than 10,300 hate crimes involve a firearm — more than 28 each day. The number of hate groups in the U.S. has increased by 30 percent between 2015 and 2018, and this rise in hate reverberates out into the communities of those who are targeted. When guns are involved, these displays of intolerance frequently become deadly. From the shootings targeting people of Jewish faith at the Tree of Life Synagogue in Pennsylvania, aimed at the LGBTQ+ community at Pulse nightclub in Florida and against Mexican-Americans at an El Paso Walmart, hate crimes go from despicable acts to mass casualty events when firearms are involved.
Some states, like New York, have instituted Extreme Risk Protection Orders, also known as red flag laws, which can temporarily remove firearms from individuals who prove to be a serious threat to themselves or others. Unfortunately, the U.S. Senate has failed to pass a strong red flag law. This inaction leaves Americans without a lifesaving tool that can help prevent hate-based gun violence.
We also need to pass the Disarm Hate Act. This legislation would amend federal law to ensure that individuals convicted of misdemeanor hate crimes cannot buy or possess firearms.
Here at Syracuse University, professors have canceled four days' worth of classes due to instances of racial and religious intolerance. There is fear among minority students and faculty that this torrent of pervasive hate will turn to violence. Before November break, many students left campus early. This is unacceptable — instead of focusing on our studies, my classmates and I are preoccupied with safety concerns and intolerance. I know that if the Disarm Hate Act were already in place, I would feel safer because my university would have systems and processes to know more, and protect our campus. I'm grateful that New York passed an Extreme Risk law, but there is more to be done. We must educate our families and law enforcement officials about the intricacies of this law and how to use it appropriately.
Students like myself, both at Syracuse University and across the nation, demand that steps be taken to protect us from hate-fueled gun violence.
Jenna Swetland is a first-year student at Syracuse University, where she's a Maxwell leadership scholar and a co-founder of the Syracuse University chapter of Students Demand Action. She sits on the 2020 Students Demand Action National Advisory Board.
Support The 74's year-end campaign. Make a tax-exempt donation now.