Survey Results: Private, Charter School Parents More Satisfied Than District School Parents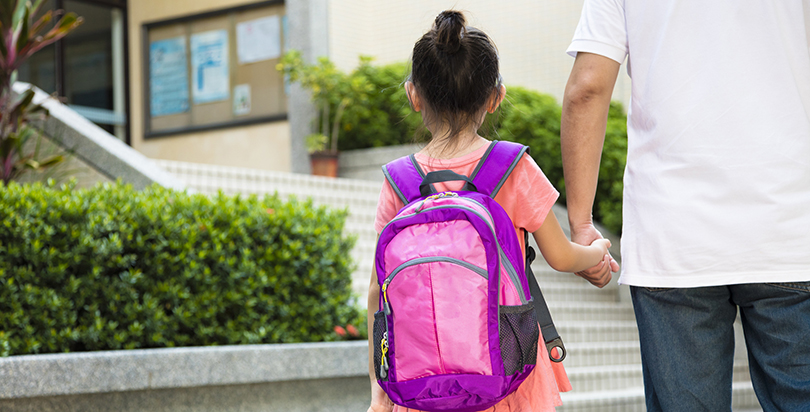 A first-of-its-kind, sector-wide parent satisfaction survey revealed that private and charter school parents report being more satisfied with their children's schooling than parents whose children attend district schools.
Panelists on Tuesday discussing the results speculated that parents' ability to choose their child's school resulted in greater satisfaction.
"I think that's what this data is telling me. If you have a school where you're paying the money, and that school is going to lose money unless you continue to send your children there, they're going to pay attention to your children," said Paul Peterson, professor of government and director of the Program on Education Policy and Governance at Harvard Kennedy School.
One survey asked parents how satisfied they were with teacher quality, discipline, expectations for student achievement, safety and instruction in character and values. Private school parents were on average 12 points more satisfied in these areas than charter school parents, who in turn were 13 points more satisfied than district parents.
Peterson drew a similar conclusion with the charter school satisfaction rates even though parents do not pay tuition for their children to attend charters. The schools still rely on — and have a greater stake in maintaining — parental satisfaction because that drives parental choice in enrolling their children, he said.
The data come from two studies released Tuesday by Education Next, an opinion and research journal that focuses on school reform issues. Peterson is senior editor of Education Next, and the Harvard Kennedy School is a sponsor.
The first survey
was commissioned by
Education Next
and collected data from a nationally representative sample of 1,500 parents in May and June of this year, the organization said. Those parents were queried on discipline, achievement expectations, teacher quality and the other factors.
The
second data set
was gathered from the U.S. Department of Education's survey of 17,000 parents in 2012. Those results were released in 2015 and updated in 2016.
The Education Next–commissioned survey also found that social disruption was a greater problem at district schools than at private and charter schools. District parents reported student drug use, destruction of property, fighting and missing classes as very serious problems 8 percentage points higher than charter parents did.
Charter parents were more likely to report a lack of extracurricular activities as a negative factor — 14 percentage points higher than district parents. Charter parents were also the most likely to say they received frequent communication from their child's school: 15 percentage points more likely to hear about volunteering and 7 percentage points more likely to hear about their student's achievements than district parents.
The second set of data came from the U.S. Department of Education and was gathered from four groups of parents: charter, private, assigned-district and chosen-district sectors. Because the sample size was much larger — 17,000 respondents — researchers could analyze the results by subgroup.
Here researchers also found that private school parents were most satisfied with their schools, followed by charter school parents and parents who chose their district school.
They also identified that in every sector except private, parents of elementary school children were more satisfied than parents whose children were in high school.
Nina Rees, president and chief executive officer of the National Alliance for Public Charter Schools, said the data confirm what many already knew. She said it makes sense that satisfaction with charter schools falls somewhere between private and district schools because many charters are designed to imitate the best practices of private schools.
However, she said she would be curious to look at satisfaction rates among different types of charter schools, for example, seeing high- performing charter schools like Success Academy and BASIS compared with area private schools.
"One concern about the survey, though, is that charter schools are not a monolith," Rees said. "If you go to one charter school, you've really just gone to that one school."
The National Center for Education Statistics
reports
that 2.5 million students, about 5 percent of all U.S. students, are in charter schools. About 5.4 million, or 10 percent of the school-age
population
, attend private schools.
In the 2013–14 school year, 37 percent of charter school students attended a high-poverty school, one in which more than 75 percent of students qualified for free or reduced-priced lunch. That number was lower in public schools, at 24 percent, according to the
National Center for Education Statistics
.
Subgroup data collected from the U.S. Department of Education survey show that both high-income and low-income parents are most satisfied with private schools first, and charter schools second.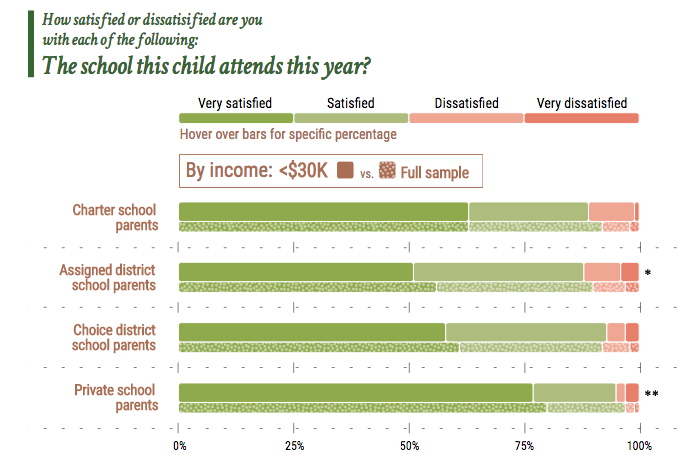 The researchers said that these results represent perceptions rather than realities but nonetheless indicate what parents want amid an environment of heated debate over charter schools and private school voucher programs.
Recently, Massachusetts voters overwhelmingly defeated a ballot initiative to increase the cap on the number of charter schools allowed in the state, which has some of best-performing charter schools in the country. The legality of Washington state's charter schools is headed to that state's Supreme Court once again this year. Nevada's Supreme Court ruled its voucher program unconstitutional, and Florida's Supreme Court will soon decide the fate of its tax-credit scholarship program, which sends low-income students to private schools.
These discussions became more relevant with President-elect Donald Trump's nomination of Betsy DeVos as secretary of education. DeVos has advocated for private school voucher programs and the expansion of charter schools.
But panel member Howard Fuller — a distinguished professor of education at Marquette University, who chairs a charter school board, said he wasn't sure what effect the survey results would have on those school choice debates.
"I know for a fact that not all parents in this country have the same level of power," Fuller said. "And with all due respect to everyone who talks about poor parents, the reality is that for a lot of elected officials, poor parents' views don't matter."
The Dick & Betsy DeVos Family Foundation provides funding to The 74, and the site's Editor-in-Chief, Campbell Brown, sits on the American Federation for Children's board of directors, which was formerly chaired by Betsy DeVos. Brown played no part in the reporting or editing of this article. The American Federation for Children also sponsored The 74's 2015 New Hampshire education summit.
Get stories like these delivered straight to your inbox. Sign up for The 74 Newsletter