Survey: Parents Can Be Happy with Their Kids' Schools — and Want Choices, Too
Doyle: American families want not just a good education for their children, but a great one. Policymakers must take that preference seriously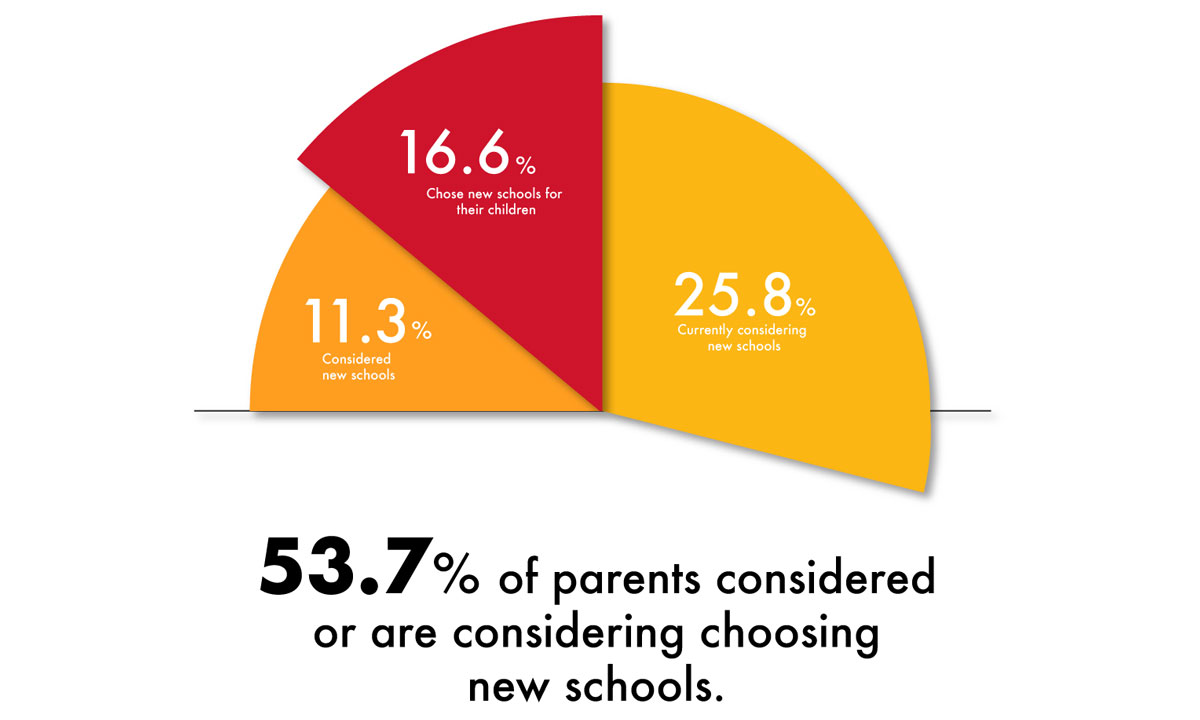 Support The 74's year-end campaign. Make a tax-exempt donation now.
Can parents who are satisfied with the quality of their child's school still want more information about options, or even be considering new or different schools? A new survey this month says so: 68% of parents are happy with the schools their children attend, but 54% considered a new school within the last 12 months.
These findings, released last week in a survey of 3,820 U.S. parents of school-aged children by the National School Choice Awareness Foundation, paint a vivid portrait of a population that is eager for new education options, willing to consider innovative alternatives and hungry for information.
High parent satisfaction while searching for something different isn't as paradoxical as it might sound. American families want not just a good education for their children, but a great one. Sometimes that means finding a better fit that's specific to their unique student, even if he or she already attends a strong school.
According to the survey, interest in considering new schools is highest among key demographic groups that make up a growing share of the K-12 parent population: Black, Hispanic and young millennial parents between the ages of 18 and 29. Nearly two thirds of Black (64.5%), Hispanic (64.6%) and young millennial (63.3%) parents considered new schools for their children last year.
More than a third of parents in each of these demographic groups also said they participated in out-of-school learning projects with other families, including microschools or pods. All of this rings true to my millennial ears. Call millennials disruptors (or high-maintenance), but my generation is loath to accept things as given or immutable. I have a theory that this perspective on education in particular comes from having grown up in a time of greater school choice than ever before. Since the Milwaukee Parental Choice Program passed in 1990, and the first public charter school opened its doors in Minnesota in 1992, my generation of students has grown up in a market of broad education options.
Having school choice is an expectation in many communities, and it continues to expand across the country. When parents face a lack of choices in their communities, they create their own. They want diverse education options that reflect their communities and address the specific needs of their children. But as today's parents consider the best learning options for their children, they also have specific needs that education leaders and decisionmakers must work to meet.
First, nearly half of parents (48%) in the survey said their community does not offer enough schooling choices for families — and transportation is a key issue. One third of parents who did not seek out new schools said they would be likely to consider making a switch if transportation were provided. Officials must listen to these families and take their concerns seriously.
Second, there's more work to be done to meet the growing demand for information about education. Nearly two thirds of parents –– including 75.3% of young millennials, 71.2% of Black parents and 75.7% of Latinos –– said they would benefit from knowing more about the choices available for their children's education. As the available types of schools in states and in local communities change over time, education leaders have a duty to communicate with parents in jargon-free, practical and proactive ways so they choose well for their children.
Addressing this second challenge is at the core of my work at the foundation. It's why the foundation, in partnership with tens of thousands of schools, works to inform and inspire parents each January during National School Choice Week. And year-round, we provide school navigation resources such as articles, videos and social media Q&A's in English and in Spanish via the School Choice Week and Conoce tus Opciones Escolares brands.
Education leaders and decisionmakers must recognize that all students are unique and support them in their formative K-12 years with responsive, robust education options. It's no less than they deserve, and no more than what America's parents expect.
Support The 74's year-end campaign. Make a tax-exempt donation now.