Survey Finds Most Teachers Assigned Busy Work in the Spring. Now, Experts Say, It's Time to Give Students More Challenging Assignments — Remote or Not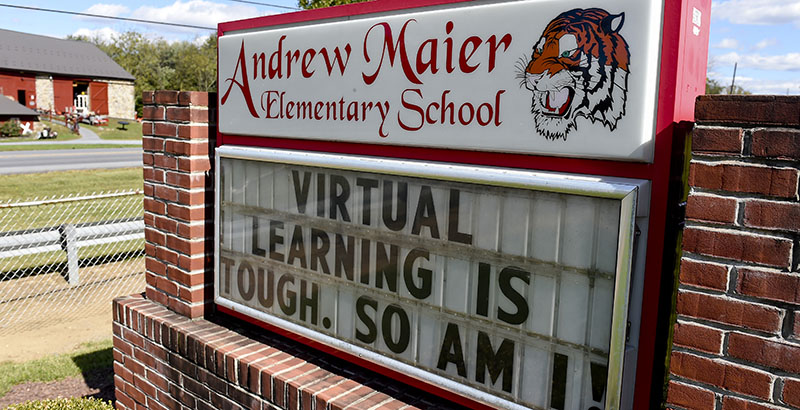 Eighty percent of students in a new survey said their teachers gave them more assignments when classes went virtual, but 60 percent of them said most of the work was easy or covered material they already knew.
That's left students — especially those in middle and high school — anxious about keeping up with the curriculum this year, according to the study, titled "Upended Learning." About two-thirds of students at those levels responded that they're worried about being unprepared.
Conducted by the Innovation Lab at Cognia, a nonprofit accreditation and assessment organization, the survey gathered responses from more than 58,000 students, parents and teachers in the U.S. — likely the largest sample yet to weigh in on the effects of remote learning.
The results show that both students and parents sympathize with the challenges teachers have faced in shifting to distance learning. But they also raise questions about how prepared students are for the subject matter they're learning this school year. More than half of parents expressed concerns their children might not be ready for the grade level they're in.
The results of the survey buttress observations Cognia's evaluators made during school accreditation visits this fall. Accreditation usually involves in-person classroom observations, but this year, evaluators are sitting in on virtual classrooms in districts that haven't reopened. Their findings suggest some teachers still lack the skills needed to give students challenging assignments while teaching remotely.
"Teachers are really struggling with engaging kids consistently in the online environment," said Mark Elgart, president and CEO of Cognia. "Their isolation from each other is contributing to that problem."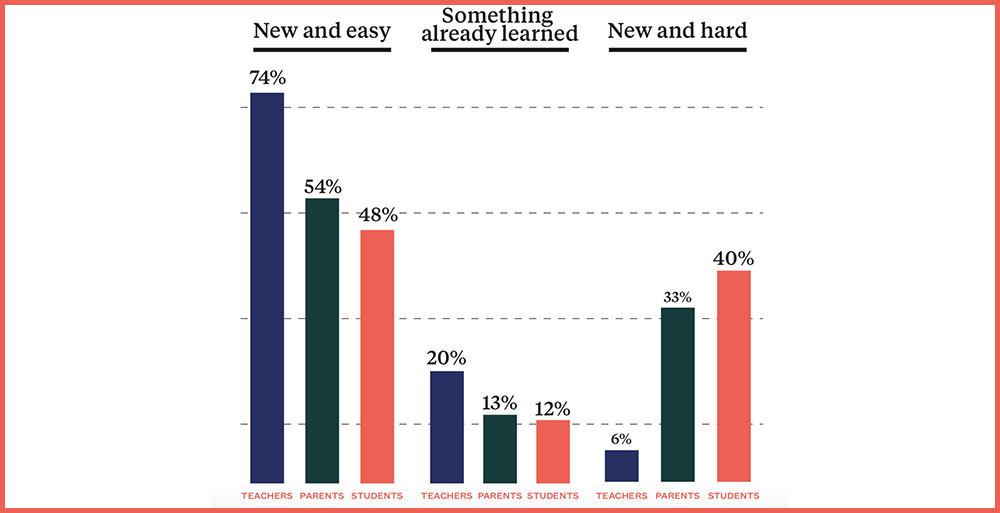 Elgart said the organization has so far completed about two-thirds of the 1,200 accreditation reviews scheduled for this fall. While the first eight weeks of the new school year are generally a "calibration period" used for revisiting last year's material, he said teachers are now at a point in the school year where typically they would turn to new, grade-level material. Many, however, had been hoping that in-person learning would have returned by now.
Teachers, he said, might think they can't assign more challenging work if they're not in the classroom to provide students support in the moment. When students learn remotely, he advises teachers to organize them into groups so they can collaborate, and then check in with them at least weekly to monitor their progress. "It has to be in a supportive network," he said.
The survey also showed that 90 percent of teachers said they felt disconnected from their colleagues and 42 percent said it is harder to teach online than in person.
Parents lack information
While multiple surveys have focused on the disruption in learning caused by school closures, most don't have such large samples.The results, Elgart said, are likely more balanced than some local snapshots of parents' perceptions of distance learning.
But additional data from The Education Trust-West, an advocacy organization, may add more fuel to Elgart's notion that remote instruction has a lot of room to improve. The organization's recent survey of California parents, released Oct. 15, shows that satisfaction with distance learning has fallen significantly, particularly among low-income families.
Thirty-five percent of respondents, polled in the first week of October, reported being pleased with how distance learning has gone so far this fall. That's down from 57 percent in the spring. Two-thirds of parents also say they lack information on whether their children are making progress. The rates were higher among Latino parents (69 percent) and those in the Los Angeles area (72 percent).
Adrian Pedroza, the national director of strategic partnerships for Abriendo Puertas/Opening Doors, a nonprofit that trains Latino parents to monitor their children's progress and become leaders in their schools, said he hears the same concerns.
"The majority of parents say that they are having difficulty supporting their children at home because of their unfamiliarity with the subject matter," he said. "Parents are also conveying that they are wanting daily or weekly feedback from teachers and schools about whether their children are specifically meeting learning expectations."
Robin Lake, the director of the Center on Reinventing Public Education, which has monitored remote learning plans since the spring, said if teachers aren't yet covering key grade-level skills, it's because a lot of districts chose to begin the school year with a focus on students' social and emotional well-being.
She said that while building connections between students and teachers is important, it's also "hitting a lot of districts right now that they need to prepare for the rest of this year online."
Compared with the spring, many districts have clearly increased the amount of time students have live class time with their teachers and peers. They're also monitoring attendance more closely and reinstating normal grading practices, Lake said, but that doesn't mean they're "zeroing in on missing skills."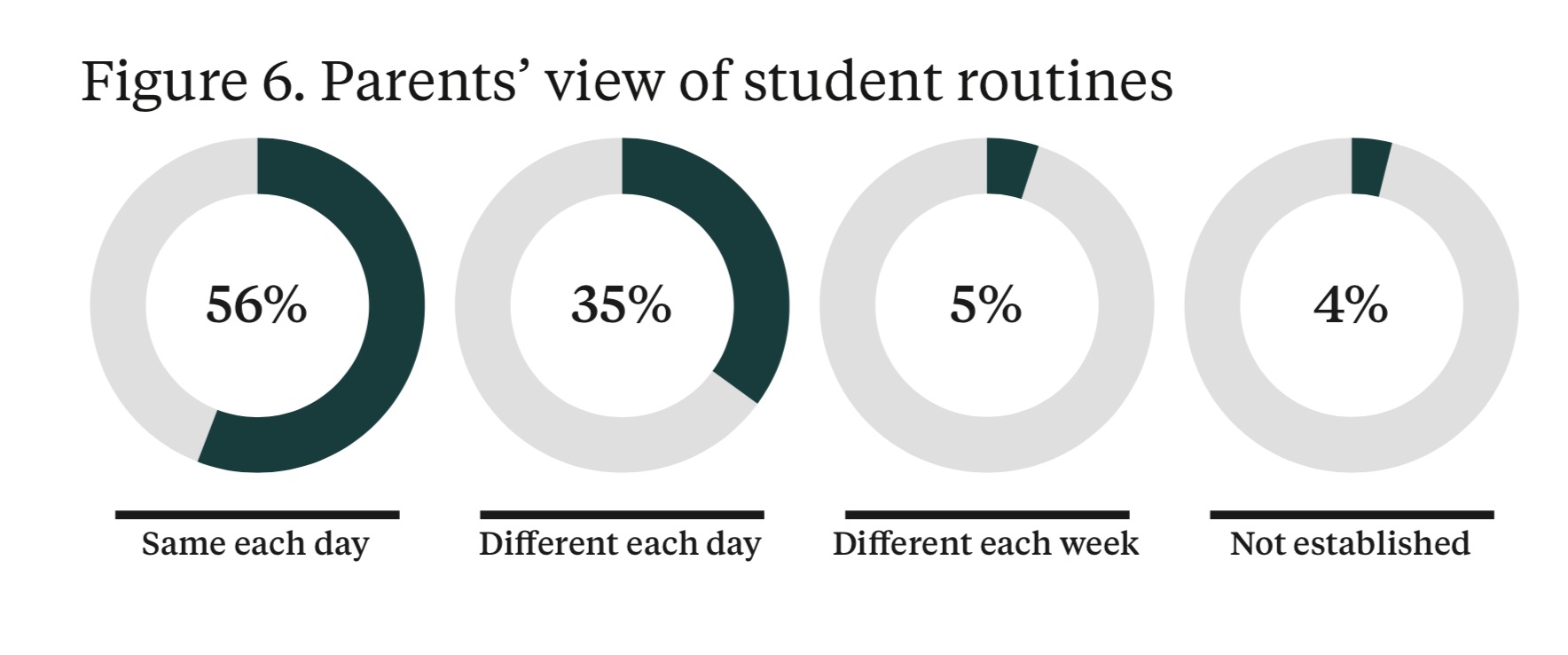 Catching students up
Louis McCall, who teaches 7th grade math at Camden's Promise charter school in New Jersey, said it "appears the 'summer slide' that all teachers plan for and anticipate each year has been amplified these first few months."
He said with the help of technology, teachers are identifying gaps not just from last spring, but also "finding the holes in many students' learning from years past."
That's requiring the school to think differently about what to expect from students as the year progresses, said McCall, who teaches students whose parents opted to stay in a full-time virtual program after the school implemented a hybrid schedule.
"It is becoming apparent that many of these students have these struggles because of an approach that encourages teachers to keep up with a predetermined instructional pace," he said. "This year, we are being given the trust and support to catch these students up before we try to move them forward."
Elgart said it's important for teachers to draw lessons from the switch to remote instruction — regardless of how long the pandemic lasts.
"The movement of learning from the physical to the virtual space is going to stay with us," he said. "It's really important that we learn as much as we can from it."
Support The 74's year-end campaign. Make a tax-exempt donation now.