Summit Charter Schools Launch America's First Teacher Residency Training Program for Personalized Learning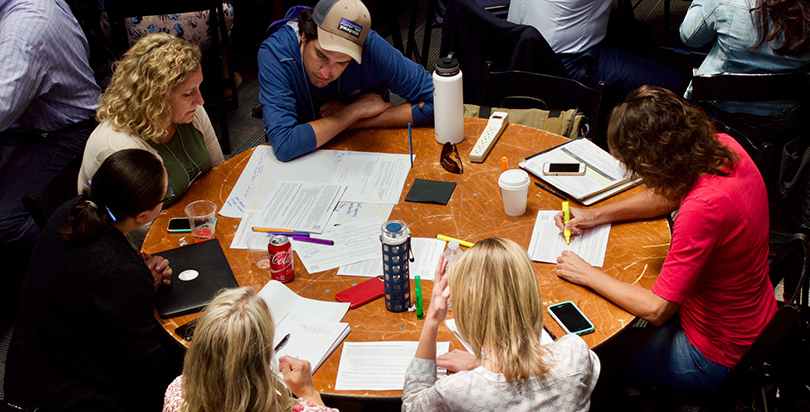 A network of charter schools in northern California this month will launch the nation's first teacher residency program focused on personalized learning.
Twenty-four teachers-in-training will be part of Summit Public Schools' first Summit Learning Residency Program, which will train them to lead students in a personalized learning classroom setting — a hallmark of the Summit model.
To immerse them in the practice of tailoring education to the individual, the residents themselves will learn their coursework and receive their teaching credentials through personalized learning.
Personalized learning adapts instruction, curriculum, and testing to each student's strengths and preferences, allowing them to work at their own pace. Instruction is usually project-based and is customized through technology and data, as well as one-on-one mentoring between a student and the teacher.
"Even really experienced teachers coming into Summit have a steep learning curve. It's a very different approach to how you think of your role as a teacher and how you're going to move students through the curriculum," Pamela Lamcke, the new program's director, said in an interview. "Our hope is that if we can front-load this experience in the credentialing year, they'll come in stronger."
For four days a week, the residents will work alongside a teacher in Summit's eight California schools, which are middle and high schools in Sunnyvale, Redwood City, El Cerrito/Richmond, San Jose, and Daly City. At first, the residents will observe an experienced teacher and then eventually take over teaching one section of a class. Every Friday, the residents will meet as a group and either engage as a whole group, in smaller groups, or in a one-on-one setting with their instructor completing their own coursework.
Leaders hope the program will serve as a training ground for future Summit teachers, but the residents are not committed to teach for Summit once they graduate and receive their California Preliminary Teacher Credential.
Janine Peñafort graduated from Summit Prep in 2012 and will be part of the residency program. She said she realized she wanted to become a teacher as a high school student, when she would observe her teachers and think about how she would lead the lesson.
"I was really inspired by my high school teachers," she said. "It just seemed like they were having fun in teaching and also working with each other."
She first got to see personalized learning in action when she was part of the tutoring program at Summit Tahoma, a high school in San Jose. (Summit Prep had not yet adopted the personalized learning model when Peñafort was a student.) While she had her doubts at first about how it would work, she said she was able to see how students were progressing through their coursework in real time while still getting personal attention.
"Being an actual teacher within this model just taught me a lot about the reasoning behind it and the way it's benefiting our students," she said.
Peñafort believes that studying through a personalized learning setting as a student in the residency program will help her professionally.
"I think this upcoming school year is going to be very interesting because I'm going to be able to say, 'I'm basically learning the same way that you're learning right now.' So if any struggles come up, I'm going to be able to empathize with students as a personalized learning learner," Peñafort said.
The majority of the residents received their bachelor's degree one to four years ago and were chosen from a pool of Summit tutors and teaching aides. Summit has been accredited to award credentials, and the residents must meet the same requirements they'd be expected to complete in traditional teacher credentialing programs.
Personalized learning has origins in the Montessori model, which began in Italy more than 100 years ago. But schoolwide personalized learning as it is practiced today stemmed in the last few years from the development of technology and software programs to support individual student learning. Many of the pioneers of the personalized learning model are charter school networks, like Summit, because they are usually smaller than traditional schools.
(Read more from The 74: Personalized Learning Boosts Math Scores, New RAND Study Finds — But Scaling Is a Challenge)
One criticism of personalized learning is that technology plays a dominant role in a student's learning, shifting the focus from the teacher at the front of the classroom, but Summit leaders say teachers are a vital part.
"We believe absolutely that teachers are the core of a personalized learning classroom," Lamcke said. "Technology is a tool that teachers use, but it does not take the place of a teacher."
She said while students are engaged in the technology, which was developed for Summit by a team of coders from Facebook, it frees up the teacher to do one-on-one check-ins and provide timely feedback. The teacher can also take aside a small group of students who need more support while the others move forward.
"Really if you look closely at the data, not every student in the same bucket needs the same support or resources," Lamcke said. "And so what we're asking teachers to do is use a lot of data to really think about the needs of every single student, so everyone is able to access what they need and nobody is waiting for anybody else to move forward."
Jimmy Zuniga, who teaches English at Summit's Everest Public High School in Redwood City, will be a mentor teacher to the residents. He also attended Summit schools, graduating from Summit Prep in 2008. Zuniga said that when he started teaching at Summit four years ago, there was a learning curve even though he graduated from a well-respected teacher training program at Stanford. He said he had to adjust from a teacher-centered classroom to a student-centered classroom.
"I think if I had done the Summit (residency) program, I think I could have learned some of the basics built around good teaching in the context of a student-centered classroom, which would have enabled me to be more effective more quickly in differentiating from my students once I did step into my own classroom," he said.
As a mentor teacher, he wants to give back to his community by helping to train a new generation of educators. Zuniga said he wants to instill in the residents the necessity of having a growth mindset and being willing to constantly improve.
"I think as teachers at Summit, we're constantly trying to think about how we can better serve the kids that we teach every day," he said.
The first class of teachers in training will not pay for the program, but Lamcke said she expects residents will pay tuition in the future. The program leaders are still figuring out how the program will be financed on a long-term basis. She declined to say where the funding for the first year is coming from.
Ultimately, Summit would like to expand the teacher residency program to the 130 schools nationwide that use the Summit Learning Platform.
"Coming from a traditional school setting, it's really exciting to jump into a personalized learning model. … So I, too, am learning alongside the students," Peñafort said. "I think it's really teaching them how to become independent learners starting from the time they enter Summit."
---
---
Support The 74's year-end campaign. Make a tax-exempt donation now.