Summit: Bobby Jindal Says States Shouldn't Need a Katrina to Turn Around Failing Schools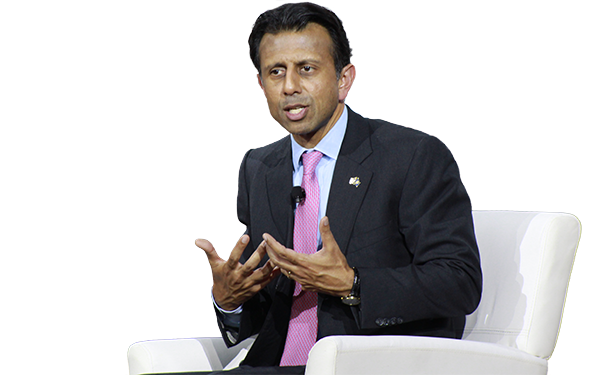 The education revolution that manifested in New Orleans schools — and later expanded throughout Louisiana — in the years after Hurricane Katrina should be a lesson for educators, parents and policymakers,
Gov. Bobby Jindal
said at The Seventy Four's education summit.
"It doesn't take a Katrina to cause us to be able to do education reform," Jindal said. "In some ways, you have our own education disaster happening today in many communities, where children are already trapped in failing schools and it shouldn't take a hurricane to cause us to take the drastic steps — not incremental steps, but the big steps — to change that situation so that they can all have a chance to get a great education."
---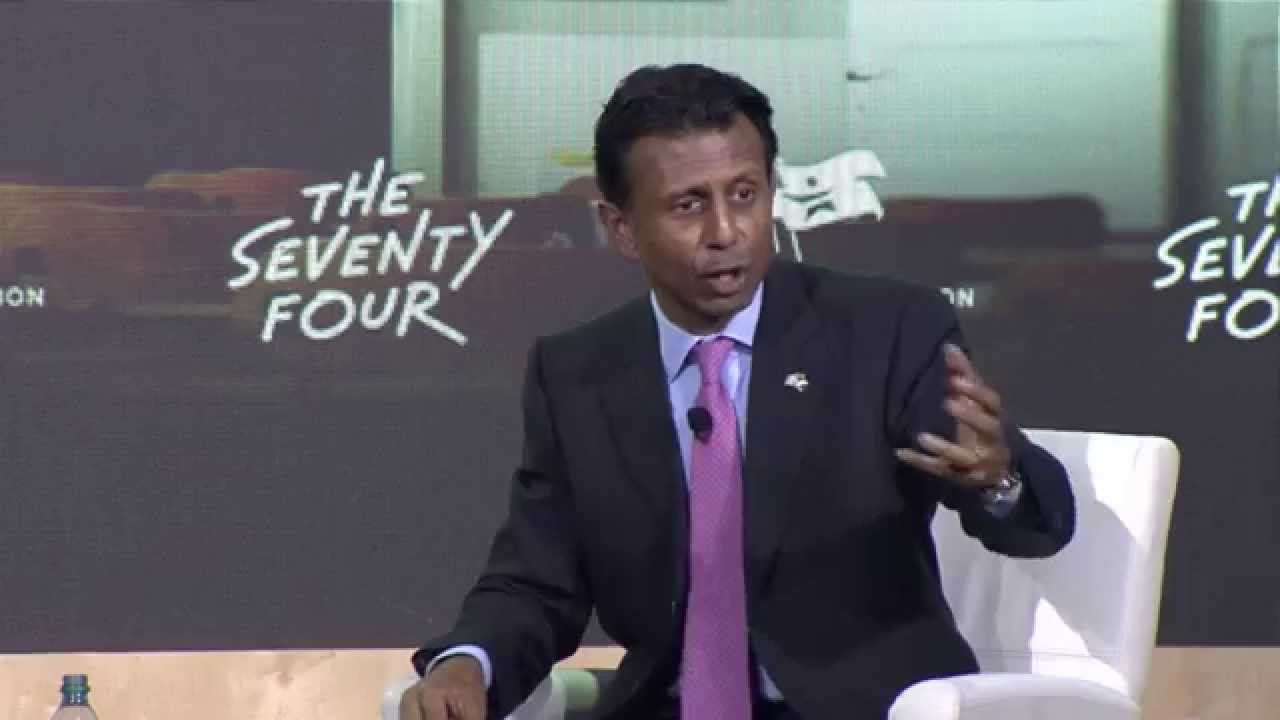 ---
Jindal, governor since 2008 and a congressman since 2005, recently rolled out a
national education reform plan
, calling for greater school choice, tenure reform and "educator freedom," primarily ending the Common Core modeled on what he's pursued in his home state.
Even pre-Katrina, New Orleans' schools were described as some of the worst in the nation, without proper facilities and basic supplies, Jindal said. And though NOLA's transition into the nation's only 100 percent choice city was quickly set in motion after Hurricane Katrina's devastation, its recovery school district was planned prior — in response to city schools failing 60 percent of students, he said.
"I would invite everybody to come and learn and see the New Orleans example because, yes, there were some unique challenges, there were hurricanes Katrina and Rita, but there are lessons I think that can be applied everywhere across the entire country," he said.
If it were up to a President Jindal, the "one-size-fits-all" Common Core standards would do a quick fade from the education landscape, he said.
Louisiana adopted the learning standards in 2009 with Jindal's blessing.
---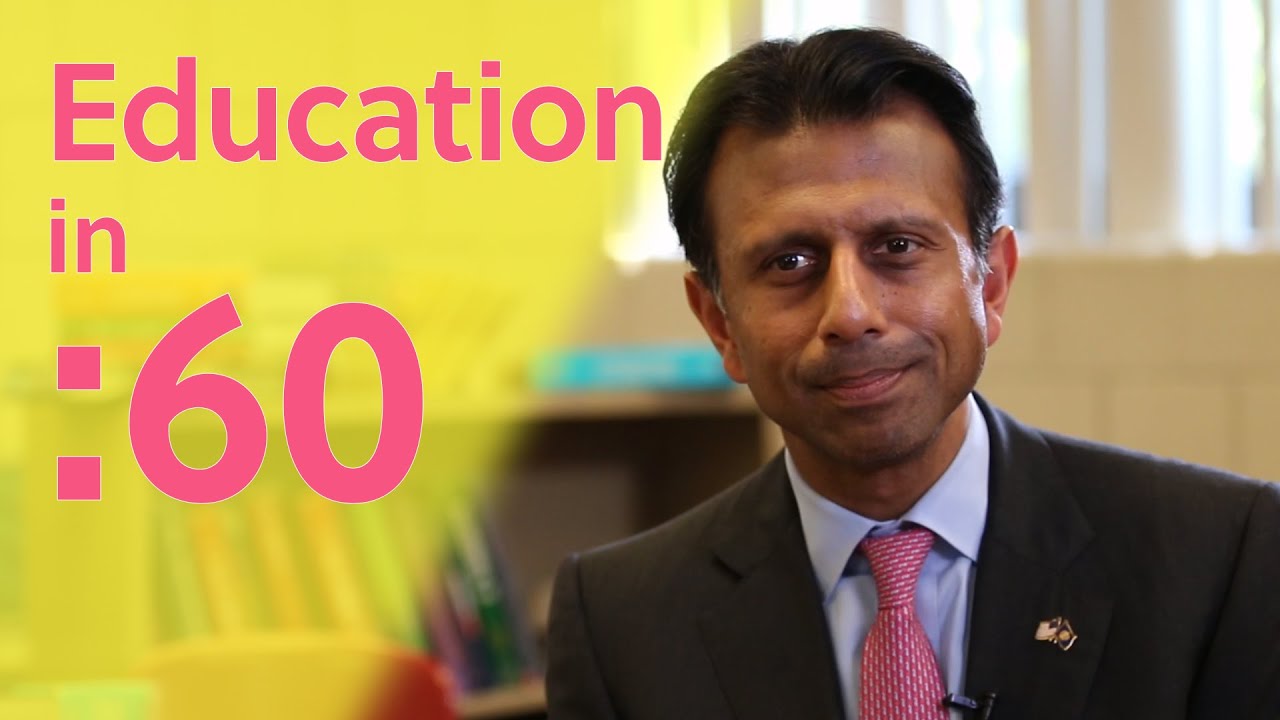 ---
Jindal
said Wednesday he liked the concept of what he understood the Common Core would be — voluntary, high standards. But he backed away from them in a spring 2014
op-ed in USA Today
, citing increasing federal involvement and opposition from parents.
Jindal went as far as to sue the federal Education Department and Secretary Arne Duncan last summer, arguing the department illegally coerced states into adopting them,
The Washington Post reported
. And he made several attempts to have Louisiana back out of the standards, including
failed legislation
.
His move to suspend contracts with test providers set off an unsuccessful
court battle
with the state education board. He
agreed
earlier this year to a
compromise
under which the state education board will review and possibly rewrite the standards, which will be open for public comment, the Times Picayune reported. The review will occur in 2016, after Jindal has left office.
In explaining his flip-flop, he told a story about how his 9-year-old son had trouble with Common Core math, saying he disagrees with the philosophy behind the math. Jindal got a lot of audience applause when he said his son told his teacher that he couldn't really explain how he got the answer but knew it was right because it was.
Campbell Brown, summit moderator and co-founder of The Seventy Four, pushed back, saying she had the opposite reaction when her son, who is going into second grade, started learning Common Core-aligned math.
"I was impressed by how much more thoughtful he was in solving that problem than I would have been when I did rote memorization. … If we're trying to bring our kids up to the next level as a country, shouldn't we be challenging them and be willing to allow our education system to evolve and get better even if you don't understand how to do that math problem?"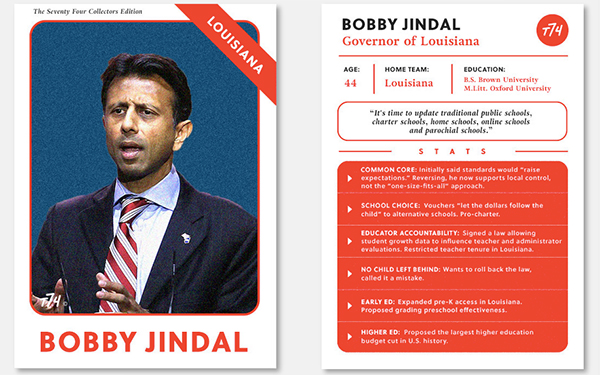 Brown is a Louisiana native and reminded Jindal that they once sat on a panel together promoting the more rigorous standards.
"I'm not saying you shouldn't have the right to do it, I'm saying the federal government shouldn't force it in our classrooms, that's the premise of choice and competition," Jindal countered.
Jindal also said he'd like to see technology in schools used for "competency-based" interventions to help assess and aid students who aren't hitting learning benchmarks.
But without training and support for teachers, a pile of tablets, phones and laptops in schools isn't the answer, he warned.
A highly effective teacher is the most valuable thing a classroom can contain, he said.
Get stories like these delivered straight to your inbox. Sign up for The 74 Newsletter