Summer Therapy Sessions Benefit College Students, People With Disabilities
Children & adults who would benefit from various therapies can get that help this summer at the University of Texas at El Paso.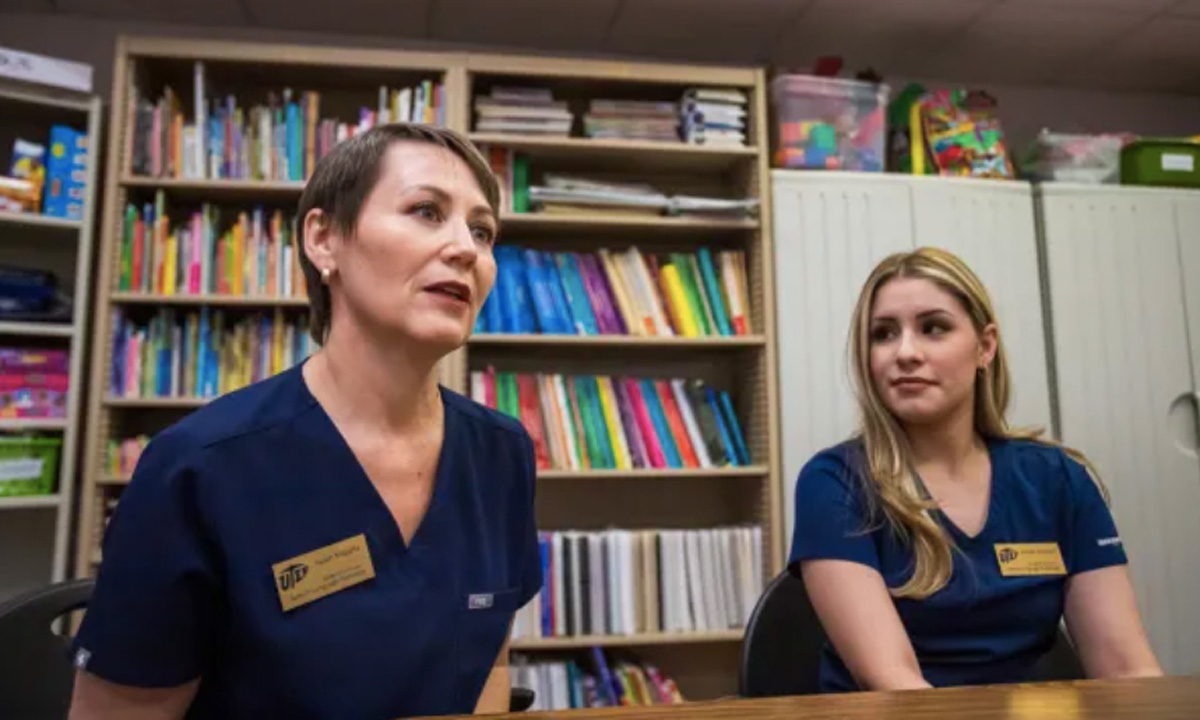 No paywall. No pop-up ads.
Children and adults who would benefit from various therapies to learn or to regain certain developmental abilities can get that help and more during three consecutive four-day Summer Group Therapy Sessions that start July 17 at the University of Texas at El Paso.
For the second year in a row, UTEP's Speech, Language and Hearing Clinic will conduct its free bilingual sessions from 9 to 11 a.m. in the Campbell Building, 1101 N. Campbell St. Each two-hour lesson will balance work with fun, organizers said.
Twenty-nine of UTEP's speech-language pathology graduate students, backed by four clinical faculty and a staff member, will assist participants ages 5 to senior adults to work on their voice, fluency, aphasia, social skills, and/or the effects of traumatic brain injury to name a few areas.
Among the participants who plans to attend all three sessions is Kivana Herrera, a 19-year-old Sunset Heights resident on the global developmental delay spectrum. In other words, it takes her longer to achieve certain developmental milestones. Her focus this summer will be to enhance her speech and social skills.
"She loves it," said Iris Herrera, Kivana's mother. "They work on things, but they are made to be fun and exciting, so it doesn't feel like therapy. We think (the summer sessions) are awesome. We wish there were more."
Herrera said one of Kivana's speech therapists recommended in spring 2022 that the family try UTEP's summer sessions. The mother said those sessions helped Kivana increase the number of words she uses in a sentence.
As a result, the family registered Kivana for the free SLHC, which conducts one-on-one sessions during the academic year. These also are important for UTEP's speech-language pathology students who learn how to conduct assessments and suggest treatments under the supervision of faculty, who are licensed speech-language pathologists.
Herrera said that Kivana enjoys working with the therapists because most are young, and they can talk about clothes, trips, music and social activities. She added that the UTEP therapists have great personalities, and know how to motivate her daughter to work harder.
Herrera's praise brought a smile to UTEP's Deena Peterson, coordinator of the summer sessions and a clinical instructor of speech language and hearing sciences. Those comments echoed the verbal and written feedback Peterson received from families of participants from the previous summer, especially from families of school-age children who do not receive therapy outside the academic year.
Many noted how the sessions made their loved ones more competent and confident in their ability to communicate. They mentioned the enthusiasm of the student therapists and their genuine desire to help. As of mid-June, a good percentage of those registered for the 2023 sessions had participated last summer.
Peterson said that these free activities help El Paso's underserved community members, who sometimes exhaust their health care benefits. She expects to enroll about 100 people for the summer sessions. The participants, separated by age and therapy needs, will use several of the labs, classrooms and conference rooms on the building's first and second floors. The participant-student ratio will be less than 2-1.
Susan Magaña and Kristin Apodaca, both second-year speech language pathology graduate students, said they enjoyed the one-on-one sessions as part of the clinic, but looked forward to group therapy to practice behavior management techniques and working with children and adults with different goals. They talked about the upcoming sessions in the main therapy lab, which includes two walls with shelves stacked high with colorful toys, books and games used during the clinics and summer sessions.
"We'll get to learn a lot at the same time," said Magaña, a 1987 Austin High School graduate who, with her husband, operated a used car lot and home remodeling business before she decided to return to school after her children reached adulthood.
Her interest in her second career was personal. She raised four children with various disabilities to include hearing loss, dyslexia, high-functioning autism and attention-deficit disorder. In recent years, she witnessed her grandparents deal with their Alzheimer's disease. In all cases, she saw how effective therapists could be.
Magaña said that the summer sessions were a great way children could bridge the therapy gap between the academic years.
Apodaca, a 2019 graduate of Hanks High School, has been interested in a speech language pathology career since high school when she would attend health fairs with her mother, a speech-language pathologist who was happy to help others improve their quality of life through therapy. One thing she has learned as an SLP student is that therapy is harder than it appears.
"It looks as if we're playing, but there is a lot of intention behind everything we do because of how the brain and speech work," Apodaca said. "You have to find the right strategies for the client."
Apodaca said she looked forward to working with and learning from her clients, as well as the other members of her cohort.
"You know that everyone's heart is in it," Apodaca said. "Everyone wants to give back."
Online registration is the best way to secure a spot, but people who cannot register online may contact the program at 915-747-7250 or speechclinic@utep.edu. Those individuals will need to come early on the first day of the session to fill out the necessary consent agreements.
Peterson said she plans to invite representatives from family resource centers to set up information tables in the first-floor student lounge for parents, guardians and caregivers who must stay during the sessions. After the lessons, the student therapists will debrief the parents/caregivers about the therapy conducted that day and how they can continue the learning process at home.
The work the UTEP students do during the summer sessions will benefit them during the 2023-24 academic year as they will work in school and hospital settings prior to graduation.
The summer sessions will follow a separate activity for children ages 5 to 17 who stutter. Camp Dream. Speak. Live. will operate from 9 a.m. to 3 p.m. July 10-14 in the Campbell Building. This free, intensive therapy program was organized by the Arthur M. Blank Center for Stuttering Education and Research at the University of Texas at Austin.
Peterson, who is familiar with the bilingual camp but not associated with it, said the center involves a lot of resources and a lot of fun to include a live deejay daily. She added that the same 29 graduate students who will be part of her sessions will help at the UT Austin camp.
"It's awesome," Peterson said. "It's going to be fun for the kids. It will be a fun, interactive environment."
This article first appeared on El Paso Matters and is republished here under a Creative Commons license.
Get stories like these delivered straight to your inbox. Sign up for The 74 Newsletter