Sugar & Spice & Everything Nice: Kindergartner's Cookie & Cocoa Stand Paid Lunch Debt for 123 Schoolmates — and She's Not Stopping There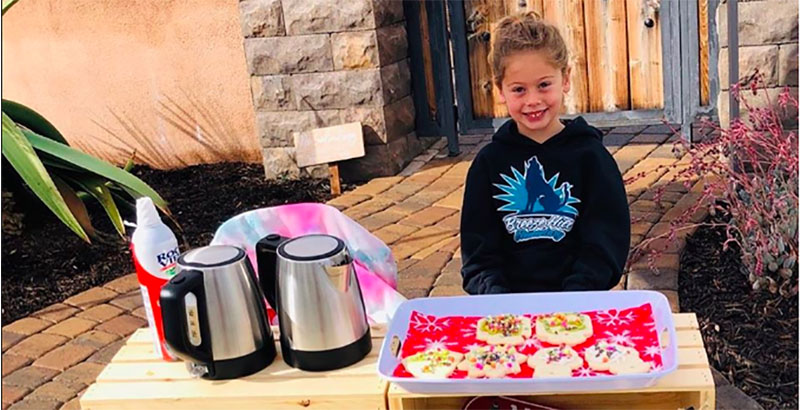 This article is one in a series at The 74 that profiles the heroes, victories, success stories and random acts of kindness found at schools all across America. Read more of our recent inspiring profiles at The74Million.org/series/inspiring.
Those who doubt that children hear every word adults say might consider the story of Katelynn Hardee.
Katelynn, a 5-year-old who attends Breeze Hill Elementary School in Vista, California, overheard a classmate's mother talking about the difficulty of paying for an afterschool program.
"She started asking me a lot of questions and I just tried to explain to her that sometimes people aren't as fortunate and that we need to try to be kind and give when we can," Karina Hardee, Katelynn's mom, told CNN.
The kindergartner asked her mother how she could help, and the two came up with a plan to put Katelynn's love of baking to good use. In early December, she and her mom made sugar cookies and cocoa and set up a stand at her house, selling the sweet treats to neighbors and friends. Katelynn donated the profits to her school district, to offset the costs of school lunch for children whose families hadn't paid their lunch bills.
"I don't want people to be hungry," Katelynn told NBC San Diego.
The cocoa stand raised about $80, which helped erase the bills of 123 students at Breeze Hill Elementary.
"It is truly inspiring to see Katelynn's compassion and generous nature utilized to help those less fortunate," Jamie Phillips, director of child nutrition services for Vista Unified School District, told NBC.
Breakfast and lunch in the district can cost $3.50 a day for students up to fifth grade. Children who owe more than $10 get an "alternative meal" of hummus, string cheese, chips, fruit or vegetable and milk, Today.com reported.
Katelynn's cocoa stand was so successful, she decided to do it again – only bigger this time. She, her mom and some friends organized a cocoa and cookie fundraiser at the school. KikisKindnessProject, as they called it, aimed to raise enough to erase more than 1,000 lunch bills that had accumulated throughout the Vista school district, CNN said.
"Everybody is just so proud and happy and other students are already talking about ways they can also make a difference," Breeze Hill Principal Lori Higley told CNN. "It goes to show that even one small, kind act from a 5-year-old can mean the difference for someone in their life."
Not even the holiday break stopped Katelynn and her mom. On the fundraising website Fundly, Karina Hardee notes that KikisKindnessProject has raised more than $23,000. After the lunch accounts are paid off, the money will be used to support school programs that have been removed due to budget cuts, Hardee wrote.
Not a bad start for a kindergartner who keeps her ears open.
Get stories like these delivered straight to your inbox. Sign up for The 74 Newsletter