Success Academy's Virtual Tour Open Doors to its Innovative Teaching Approach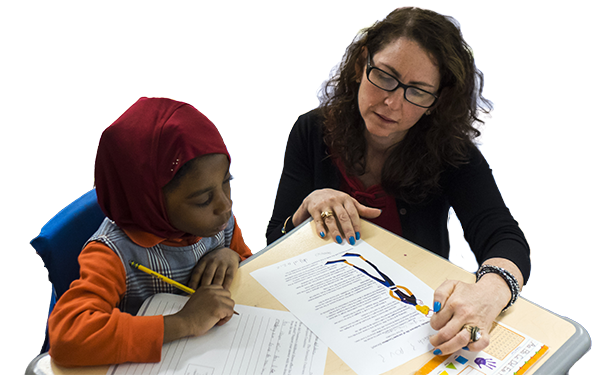 Outside the school gate, the principal greets each student with a handshake as they enter. Up the front steps and into a hallway lined with rows of the students' artwork, a tour guide explains the school's culture of leadership.
The tour continues into the classrooms, the library, the playground — each step of the way an explanation of what makes Success Academy Charter Schools so different.
Touring Success Academy Charter Schools, which has 34 locations in New York City, no longer begins with an appointment and commute; it starts with an Internet connection. The city's largest network of public charter schools has now launched a virtual tour on its website, giving prospective parents and inquiring educators from across the country a 360-degree peek inside the charter network's innovative approach to teaching elementary education.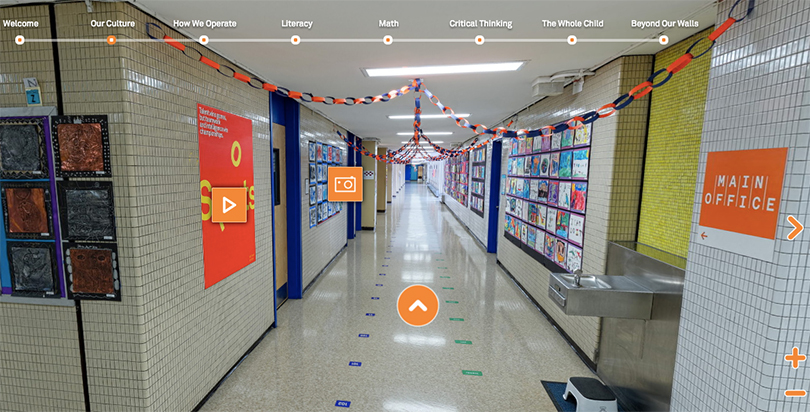 Last year, more than 1,200 people requested to tour a Success Academy school — triple the number from previous years. On top of tours for prospective parents, Success Academy spokeswoman Ann Powell said they weren't able to keep up with the requests from outside educators and government officials.
Last school year, 93 percent of Success Academy students passed the state math exam — compared to 35 percent of students in New York City and 38 percent in New York state. The schools also rank in the top 3 percent in English among all schools in New York. Nestled in some of the city's poorest neighborhoods, 76 percent of its students are low income and 85 percent are children of color.
"We expect that children can learn at the highest level," Powell said. "Learning is engaging and joyful. If you're doing it right, kids want to stay. They'll be in school as opposed to being anywhere else."
Some critics have claimed that Success Academy is anything but joyful, saying it focuses too heavily on test preparation and rigid protocols. Powell says the tour allows parents and others to see for themselves what is going on in the "classrooms, the dance studio, the art room, the science lab, the soccer field, where they can watch children discussing literature, working through mathematical concepts, actively engaged in thinking and learning."
"Last year, 22,000 families applied for 2,300 available seats at our schools," she said. "They are less worried about (what critics say about) our approach, and far more concerned about the consequences of having to send their child to a failed NYC school."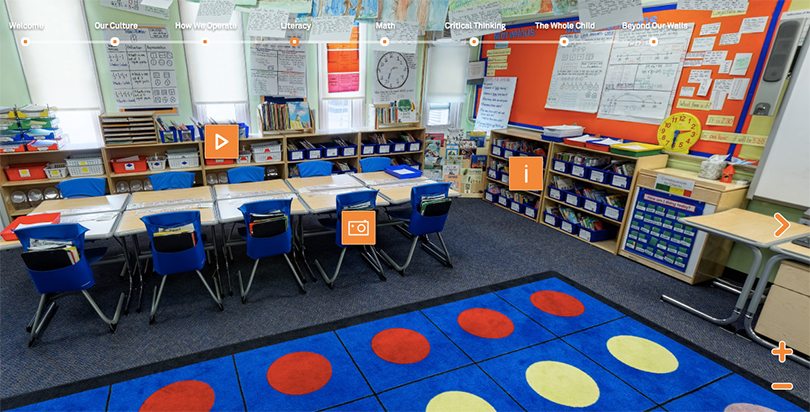 Although Powell said she isn't aware of any other schools that offer virtual tours of their facilities, they didn't get to this point on their own. She said they drew inspiration from Inside Abbey Road, a virtual tour of the world-famous recording studio in London.
Following the positive response, additional tours of Success Academy's middle and high schools are currently in the planning phase, she said. For parents looking to enroll their children in a Success Academy school, Powell said the virtual tour could serve as a first step, followed by an in-person visit if that's preferred. But for outside educators looking for insight into the charter school network's approach, the online tour will have to suffice.
"There's not a trick," Powell said. "It is very hardworking teachers and a curriculum that gets better every year. That's kind of how we function. We have a culture of continuous improvement."
Eva Moskowitz photo by Getty Images
Support The 74's year-end campaign. Make a tax-exempt donation now.