Success Academy's Top Lawyer Is Leaving to Start Her Own Charter Network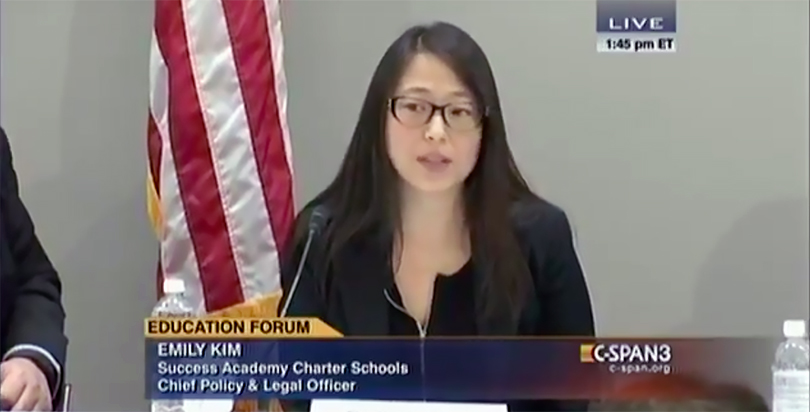 New York City
Success Academy, the city's largest charter school network, is losing a top official and its chief attorney, who is moving on to start her own charter network,
Chalkbeat reports
.
Emily Kim, who is executive vice president of policy and legal affairs for the high-profile charter network created by Eva Moskowitz, will step down at the end of June to launch her own schools that will likely borrow from Success Academy, Kim told the news site. She didn't share further details about the model, the location, or the timeline of her new venture.
Kim is a six-year veteran of the network whom one former employee described as a "loyal soldier," Chalkbeat's Cassi Feldman
reported
. She is the third official listed on the Success Academy website under founder and CEO Moskowitz.
Moskowitz praised Kim in a statement, the site reported, describing her as a "bureaucracy-buster" and "dedicated ed reformer."
Kim is a former high school English teacher and a parent of two Success Academy students, according to Chalkbeat. She received a master's in education from Columbia University's Teachers College in 1999 and graduated from Columbia law school in 2005, according to her LinkedIn
profile
.
Before heading to law school, she worked for a year as education director of a Philadelphia agency, managing early interview programs for developmentally delayed children from birth to age 3.
During her years at Success Academy, she's helped the network defend itself against multiple lawsuits, including a
federal suit
regarding its treatment of children with disabilities and an ongoing case, unsuccessful
thus far
, in which Success sued New York City to participate in the city's universal pre-K program without signing the required contract, the site reported.
Kim joined Success Academy in August 2011 as general counsel and later worked as chief policy and legal officer before being promoted to her current position in 2015, according to her profile.
In 2014, when Kim was chief policy and legal officer, the network's legal team issued an advisory memo to staff warning them, among other things, not to share "sensitive information" — such as projected enrollment or demographic information — with journalists, elected officials, or other lawyers, without first consulting with network officials,
Politico reported
.
As the network has pursued its goal of expanding rapidly throughout the city, Moskowitz has sparred with elected officials, most notably Mayor Bill de Blasio, over using public space to house charter students. More than 17,000 children applied for 3,017 seats at the Success Academy
lottery for the 2017–18
school year, according to the network, and the number of children on charter school waiting lists citywide reached 47,000 in 2017, according to
a study released
Wednesday.
Charter advocates have pushed for lifting the current cap on charters, and the issue could
take center stage
in the next few weeks as state lawmakers decide whether to renew de Blasio's control over city schools.
The network, which has 41 schools and about 14,000 students, was named
a finalist for the annual Broad Prize
this spring for the second year in a row. The prize is given to charter networks that do the most to boost student outcomes, close the achievement gap, and increase graduation rates.
Winners will be announced in June.
Disclosure: 74 board member Campbell Brown also sits on the board of Success Academy.
---
---
Get stories like these delivered straight to your inbox. Sign up for The 74 Newsletter