America's Achievement Gap — Made, Not Born? What a Study of 30,000 Students Reveals About Lowered Expectations and Poorer-Quality Instruction for Kids of Color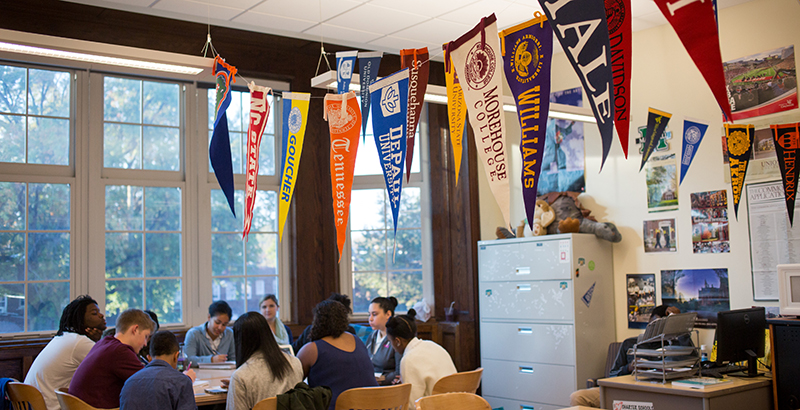 This is the latest article in The 74's ongoing 'Big Picture' series, bringing American education into sharper focus through new research and data. Go Deeper: See our full series.
Students of color consistently receive less challenging instruction and schoolwork than do their white and more affluent classmates, a new study has found, often leaving them unprepared for college even if they have received top grades.
The report used extensive surveying of students, who wore vibrating watches that prompted them to take surveys during class. Their responses suggest that the failure to challenge young people from low-income and minority families in middle and high school helps explain why the rise in high school graduation rates in recent years has not translated to better college outcomes.
"While many students do have barriers to overcome to succeed in school, some of the biggest barriers are created by decisions very much within our control," said the advocacy nonprofit TNTP, which released its report, "The Opportunity Myth," on Tuesday.
"As a field, we've covered up the racist, classist, and just plain unfair choices we've made by telling parents and students — particularly students of color — that they are doing fine, when all the evidence from their classroom work and their exam scores suggests that they are not," the report says.
TNTP said it surveyed 30,000 students between grades 6 and 12, analyzed 20,000 student work samples, and observed 1,000 lessons in five school districts, primarily during the 2016-17 school year. It did not name the districts but described them as "rural and urban, district and charter." It said charter "district" referred to a charter network.
Perhaps most strikingly, the report found that most students in these districts were typically given below-grade-level class assignments designed for students several years younger, often because teachers did not believe they could succeed at a higher level.
They completed the assignments successfully more than two-thirds of the time. With little opportunity to tackle appropriate material, however, they submitted work that met grade-level standards only 17 percent of the time.
TNPT said ability was not an obstacle. In classrooms with more grade-level work, students gained about two months of learning compared with their peers.
College readiness "a myth"
The report said more than 90 percent of students it surveyed in each district planned to go to college, a nearly identical figure across different groups. Adding a cri de coeur, it described remediation rates in four-year colleges for black students at 66 percent and Latinos at 53 percent as a broken promise made by a society that oversells the value of a high school diploma.
Students interviewed by TNTP believe that "showing up, doing the work, and meeting their teachers' expectations will prepare them for what's next," the report says. "They believe that for good reason. We've been telling them so. Unfortunately, it's a myth."
TNTP determined that college struggles are rooted in inequities in four overlapping areas: middle and high school assignments that reflect grade-level standards; teaching that demands deep thinking; student engagement, described as a "cognitive and emotional investment" in schoolwork; and high expectations by teachers.
Racial differences cut across each of these. White students had a 65 percent success rate on grade-level work, while students of color had a 56 percent rate. But 4 out of 10 classrooms where students of color were the majority, or 40 percent, never received any grade-level assignments, compared with 12 percent of mostly white classrooms.
Teachers in mostly white and higher-income classrooms offered three and a half to five times as many of what TNTP called "strong instructional practices" that forced students to come up with answers rather than have them watch passively. Greater levels of engagement and expectations were also reported in classrooms with mostly white students.
The biggest variations in these areas were within, not across, districts, the report said.
Accomplished teaching and grade-level assignments were in short supply for everyone in the districts: TNTP calculated that students received strong instruction for just 29 of 180 hours over the course of a year in a core subject, and spent 133 of 280 hours on assignments that were inappropriate for their grades.
All students benefited from better practice, but students who started the year behind grade level made outsize gains, the report said. Access to stronger instruction and on-grade assignments added the equivalent of six and seven months of learning, respectively.
"The 'achievement gap' is not inevitable," the report says. "It's baked into a system where some students get more than others."
Vibrating watch means it's survey time
TNTP recommended that districts undertake "equity audits" of their schools, incorporate student experience into school decision-making, commit to diversity in hiring — the report finds that teachers have higher expectations of students of the same race — and make grade-appropriate assignments "an urgent priority for all students."
While visiting participating schools at different times in the school year, TNTP surveyed students in grades 6 through 12 over the course of the day about their school activities.
"During the entire week of our second and third site visits, all students with parental consent were provided a vibrating watch and a survey at the beginning of class," the report says. "At six points during class, a handful of watches would vibrate. When a student's watch vibrated, it was his or her signal to complete the survey about their current activity and perceptions."
It continued: "We could capture experiences throughout class instead of at one distinct point in time."
As to the surprisingly variable quality of lessons in districts with strong standards — four of the five use the Common Core — TNTP's CEO Daniel Weisberg said, "Just signing on to a set of standards or adopting a curriculum doesn't ensure that students are receiving grade-level assignments.
"That's why it's so important for district leaders to do what we've done here: take a close look at what students are really experiencing day in and day out. If you don't know exactly how much time students spend on work that's aligned with the standards you've chosen, chances are you're letting a lot of inconsistency and inequity slip through the cracks."
Support The 74's year-end campaign. Make a tax-exempt donation now.