StudentsFirstNY: Mayor De Blasio Wants Control of NYC's Schools, But He First Must Take Responsibility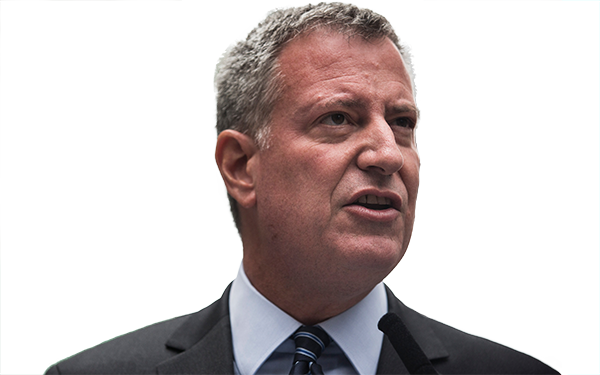 The shift in New York City to mayoral control of public schools was the culmination of a hard-fought effort to bring accountability to the education system. Beginning in 2002, decisions would no longer be made by a group of faceless bureaucrats; the buck would stop right at City Hall. If voters were unhappy with the state of their schools, they knew who was responsible. This core principle of accountability was the bedrock of the landmark education reforms achieved under Mayor Michael Bloomberg.
Mayoral control of the city's public schools is now up for reauthorization in the state legislature, but this commitment to accountability has been turned on its ear. New York City's current mayor, Bill de Blasio, wants all the authority with none of the scrutiny. Mayor de Blasio is fighting tooth and nail against the legislature's careful review of his education record, trying to avoid answering difficult questions or provide details of his plans.
Legislative oversight of mayoral control was never meant to be a rubber stamp for any mayor. Legislative oversight exists so that the legislature, working on behalf of the people, can hold the executive accountable and have an honest dialogue about what it will take to educate our children. This is what the legislature was doing in 2009, when the two houses held a combined 12 hearings on mayoral control.
More than halfway through Mayor de Blasio's term, it is more than fair to take a look at his record and ask hard questions about his plans for turning around chronically struggling schools. The stark reality is that New York City public schools have made little progress under this mayor's leadership.
Moreover, many New York City public school parents are highly dissatisfied with the quality of education their children are receiving and they now expect Mayor de Blasio to be held accountable for the slow pace of progress. There's a profound disconnect between the rhetoric coming out of City Hall and what parents see in their children's schools.
Specifically, the parents we work with are concerned about a number of issues.
1. The mayor has unclear goals with far-off horizons set for long after he will be out of office. Parents deserve to know what the mayor's goals are for school improvement. New programs and new spending will not have the desired impact unless they are accompanied by specific goals and the willingness to do what it takes to meet them, but the target goals for the Mayor's pet programs are set a decade in the future. Parents want to know what improvements Mayor de Blasio will make while he's still mayor.
2. There are too many failure factories in low-income neighborhoods. For example, Herbert Lehman High School in the Bronx has 1,535 students enrolled and of the 40 percent of students who graduate in four years, just 11 percent are college or career ready. Dewitt Clinton High School in the Bronx has 2,109 students enrolled and of the 46 percent of students who graduate in four years, just 19 percent are college or career ready. Martin Van Buren High School in Queens has 1,742 students enrolled and of the 55 percent of students who graduate in four years, just 14 percent are college or career ready.
What does this really mean? Out of the 5,386 high school seniors across these three schools, a whopping 5,000 have not been prepared in 13+ years of school in the NYC public school system. These schools are not preparing 93% of their students for college and career. These are just a few examples. How can parents have confidence that schools like these will get better when the de Blasio Administration?
3. NYC high school diplomas don't mean students are ready for college. New York City's high school graduation rate is 70 percent, yet 78.3 percent of CUNY community college students who graduated from these high schools enroll in remedial courses and 80 percent never get a degree. A high school diploma should mean that a student is ready for college. Parents want to know what concrete steps this mayor is willing to commit to in order to make this a reality for NYC high school graduates.
4. Instructional time has been cut. The 2014 teachers contract took away two and a half hours of instructional time per week for struggling students. In place of this much-needed instruction, UFT members were granted extra time for "professional development" that has little evidence of improving educational outcomes for kids. Parents want to know what the City is doing to make up this lost instruction time for our most vulnerable students.
5. The mayor ignores solutions that work. Mayor de Blasio has stood in the way of education options that have proven successful. He opposes school choice, puts up roadblocks for charter schools, and closes small schools. When parents cannot count on the quality of their neighborhood schools, they need these options. Parents want the mayor to put aside his narrow political agenda because there is clear evidence that expanded choice improves educational outcomes for kids.
6. The lowest performing schools are not getting better. Mayor de Blasio touts the results of his Renewal School program. However, at the end of the 2014-15 school year, students in Renewal schools had a combined math & ELA failure rate of 93 percent on state tests. Parents want to know what concrete steps this mayor is taking this year to put his Renewal Schools on the path to success.
7. Accountability is non-existent. School Quality Reports had been an essential component to finding a good school. Since 2015, these reports have become meaningless. Of the approximately 200 elementary and middle schools with less than 10 percent of students passing last year's state tests in ELA or math, the vast majority received ratings of "meeting" or even "exceeding" school targets for that same year. Parents want to know what this mayor is going to do to provide them with an accurate picture of how the schools in their communities are performing.
There is a lot of work to do to turn around New York City's failing school system. The mayor wants the authority, but it's time he also took some responsibility.
Support The 74's year-end campaign. Make a tax-exempt donation now.