Students' View: How COVID-19 Put Our Consulting Jobs On Hold & Led Us to Become Accidental Equity Entrepreneurs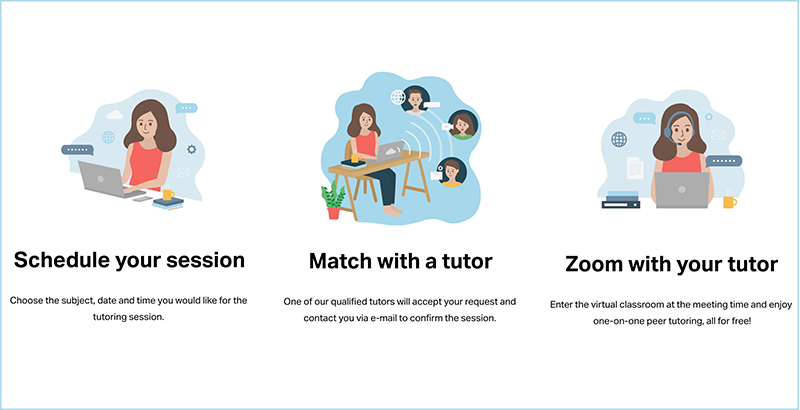 Updated Sept. 30
We are accidental educational equity entrepreneurs — college students and recent graduates who have seen how COVID-19 is widening already existing education gaps and are taking action to reverse this course before it is too late.
At the beginning of 2020, as seniors at Vanderbilt University, we accepted postgraduate jobs from preeminent management consulting firms. It seemed we were on our way to realizing the American Dream. Then, on March 17, 2020, our worlds turned upside down. Universities shuttered, graduation ceremonies were canceled and we were sent home to finish our education journeys online.
As COVID-19 ravaged our world and the nation's troubling racial and political divide heightened, it became painfully obvious to us and our peers that this "Dream" was constructed out of a blemished history, flawed systems and an outsized power structure.
Amid the chaos, friends and fellow classmates were asking, "How can we help? What can we do?" Our gut instinct was to bottle the volunteer spirit of young leaders and sprint toward the challenge of mitigating the learning loss and the educational gaps exposed and exacerbated by the pandemic. With our consulting jobs put on hold, we instead set out to build an army of dedicated individuals to engage one-on-one with students from low-income backgrounds who would benefit from free tutoring.
We sent a poll out to our fellow Vanderbilt students, asking if they would volunteer to tutor students who were being disproportionately affected by the unusual educational environment brought on by the pandemic. The response was an overwhelming "yes," and we began to assemble our network through Zoom conversations, GroupMe discussions and student organization email chains. Within one month, we had built a platform to match tutors with students and gathered 100 college students who were ready to attack the unprecedented challenges head-on.
As our network, now called BrightPath Tutors, grew, we sought guidance from Vanderbilt professors and education experts and looked for opportunities to collaborate with leading education nonprofits. After reviewing research that suggested the numerous benefits of near-peer tutoring and the effect that a mentor can have on setting first-generation students on a path toward graduation, we realized that we could make the biggest impact by focusing our efforts on high school students and recent high school graduates. We formalized partnerships with the public school district, community colleges and community-based nonprofit organizations in Vanderbilt's backyard, our adopted hometown, then began spreading the word to the students who would benefit most.
Through our partnerships, we created individualized curricula that addressed the specific needs of each student, leading to self-reported academic gains in an environment that would otherwise suggest losses. After just two weeks of working one-on-one with their tutor, over 90 percent of BrightPath students indicated that they felt more confident in their subject of focus.
About a month after our tutoring sessions began this summer, we noticed a pattern — academic-focused, tutor-tutee relationships quickly evolved into personal mentoring and friendships. Tutors gave students advice on the college application process, provided career coaching and offered emotional support. Tutees, in turn, taught their tutors to become patient teachers and empathetic listeners, and gave them new perspectives through the friendship of a near-peer. As students and tutors met from week to week, they did not just review academic concepts; they learned invaluable lessons from each other that cannot be found in any curriculum.
According to a study by McKinsey & Company, the average K-12 student in the U.S. could lose $61,000 to $82,000 in lifetime earnings as a result of learning deficits related to COVID-19. These losses are expected to be even greater for Black, Hispanic and low-income students, as achievement gaps become an estimated 15 percent to 20 percent wider. NWEA projected that students could return to school in the fall (mostly remotely) nearly a whole year behind in math. To meet these significant challenges, education thought leaders emphasize the critical need for a strong and immediate response. Robin Lake, director of the Center on Reinventing Public Education at the University of Washington, noted, "it matters how quickly educators address learning losses because they cascade and students disengage when they don't think they can do the work in front of them." We are optimistic that the academic tutoring and personal mentoring our grassroots network of willing and committed young college students and recent graduates is providing represents one step toward countering that bleak future.
We did not set out to be educational equity entrepreneurs, but circumstances have shown us that this is where we need to be.
Gen-Z is often stereotyped as lazy and self-involved, but our friends and peers are seizing the moment. BrightPath Tutors now has 250 volunteers: 150 tutors are providing academic support to high school students in Metro Nashville Public Schools who are taking classes virtually, and, beginning in October, another 100 BrightPath tutors will guide students in NYC's Urban Assembly charter school network through the college application process.
Our hope is that BrightPath will continue to expand to more cities, and that this is just the beginning of a sustained movement of young, volunteer educational inequity reformers. Our American Dream has been reoriented to include students who have been historically left out — who are at-risk, first generation and underserved. When established, elected leadership fails, systems are exposed and equity gaps are magnified. We must use what social, educational and political capital we have to move toward educational equity. If we don't, who will?
Sam Margolis and Brad Gellman are recent graduates of Vanderbilt University and founders of BrightPath Tutors.
Get stories like these delivered straight to your inbox. Sign up for The 74 Newsletter