Students to the Rescue! School Kids Lead the Way in Relief Efforts for Victims of Hurricane Harvey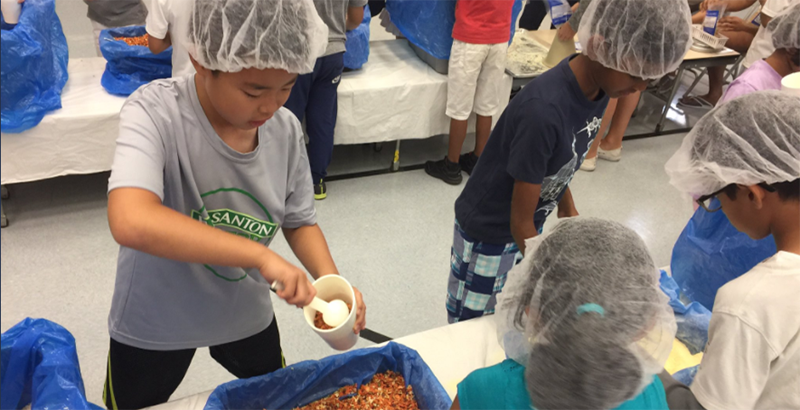 This article is one in a series at The 74 that profiles the heroes, victories, success stories, and random acts of kindness to be found at schools all across America. Read more of our recent inspiring profiles at The74million.org/series/inspiring.
There's something cute about a young kid in a hairnet making lunch alongside friends. But there's something special when that kid puts in the effort to make meals for complete strangers simply as a way to help those in need.
That story and stories like it are playing out all across the country as students clamor to help with Hurricane Harvey relief efforts.
In Pleasanton, California, Mohr Elementary School students packed 12,744 meals to send to families in Texas affected by the hurricane, PleasantonWeekly.com reported. In conjunction with the school's Kindness Week and through a partnership with the Kids Against Hunger nonprofit, second- through fifth-graders packed meals, while younger students decorated the bags.
In Savannah, Georgia, 17-year-old Bhumi Patel, a senior at Memorial Day School, is leading an effort with art teacher Jennifer Adams to donate everything from cash to supplies for Harvey victims, an effort that WSAV.com says has brought together the community of just 250 students.
"It's heartbreaking, but it also shows how much we can help and how much we can come together as a nation and as a community," Patel says.
In Wisconsin, the Oconomowoc-versus-Waukesha West football game turned into a donation center, the Journal Sentinel reported. Greendale High School sold T-shirts with the proceeds supporting the JJ Watt Foundation Hurricane Relief Fund. Watt, a NFL star from Pewaukee, Wisconsin, who plays for the Houston Texans, has led a crowdfunding effort that started with a goal of raising over $200,000 for relief efforts that has turned into about $20 million.
Wheatland Elementary in Wichita, Kansas, started collecting supplies, and Andover High School in Kansas has adopted a Houston school to support. There was a water drive at a Georgia school and a school supply drive in Tennessee. Omaha Public Schools in Nebraska and the Lafayette Parish School System in Louisiana both were pushing donation efforts as well.
A pair of Indiana brothers took their effort to Greenfield Intermediate School, joining with the community to make the school a leader in donating supplies.
Langtree Charter Academy in North Carolina saw ninth-grader Lana Hunsucker lead an effort, along with many of the cheerleaders, to promote a donation drive.
Students the country over have taken the lead on supporting the hurting.
Get stories like these delivered straight to your inbox. Sign up for The 74 Newsletter