Student's Perspective: How High School Speech and Debate Empowered One Immigrant to Embrace Her Voice & Regain Her Identity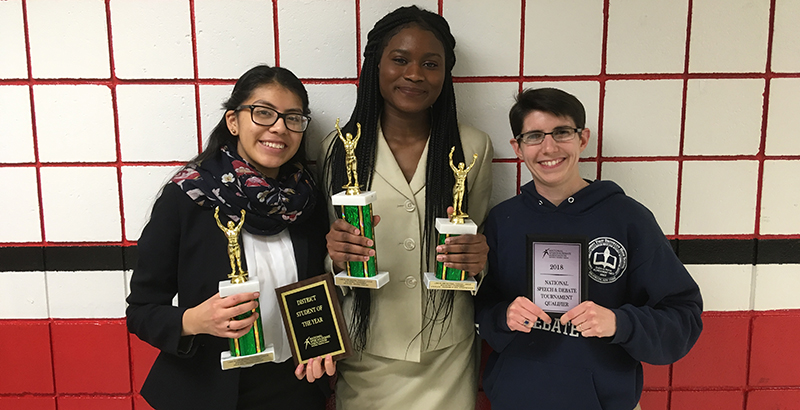 Five years ago, I migrated to the United States. In one hand, I dragged the entirety of my 12 years in a suitcase; the other held my mother's tight grip. The middle school I attended looked nothing like the cracked, decaying walls of the secondary school I attended back home in Lagos, Nigeria. To my classmates, I soon became the African girl with the weird name, so I shortened it. The abandonment of my native name was only the first symptom of the acute shame of my blackness that accompanied my arrival in America.
I had abandoned my black self — but through my participation in high school speech and debate, I got her back. It is a platform for voicing the narratives of the voiceless, and with the constant flow of xenophobic legislation from the Trump administration, it is imperative that we people of color allow our voices to become projections of the silenced minority.
I didn't come to this realization quickly. When I entered high school, I consumed every poisonous narrative I was fed until I became my own biggest enemy. Not only did I breed a deep hatred for the skin I was in, but I grew to hate my classmates and anyone who looked like me.
I had my first taste of the American reality when I watched Trayvon Martin's murderer plead not guilty. Every time I heard of an instance of racial injustice, I was quick to argue for the side that justified killings like Trayvon's. My hatred for myself ran so deep that I was too scared to be associated with anything black.
Then, during my sophomore year, I joined the speech and debate team. Before my first tournament, I received "the talk" from my coach: Behind those doors are privileged white kids. You will likely be the only black girl in the room. I marveled at the white students in the auditorium. My $40 H&M suit paled in comparison to their $400 outfits from Bloomingdale's.
At these competitions, I always felt alone. Sometimes the other kids ignored me, or came to me with microaggressions, or were outright hostile. Many times, judges wouldn't look me in the eye. When I won one competition, a judge — a white man — rolled his eyes. My coach was right: When I gave a humorous speech in competition, I was the only black woman in the category. The other black competitors all gave speeches to make the judges cry — too often, we are taught to use our pain and suffering, and the struggle of slavery, to appeal to white audiences.
There is so much more we have to talk about.
In these white spaces I was competing in, I was just black — black like the classmates I hated for being black, like the black I had fought hard to neglect, like the black I wished would wash away if I scrubbed hard enough.
All this helped me to internalize the deeper problems this country has with racism. But speech and debate also taught me that I am resilient, that I can argue based on facts and share my truth. It made me want to talk more about the black community, and all that it entails. In my winning oratory, I talked about getting my hair done by a black hairdresser. I did this not just for me; I also did it for other kids like me. Being in these spaces and hearing what was said, what was valued, and what was dismissed launched me into a personal journey of self-discovery, and through literature and meaningful friendships with young Nigerian and Mexican women, I eventually came to embrace my black identity and African heritage.
I became someone who leads by example.
With my reclaimed identity, I not only won two national tournaments, I advanced to elimination rounds at tournaments at prestigious institutions like Princeton University, Columbia University, and Emory University. By competing on the national circuit level, I've seen up close power structures that mirror those in American society. They made me critically conscious.
That's what I have learned. What do I hope we all learn? To young African immigrants, I want you to know that your name is beautiful — you are living artifacts and a testament to the strength of your ancestors. To those who inhabit white spaces that uphold white power structures — which is to say, those who live in America — know that they are abhorrent. They can and must change.
This black girl from Lagos could have walked out of that first tournament when I looked at my peers and saw only privilege. But I didn't go anywhere, because I had something to say. Xenophobia and anti-blackness are rampant in 2018. Fear is real and valid. But we need not be a silent minority. I look forward to using my voice to educate the uneducated at the National Speech and Debate Association national championship in Florida this month and at Williams College in the fall.
As my high school years come to a close, I hope the younger kids on my team and across the country will use their voices to speak their truth.
Oluseyi Olaose is a recent graduate of Achievement First Brooklyn High School. She will be attending Williams College in the fall.
Get stories like these delivered straight to your inbox. Sign up for The 74 Newsletter