Student's Perspective: Getting Around New Orleans Is Dangerous for Me & My Fellow Students With Disabilities. We Need Public Officials to Make Our Transportation System Safe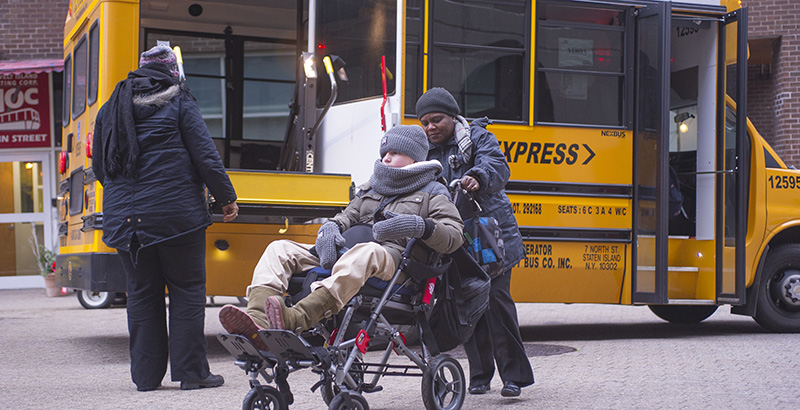 Transportation means everything to me. As a student with cerebral palsy who uses a wheelchair, I see transportation access as the gateway to my life. But in New Orleans, the streets and sidewalks are not safe or accessible. There are potholes, cracks, and sinkholes. On a day-to-day basis, people battle unsafe road conditions for walking and driving. For people with disabilities, the sidewalks are unusable, but riding in the streets is hard to navigate with all the moving cars, and crossing the streets is dangerous because cracks in the pavement slow wheelchairs down and make it hard to maneuver.
My wheelchair weighs more than 300 pounds, and I am always worried about what can happen if I hit a crack in the sidewalk or fall into a sinkhole in the street. If I hit a pothole and my chair gets stuck, I could fall or be struck by oncoming cars. I once hit a crack in the sidewalk and got pushed into the grass. Luckily, there were people there to help me move my chair out. But if they had not been there, I would have been stuck until someone came to my rescue.
Though I physically can't walk, I have my brain and my voice. I care about people and their struggles, and I am the type of person who stands up for what he believes in. That's why I am trying to get the message out to citywide leaders in New Orleans to fix our streets and sidewalks so everyone can be safe.
As an advocate for my peers with disabilities, I have been working on solutions to these public transportation issues. I have written letters to Mayor LaToya Cantrell, to the Department of Transportation and Development, and to other decision makers proposing solutions to ensure that people in wheelchairs are safe. I hope to schedule a meeting with the mayor to share with her these problems and ways to fix it — like repaving the sidewalks, filling holes in the streets, making the streets level, and repairing wheelchair ramps that are collapsing.
If these changes are made, it will create a safer community and provide people with transportation to jobs, shopping, sports, and entertainment. I encourage everyone, particularly young people, to not only care but help us make this a movement and fight for citywide improvements to our transportation system. Talk to your city officials and ask them to work with us to fix these problems.
I want everyone to feel included, happy, safe, and secure.
Jewel Dauphin is a student at Opportunities Academy at George Washington Carver High School in New Orleans, a postsecondary program for young adults 18 to 22 years old with moderate to significant disabilities.
Get stories like these delivered straight to your inbox. Sign up for The 74 Newsletter