Students Learn About Space Force, Then Get Letter From VP Harris
Students talk to members of the United States Space Force stationed at Malmstrom Air Force Base in Great Falls as part of a national program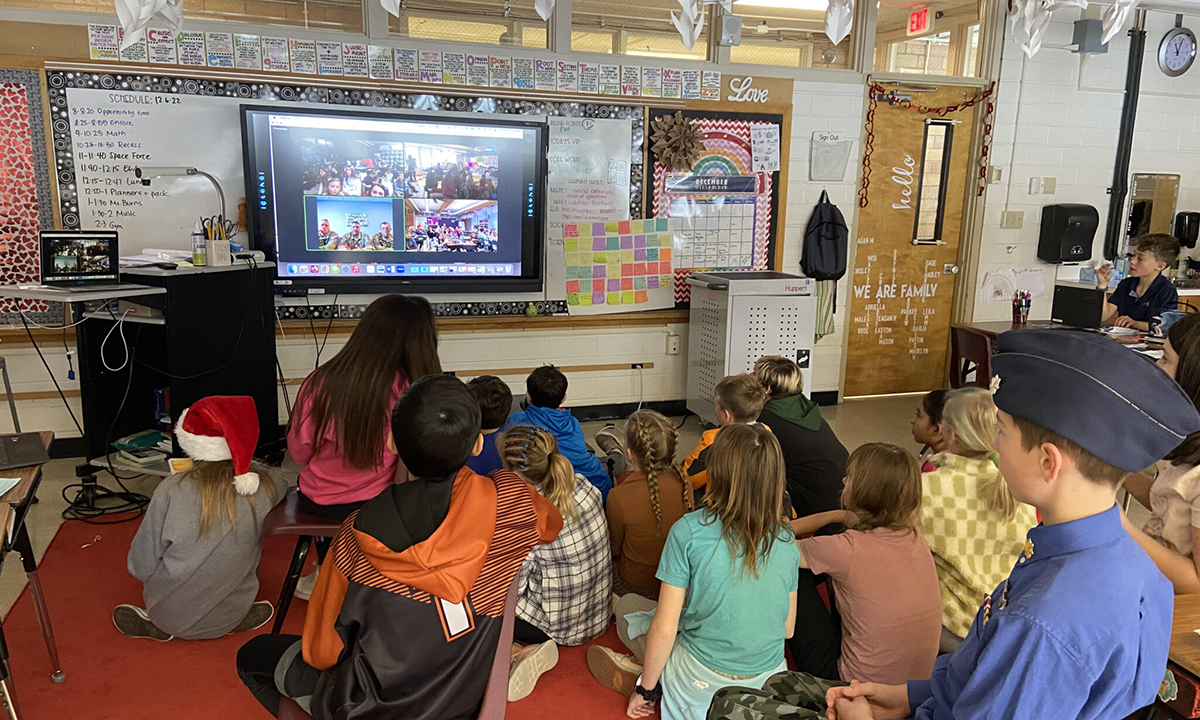 Support The 74's year-end campaign. Make a tax-exempt donation now.
When Jennifer Huppert's fifth-grade class at Boulder Elementary in Billings received a manila envelope in the mail, she thought it was probably another piece of junk mail sent in an official looking wrapper with a Washington, D.C., return address.
Huppert is constantly getting all sorts of offers, gimmicks and programs that arrive on her desk that look similar.
Just as Huppert was about to toss it, she noticed it said "Vice President of the United States, Washington, D.C."
Still suspicious, she opened the package to see that it contained a letter to the students, and it was hand signed by Kamala Harris, the vice president of the United States.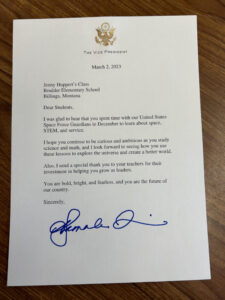 The letter came to congratulate Huppert for her students' participation in a program to learn more about Space Force, which included an online video conference with members of the nascent military branch who are stationed at Malmstrom Air Force Base in Great Falls.
The program was designed for one class in each of the 50 states and Puerto Rico to raise awareness about careers in math, science, space and the military. From those conversations, students learned more about the day-to-day operations of Space Force.
The program dovetailed well with what Huppert's students were learning about from the stars, the planets, night sky, and yearly seasonal planet rotation.
Students in Huppert's class were particularly fascinated by the topic of space junk – obsolete, broken or used objects – that stay in orbit, but can cause collisions or disrupt current operational satellites. The students are also doing calculations about how hard or easy it would be to walk and jump on other planets in the solar system, given the gravity and composition of each planet.
"My dad was in the Air Force and what he did there is now part of the Space Force," said student Parker Foley.
Huppert said it was a terrific program that helped have conversations about how lessons in class tie into real life, and connect with other lessons. For example, they recently went to the Billings Symphony to hear part of Gustav Holst's "Planets." They also got to hear the orchestra perform the themes to "Star Wars" and "2001, a Space Odyessy."
Student Reed Shulund was able to tie what he learned from the program into what he's seen recently on the news.
"You need to know how to launch a rocket into space without blowing it up," Shulund said, "like Space X."
Foley said he better understood the recent Northern Lights after learning more about space and the Space Force too.
The students also said it gave them a chance to see there is more to a military career than combat.
"It's not all 'Top Gun' and 'Maverick'," Huppert said. "It gives them a different opportunity to see that Armed Forces in a different way. One of the Space Force officers was from Missoula. And they need people with strong backgrounds in math and science, too."
Daily Montanan is part of States Newsroom, a network of news bureaus supported by grants and a coalition of donors as a 501c(3) public charity. Daily Montanan maintains editorial independence. Contact Editor Darrell Ehrlick for questions: info@dailymontanan.com. Follow Daily Montanan on Facebook and Twitter.
Support The 74's year-end campaign. Make a tax-exempt donation now.