Stone & Morris: This Teacher Appreciation Week, We Need to #SendTeachersLove, Celebrate Them and Listen to Them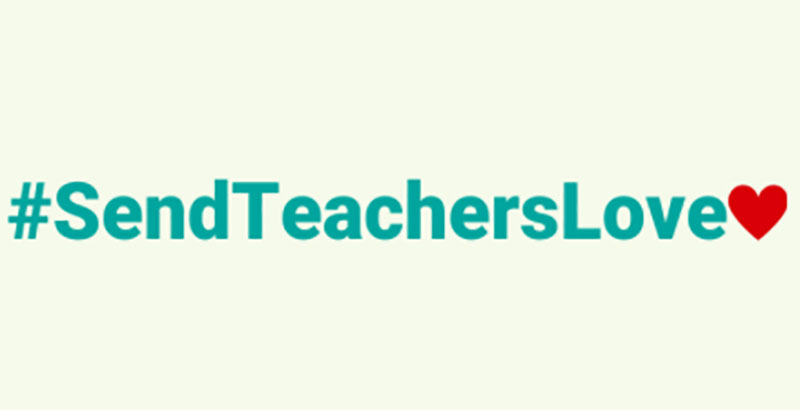 Moving curricula online. Distributing new computers to hundreds of students. Checking in on students and their families and advocating to ensure that they have internet access. Finding ways to get meals to students so they don't go hungry while schools are shuttered. Adjusting to a new reality, while caring for themselves and their own families — educators are doing all this while working to maintain a high bar for instruction and learning.
The COVID-19 pandemic has been the largest disruption to education in generations. Yet educators are rising to meet these challenges, navigating unexpected obstacles and persisting to reach and teach students with compassion and care.
In 2010, as elementary school teachers in the Bronx, we started Educators for Excellence (E4E) so teachers who were going above and beyond inside their classrooms could participate in the policy process happening outside their classrooms. Each year since, we have celebrated May as Teacher Appreciation Month — an opportunity to recognize excellent educators. This year, honoring them is more important than ever.
As a first step, E4E is recognizing amazing educators via #SendTeachersLove, a social media campaign to show educators across our country how much they mean to each of us. Elected leaders, former secretaries of education, celebrities and people like you are tagging posts with #SendTeachersLove to share why they appreciate teachers.
While #SendTeachersLove shines a light on the work of educators in this moment, that's only the start. Society needs to do more than celebrate teachers — we need to respect their work, listen to their perspectives and collaborate with them to improve education for their students.
During the COVID-19 pandemic, we have seen educators lead in herculean ways to, first, triage; then, recover; and, ultimately, begin to reinvent.
When the crisis hit, teachers immediately focused on their students' health, safety and well-being. Schools, districts and educators worked to triage the immediate impact by providing basic necessities like food, technology and internet access, and checking in on their students and their families. For this, we need to #SendTeachersLove.
When it became clear that schools were going to be closed for extended periods of time, teachers pivoted into recovery mode — doubling down on how to transform the science and art of teaching and learning into clear expectations for distance learning in order to make sure that all students are still progressing. Teachers have moved their curriculum online, turned their kitchens into chemistry labs and found ways to ensure that students with special needs are still getting services. Teachers have had to innovate while taking care of themselves and their families at the same time. For this we need to #SendTeachersLove.
However, the third phase, reinvention, is what teachers are most concerned about. They know that, at some point, they will be reunited with students who have suffered significant trauma and learning loss. They know their districts might have fewer resources, given the potential for significant cuts to education. They know that schools are still rife with inequities and challenges that make it difficult to provide all students with opportunity. Yet teachers also know that the upheaval of our public education system during the pandemic presents a unique opportunity. They know that if we educators raise our voices to articulate a vision for change, the coronavirus outbreak could catalyze a reinvention of public education that lifts up both the teaching profession and outcomes for kids.
In years past, during Teacher Appreciation Month, we've often said that the best way to appreciate educators is to listen to them. And this year is no different. So as we #SendTeachersLove, let's also remember to appreciate their intellect, their tenacity and their skill by listening to their perspectives on how to reinvent our nation's schools in the wake of this crisis.
Evan Stone is co-chief executive officer and co-founder of Educators for Excellence (E4E). Sydney Morris is co-chief executive officer of Educators for Excellence.
Get stories like these delivered straight to your inbox. Sign up for The 74 Newsletter