Still 'in the Trenches': D.C. Schools Warehouse Director Went From Graduation Planning to Distributing Devices, Homework Packets as Pandemic Became Daily Reality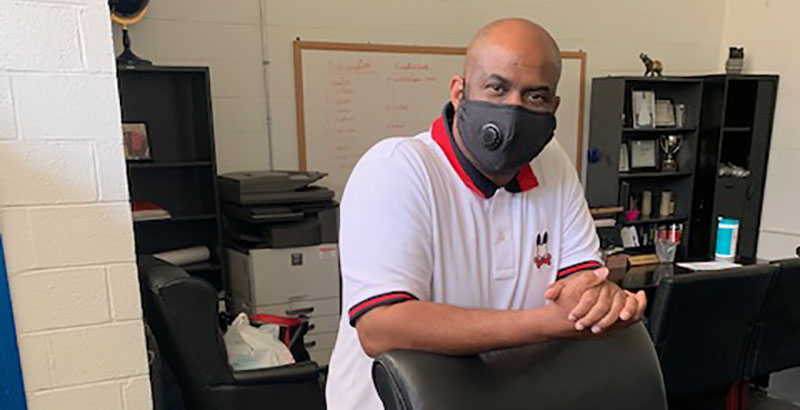 This is one of eight profiles in Displaced: The Faces of American Education, a package from The 74 following the stories of the diverse characters who are a part of the American education system, and how the COVID-19 crisis has upended their lives in a few short weeks. Meet the others, from around the country, here.
Most D.C. Public Schools buildings have stood vacant since the coronavirus sent teachers, students and staff home. The district's warehouse is a rare exception.
Warehouse director Roger Asterilla and his 10 full-time employees still report to the behemoth 120,000-square-foot building in northeast D.C. every morning by 7:30 a.m. Asterilla says his team is one of only three DCPS departments — alongside food services and school security — still "in the trenches" and fully operating in person after the pandemic shuttered schools in March.
The 47-year-old director of 11 years wasn't surprised that his team was deemed essential. He calls them the "unsung heroes of DCPS," handling logistics that keep the system running, from daily mail delivery and textbook orders to — in non-coronavirus years — chair and table counts for graduation ceremonies.
The pandemic, however, has vastly redefined their work. The department's most critical new role in the past two months, Asterilla said, has been to help deliver thousands of laptop devices to school sites — the district puts the count at about 9,100 devices — to help bridge the digital divide through a period of remote learning.
"We're coming to work every single day despite what's going on, and supporting any and every initiative that [DCPS] can think of," he said.
His team has also helped disseminate four rounds of homework packets — the district has printed about 272,000 in total — to either school sites or students' homes, depending on whether schools were able to distribute them to families. And they were bulky; Asterilla said sending just one cost a hefty $8 to $9 in postage, versus 50 cents or so for a thin letter.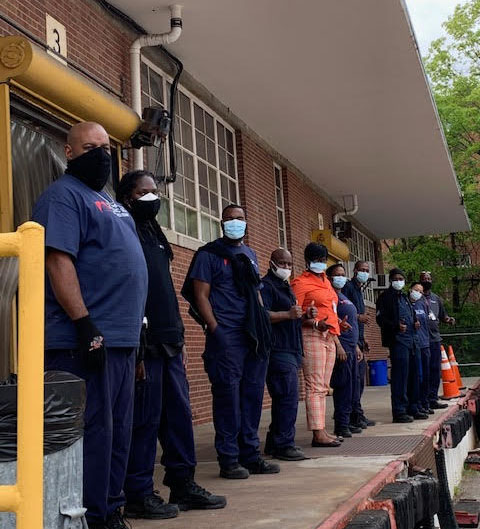 The biggest challenge through all of this, he added, has been ensuring his staff's safety.
"All of us were a little nervous and apprehensive [coming to work at the start of the shutdown] because we just didn't know" much about COVID-19, Asterilla said. He continually reminds his staff to keep their face masks and gloves on and to wash their hands.
And as they've had a head start on clearing out some school buildings that have been pegged for closure or renovations, they're exercising caution.
"We're scrubbing this furniture completely down" before taking it back to the warehouse, he said.
The slowed, methodical pace is a 180-degree turn from the "100 miles a minute" they usually move at this time of year, Asterilla said. In February, he and his team were already bogged down in frenzied graduation ceremony prep, figuring out the number of chairs, tables and PA sound systems each of DCPS's 117 school sites would need. They were also beginning to tally the number of computers and textbooks necessary for summer school.
That was on top of the day-to-day tasks. Mondays to Fridays, his team ferried mail, such as student transcripts and mass mailers, between the district's school sites — typically around 10,000 letters a month. If a school lost water, they'd get backup water to the school. If a school ran out of toilet paper or custodial supplies, it would call Asterilla's department.
Asterilla admits he's getting a bit more sleep now that the schools are empty. He leaves his home in Suitland, Maryland, at 6:45 a.m. every day for a 15-minute commute. He used to depart before the sun rose, at 5:30 a.m., to avoid the bottleneck traffic on the Suitland Parkway and Pennsylvania Avenue that could make the same drive 45 minutes.
D.C. schools are scheduled to close May 29. Even with details hazy as to what DCPS's reopening will look like, Asterilla is determined to think ahead.
"I'm going to plan as if this pandemic wasn't here," he said. "I'm training my staff to think the same way."
Get stories like these delivered straight to your inbox. Sign up for The 74 Newsletter