Stewart: The Democratic Presidential Candidates Have Something for Everyone — Except Classroom Students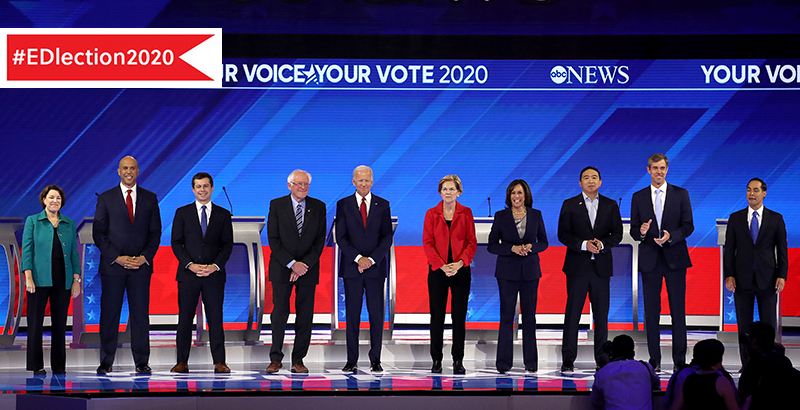 Last week's Democratic debate saw the first real appearance of public education with a question about school choice from ABC debate moderator Linsey Davis. The question yielded bobbing, weaving, ducking, dodging, sidestepping — and it all said plenty about the conflicted education values in the Democratic Party.
Davis's question gave space for the anti-charter school narrative that national teachers unions push to inaccurately blame charters for the chronic financial challenges facing school districts. She asked tech entrepreneur and charter school supporter Andrew Yang to justify his pro-charter position and his assertion that charter opponents are "in bed with teacher unions."
Yang, a public school parent himself, pivoted to a bland talking point about supporting "good" schools and then virtue-signaled about higher teacher pay and less focus on testing.
The other candidates were mum on charters. Elizabeth Warren emphatically said, "Money for public schools should stay in public schools," which could have been her take on it, but it's unclear if she meant charters, which are indeed public schools, or vouchers, which she once supported.
Pete Buttigieg, Bernie Sanders and Kamala Harris sang the I-want-to-pay-teachers-more song, while Julián Castro lamented segregation and Joe Biden drummed up a few slogans about spending more money for low-income kids and more school psychologists.
Cory Booker, once a charter school pitchman as mayor of Newark, touched on half a dozen issues besides school choice in one breathless paragraph: lead poisoning, teacher salaries, special education, racial segregation, overincarceration and environmental justice.
I wish people who want to lead our nation would start leading while still candidates, but I understand that these lifelong politicians are calculating the risk of clearly stating a position for or against charters. Either position threatens to anger one core Democratic constituency or another, including black and brown families who strongly support charters even as support among white Democrats has decreased.
Yet, by lavishing attention on the narrowly constructed agendas of teachers — a mostly white, female, middle-class and college-educated lobby — and ignoring the educational crisis facing poor communities of color, these Democrats betray their declared values of equity and social justice.
Warren often poses as a fearless lion against Wall Street, but she shrinks into a chicken hawk in the face of an enormously expensive public school system's inability to raise America's children to basic reading, writing and math proficiency.
Then there is one Bernard Sanders. The caretaker of "Medicare for All" is a loud missile against corporate health care largesse, but he's little more than a bottle rocket when it comes to the scourge of pedagogical incompetency in classrooms.
For her part, Harris loves to tell you how desegregation and busing made it possible for a little black girl in Berkeley, California, to grow up and become that state's chief mass incarceration overseer (and eventually a candidate for president). But why doesn't she talk about her support of the Five Keys Charter School, the first in the country run by a sheriff's department to educate young people behind bars and provide resources for them to succeed once released?
All these Democratic front-runners once supported school choice in some form, but as the stakes get higher in their competition for the presidency, they are trading bravery for pragmatism at the expense of the nation's children.
All of it tells me we've lost our way, and lost a cardinal virtue of education reform: the belief that children who aren't born into two-parent, college-educated, white suburban families need not be doomed to academic failure. This disastrous belief gap — the difference between the potential of children and what adults assume to be their potential — may pay the mortgage for education careerists in the $700 billion education system, but it robs our nation of the native intelligence that exists in our children from all economic stations.
I have a friend, Peter Cunningham, a forever Democrat, who has an old-fashioned belief that his party is the party of the underdog, the common woman or man, you know — the little guy. Well, if it's true, then it's time for them to reacquaint themselves with their basic values and realize their education plans have something for everyone, except for the littlest of guys — children on the margins.
With stakes this high, I wonder if I could ever vote for a world leader who I think would make a lousy candidate for local school board.
I'm not sorry to say I'll have to pass.
Chris Stewart is the CEO of Education Post, a media project of the Results in Education Foundation. Prior to leading Education Post, he served as CEO of the Wayfinder Foundation. He is a lifelong activist and 20-year supporter of nonprofit and education-related causes. In the past, Stewart has served as the director of outreach and external affairs for Education Post, the executive director of the African American Leadership Forum (AALF), and an elected member of the Minneapolis Public Schools Board of Education, where he was radicalized by witnessing the many systemic inequities that hold children back.
Get stories like these delivered straight to your inbox. Sign up for The 74 Newsletter