Stevens & Saldaña: Advice from Two Leaders of Color on Engaging and Supporting Students for Today, and for the Future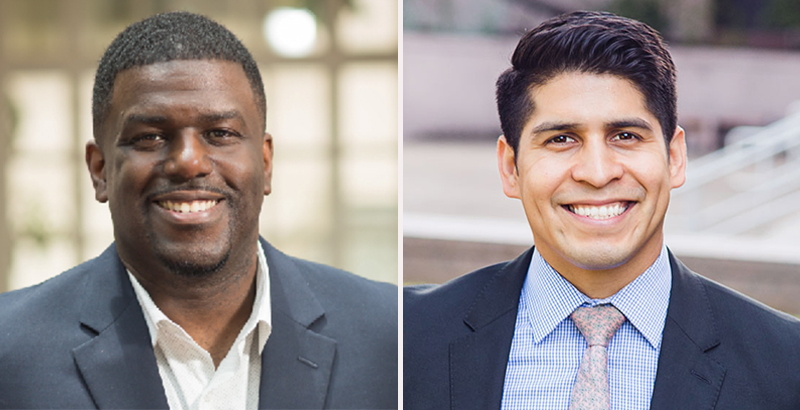 Get essential education news and commentary delivered straight to your inbox. Sign up here for The 74's daily newsletter.
With a second disrupted school year in the books and what one hopes will be a more "normal" year ahead, America's K-12 students stand at a crossroads. More kids have dropped out of school during the pandemic than in previous years. College applications among first-generation and low-income students are down. One study even suggests kids will continue to experience high rates of depression and anxiety brought on by the pandemic for up to nine years after this is over.
These immediate effects foreshadow possibly devastating consequences for a large proportion of this generation of kids who are living through COVID-19, particularly low-income and minority students.
But there is another path. These young people's futures as adults — their ability to graduate from school, go to college, embark on meaningful careers, overcome the emotional and mental toll of the past year and a half — depend on what the nation does today to support them in the coming school year and beyond. The choice is clear: As states and districts make their plans for reopening school buildings to in-person learning five days a week in the fall, all students must have access to the community resources and tools they need to unlock their potential and thrive.
To that end, federal, state and local governments, as well as school districts, nonprofit service providers, businesses and community members must come together to fund and support evidence-based approaches like wraparound services and mentoring. These interventions connect children and their families to caring adults and essential aids like mental health checks and telehealth services, regular meal distribution, reliable internet access and academic support — all of which are needed far beyond the pandemic.
Today's kids are not a lost generation by any means. They're resilient, and as leaders of national youth-serving organizations, we've seen many young people rise to the challenge as they deal with loss of life, illness, loss of opportunity, family struggles, food insecurity and more.
At the same time, as two men of color who were the first in our families to go to college, we know that no young person can reach success alone. We know that when families face financial, health and other challenges, as so many have during the pandemic, they need a supportive community around them.
New federal investments to shore up public education and eliminate childhood poverty are a great start. The government's COVID-19 relief package aims to cut child poverty by more than half and provides $122 billion in relief for K-12 schools. And the American Families Plan aims to increase access to early childhood education and college, extending public education by four years.
But families also need support where they live. Organizations like ours, that work with families and schools, are well positioned to help connect the dots, given the right resources.
For $5 billion to $7 billion a year, the federal government could aid students' nonacademic needs in schools by providing individualized case management and wraparound services for every child in a Title I school. The national education nonprofit Communities In Schools' proven model for doing this, called integrated student supports, is already aiding children and families in 2,900 schools across the nation. At schools that used this approach last year, 99 percent of students stayed in school.
Support is tailored to students' and families' needs, whether the learning in person, hybrid or virtual. In this model, 96 percent of high school seniors who receive the most intensive supports graduate or receive their GED, and this stayed true during the pandemic. Studies have found the Communities In Schools model improves elementary school attendance, high school graduation and nonacademic outcomes, like social emotional skills and feelings of competence.
Federal and state dollars should also be focused less on juvenile "delinquency" and more on prevention and intervention for those at risk. Individuals and communities can step up through advocacy, time, talent and volunteerism on behalf of kids. And they can enlist the financial and human resources of corporations to empower young people and their families by recruiting at least 30,000 new mentors for kids who want and need them.
Big Brothers Big Sisters' model of community-based mentoring links families to the services they need because mentors are closely connected to kids and their families. The impact of the program is clear: In 2020, 93 percent of kids mentored through Big Brothers Big Sisters successfully avoided risky behaviors, saying no to drugs, violence and skipping school. And most remained on track for postsecondary success, with 92 percent reporting plans to graduate high school and attend college.
Finally, as nonprofits, the government, schools, districts, parents, teachers and businesses work together to create solutions, young people must be at the table, too, because they know their own needs best. Low-income students and students of color have felt the impacts of the pandemic more strongly than many of their peers, from the start of the school closures in March 2020 through the end of this academic year. When schools open their doors again in September, these kids will need so much more than to be in class with their teachers and schoolmates.
We didn't live through a pandemic as children, like they have. But we know what works. And we want every young person to get the chance to lead and write their own success stories, as we did.
Artis Stevens is president and CEO of Big Brothers Big Sisters of America, the nation's largest donor- and volunteer-supported mentoring network. Rey Saldaña is president and CEO of Communities In Schools, the national organization that ensures all students are on a path to success.
Support The 74's year-end campaign. Make a tax-exempt donation now.