STEM Education Gets Stamp of Approval From U.S. Government With New Science, Technology, Engineering & Math Forever Stamps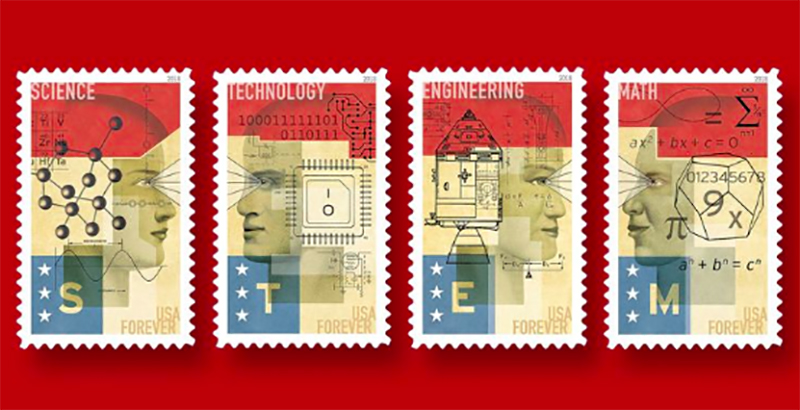 How do you keep snail mail cutting-edge in the 21st century? One way: a new set of STEM postage stamps.
The U.S. government is acknowledging the value of STEM education to the nation's standing in the world with four Forever first-class stamps that pay tribute to the study of science, technology, engineering, and math.
The Postal Service is officially rolling out the commemorative stamps this morning in a ceremony at the USA Science & Engineering Festival in Washington, according to Linn's Stamp News.
"In an increasingly competitive world, proficiency in the STEM fields is more critical than ever," the Postal Service said in announcing the stamps' release. "Concerned about government studies that project a lack of qualified citizens to fill STEM jobs in the years ahead, a coalition of federal agencies, private businesses, nonprofit organizations, and educators has called for improving and expanding education in these fields."
Each of the four 50-cent stamps, to be sold in panes of 20, features a collage with graphics germane to the subjects in the STEM acronym, superimposed on the profile of a young person. The montages "represent the complexity and interconnectedness of the STEM disciplines," the Postal Service says.
The science stamp includes parts of both a molecule model and the periodic table of elements as well as a sine wave.
The technology stamp features circuitry and binary code.
A schematic design resembling that of the command and service modules of the Apollo spacecraft can be found on the engineering stamp.
And mathematics is represented by numbers, letters, symbols, and equations, including an infinity symbol, a dodecahedron, pi, and an equals sign.
The stamps were designed by Baltimore artist David Plunkert, whose portfolio includes covers for The New Yorker and the fully illustrated 200th anniversary edition of Mary Shelley's Frankenstein, released this year in hardcover.
"I would say this is as close as I get to having my work seen by everyone in the United States," Plunkert told WBAL-TV 11.
The artist worked with Postal Service art director Antonio Alcalá in striving to create stamps that would appeal to scientists, engineers, and mathematicians as well as children and adults interested in STEM learning.
STEM and stamp fans of various backgrounds have sounded off about the stamps on Twitter.
Or, as writer and editor Michael J. Hotovy proclaimed in a post, "Smart is the new cool!"
Get stories like these delivered straight to your inbox. Sign up for The 74 Newsletter