Stelitano: The American Rescue Plan Is a Chance to Support Students with Disabilities. Here Are Some Investments Worth Considering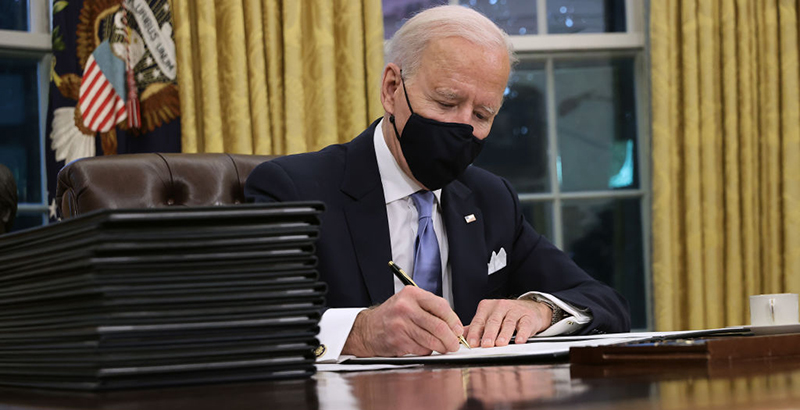 Get essential education news and commentary delivered straight to your inbox. Sign up here for The 74's daily newsletter.
Special education means that students with disabilities require specialized support to thrive. Parents, advocates, lawmakers and educators have raised concerns that this support has been disrupted during the pandemic, causing students with disabilities to fall further behind their peers. National surveys of school district leaders suggest such concerns are not unfounded.
Fortunately, help is on the way. The passage of the American Rescue Plan brings the potential to meaningfully address the challenges presented by the pandemic for such students. The plan awards approximately $2.6 billion in state grants for the Individuals with Disabilities Education Act to support K-12 students with special needs.
But how should states and local education agencies prioritize spending these funds? National surveys of K-12 teachers through RAND's American Educator Panels provide insight into the specific kinds of challenges schools face and anticipate for effectively educating students with disabilities during the pandemic and beyond. Understanding these can help identify important funding options that might address the current gaps.
When surveyed in fall 2020, most teachers from a nationally representative sample reported that, when teaching remotely, their students with disabilities engaged with assignments less than their general education peers. Teachers struggled too: Many lacked confidence in their ability to provide accommodations required through students' Individualized Education Programs. Together, these findings add to the concern about learning losses for such students.
Before the pandemic, strategies to address learning gaps between students with disabilities and their peers tended to emphasize remediation. But now, given the high likelihood of learning losses for students with disabilities during the pandemic, that will not be enough. Educators will need ways to simultaneously work on remediating prerequisite skills and accelerating learning of new content. Investing in these strategies and training teachers to use them could be a top priority.
The National Center for Learning Disabilities recently released a report on promising approaches to accelerating learning: streamlining curriculum, building in extra time to teach prerequisite skills and tailoring instruction based on students' strengths, needs and interests. As districts think about strategies to accelerate learning, they should plan for how students with disabilities will be included and draw on evidence-based and promising approaches. Successful implementation will require assessing students to understand their specific learning needs, training teachers and expanding instructional time. Summer and after-school programs as well as Extended School Year services through IDEA are some ways to expand opportunities for students to engage in these accelerated learning strategies.
Even before the pandemic, general educators may have been left out of important training and information about teaching students with disabilities. According to a national teacher survey in spring 2018, less than half of general educators reported having sufficient access to training and information for effectively supporting students with disabilities. The pandemic added new challenges. A national sample of teachers who worked remotely with such students in October 2020 said they didn't have adequate guidance to support their learning needs, and a majority of district leaders agreed that teachers need more professional development in that area. Effective training can give both general and special educators the confidence, strategies and resources they need to support students with disabilities emotionally and academically. Providing additional time for sustained, collaborative learning for teachers may be a worthwhile investment. According to the same 2018 survey, special educators reported significantly better access to relevant training, materials, student records and data systems compared to general educators. Thus, substantial untapped expertise and connection to resources may already exist within teachers' own schools. Collaborative learning opportunities between general and special educators could provide missing pieces.
Pre-pandemic reporting showed special education teacher shortages in 98 percent of school districts and 49 states. In fall 2020, a little over a third of school leaders surveyed said they were experiencing special education teacher vacancies — the highest rate of any subject area. Teacher preparation systems and pipeline programs should evaluate the extent to which their current programs will prepare general and special educators for the most pressing needs they'll likely face when they enter the classroom, such as accelerated learning for all. Without systemic changes, shortages of qualified and well-trained teachers are likely to make it even harder for students with disabilities to catch up. The Collaboration for Effective Educator Development, Accountability and Reform provides resources, tools and technical assistance for how states can build the capacity of their special education teacher preparation systems.
Like the COVID-19 vaccine, the new IDEA state grants present a reason to feel hopeful again. Students with disabilities are facing greater challenges than ever before, however, so it is critical that education policymakers carefully consider options that direct early funding into areas that might provide the most benefits.
Laura Stelitano is an education policy researcher at the nonprofit, nonpartisan RAND Corporation. Also contributing to this essay were Melissa Diliberti, Katie Feistel and Heather Gomez-Bendaña, assistant policy researchers at RAND and Ph.D. students at the Pardee RAND Graduate School.
Support The 74's year-end campaign. Make a tax-exempt donation now.