America's Child Care Crunch: How States Are Looking to Aid the System
States are spending more money and creating new incentives to ease the severe child care crisis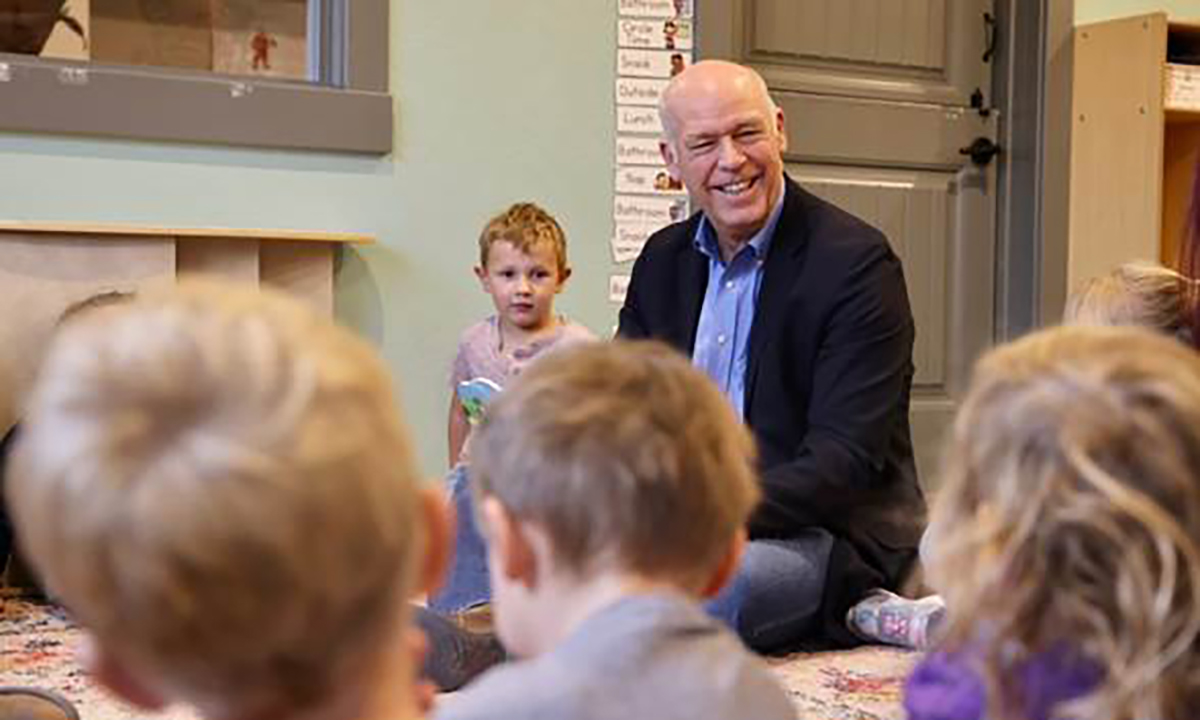 Support The 74's year-end campaign. Make a tax-exempt donation now.
States are spending more money and creating new incentives to ease the severe child care crisis, with most federal pandemic aid set to dry up in September.
The child care shortage costs the United States $122 billion in lost earnings, productivity and revenue each year, according to ReadyNation, a consortium of business leaders under the umbrella of the Council for a Strong America, a bipartisan nonprofit that promotes workforce solutions.
A December 2022 survey of working parents found that about two-thirds of parents of infants and toddlers reported being late to work or having to leave work early because of inadequate child care. And 85% of parents surveyed said problems with child care hurt their work effort or their time available for work.
Polls have shown that large majorities of voters and small business leaders say access to affordable child care is "essential" or "very important" to strengthen the economy, giving politicians impetus to act.
States are turning to a variety of ideas to ease the burden, including grants, tax credits, salary supplements and incentives. The bipartisan measures aim to help families pay for child care, while bolstering businesses in a worker-scarce economy.
Of the roughly $52 billion that Congress approved in federal pandemic child care aid, states must spend all but $15 billion by Sept. 30.
The federal funding provided a "lifeline for states to stabilize their child care systems," according to Child Care Aware of America, a nonprofit group that works with resource and referral agencies.
Diane Girouard, state policy senior analyst for Child Care Aware, said that with the federal funds running out, states now are aware of the difference the money can make in child care, which has given more impetus to state-sponsored funding efforts.
But while the federal pandemic money was helpful, experts say the COVID-19 pandemic has worsened the broader, longstanding problem of expensive and scarce child care.
"This has been a crisis for so long in affordability and accessibility," Girouard said. But during the pandemic, "it has gotten so much harder with rising costs and what continues to be a downward trend in licensed family child care," she said, referencing what is generally small, in-home day care operated by neighborhood residents. "It's been really hard to staff child care programs."
Federal Aid Is Propping Up Child Care. It Isn't a Long-Term Fix.
The problems boil down to three main categories — the high cost of child care for families; a lack of available child care homes or centers; and low pay that has led to a shortage of workers.
For a long time, both child care access and affordability were considered "personal issues" that were "ordinarily rendered without monetary compensation," said Gabrielle Pepin, an economist at the W.E. Upjohn Institute for Employment Research in Kalamazoo, Michigan. That history is reflected in the low pay for child care and early learning workers, she said.
"The pandemic, school and child care closures made it apparent to many people that our economy depends on child care," she said in a phone interview with Stateline. That began the move in states to address the problem.
In Maine, for example, Democratic Gov. Janet Mills included $10.5 million in her budget proposal that would help expand pre-K, and $7.8 million to continue salary supplements of $200 each for child care workers. That bonus program was started last year on an emergency basis, but Mills wants to make it permanent, according to Ana Hicks, policy director for human services in the Governor's Office of Policy Innovation and the Future.
The budget is making its way through the legislative process.
Hicks said the program will change in July to a tiered system, under which teachers with advanced education will get higher stipends. The formula has yet to be worked out.
In addition, the Maine legislature considered a bill that would provide incentives to help existing businesses establish on-site child care for their employees. The governor's office plans to conduct a study on the issue before final action.
Opposition to the state efforts has come mainly from conservative interest groups such as the Maine Policy Institute, which testified against the on-site child care bill. The institute argued that in-home or neighborhood child care is over regulated, and the state should concentrate on making it easier for "neighborhood moms" to look after kids, said Jake Posik, communications director for the conservative think tank.
"As special interests have come in to regulate child care under the subjective terms of quality, more and more availability has disappeared, and moved away from family child care, to child care centers," he said. "Maine has added a lot of rules — minimum education requirements (for caregivers), square footage of the building, which has pushed family child care out of the market."
Cutting back regulations that limit the number of children who can be cared for in a child care center, as outlined in a report from the policy center, and allowing child care providers to "watch more children without a license" would help, he said in a phone interview with Stateline.
But Hicks, the Maine governor's point person on child care, said the key is to keep children in licensed centers while providing the owners with financial and business help. She cited $15 million in infrastructure grants using federal funds approved last year by the legislature dedicated to child care centers. And a nonprofit group, Coastal Enterprises, Inc., teaches potential child care entrepreneurs how to apply for the grants.
Other states also are working on the issue.
In Missouri, Republican Gov. Mike Parson called in his State of the State speech for $56 million to expand pre-kindergarten options for families with lower incomes and $78 million to increase child care subsidy rates. He also proposed three new tax credits — for expansion of child care centers, for employers who offer assistance to employees for child care and for augmented pay for child care workers.
In Ohio, Republican Gov. Mike DeWine said in his State of the State address that he plans to make child care available to 15,000 more kids with money in his budget proposal, which is awaiting legislative approval.
And in Texas, buried in a bill that would give parents up to $8,000 vouchers for private schools and limit instruction on gender identity or sexual orientation, is a provision that would give teachers free access to pre-K programs for their own kids, if the programs exist in the school district.
Minnesota has two child care bills moving through the legislature. One would increase the amount that eligible families with low incomes would get for child care costs, and the other would add $12 million for child care centers through June and another $40 million for early learning scholarships. The latter bill would take effect as soon as it is enacted, according to sponsor Rep. Dave Pinto, a Democrat.
He said the measures are intended to fill a gap before the state's new budget takes effect in July, when lawmakers expect to see more new funding. The bills have passed the House and are being considered by the state Senate.
Pinto, in a phone interview with Stateline, said early learning is "incredibly important. Families are paying 30-40% of their income for child care and early learning."
At the same time, he said, child care workers are the lowest paid of "any occupation you can get with a high school diploma. You make more money on your first day at a convenience store. How can it be that parents are paying so much, and the workers are getting so little?
"The answer to that question comes when you imagine K-12 education with no public funding. It's a public good that needs public support. It's just like K-12, we just don't think of it that way."
This story was originally produced by Stateline News, a division of States Newsroom, which includes the Daily Montanan. The original link can be found here.
Daily Montanan is part of States Newsroom, a network of news bureaus supported by grants and a coalition of donors as a 501c(3) public charity. Daily Montanan maintains editorial independence. Contact Editor Darrell Ehrlick for questions: info@dailymontanan.com. Follow Daily Montanan on Facebook and Twitter.
Support The 74's year-end campaign. Make a tax-exempt donation now.