Iowa Board Of Regents, Universities Target Campus Mental Health
The state Board of regents is seeking an additional $1 million to support mental health services for college students.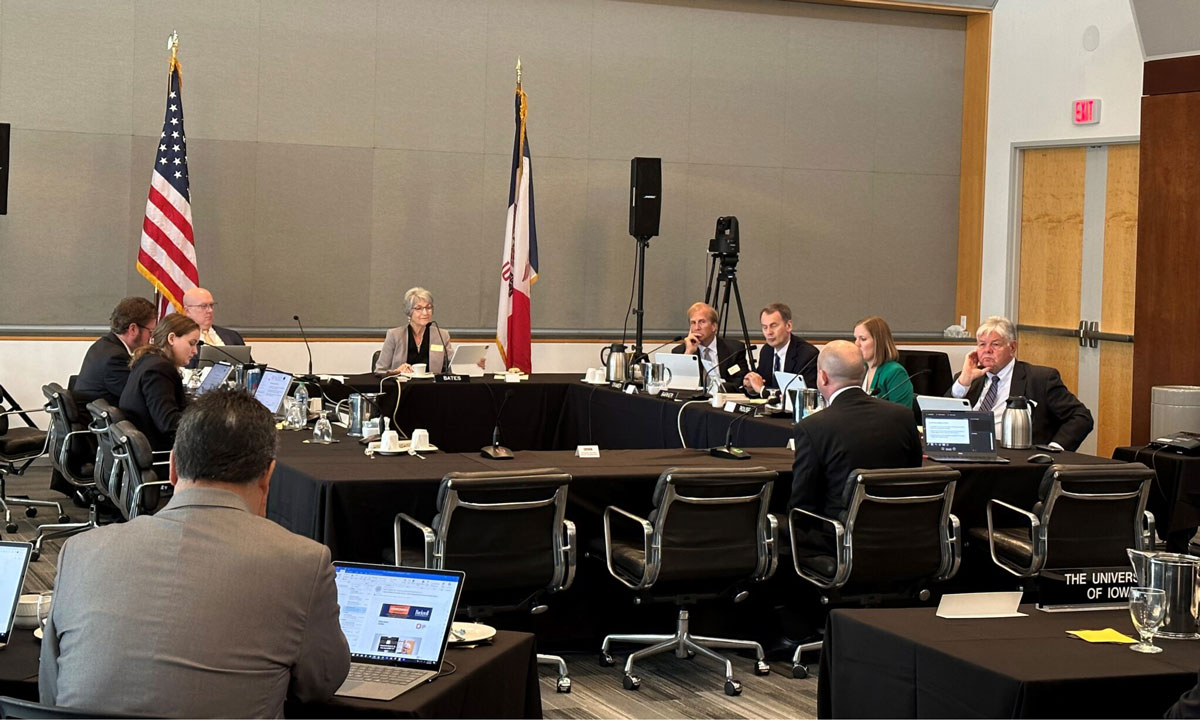 Support The 74's year-end campaign. Make a tax-exempt donation now.
Iowa's Board of Regents voted Thursday to seek an extra $1 million from the state to address mental health needs across college campuses and in rural Iowa.
Regent Abby Crow made the motion Thursday to increase the fiscal 2025 state appropriations request to support efforts at Iowa State University, the University of Iowa and University of Northern Iowa to expand mental health services for students. The motion and the appropriations request, totaling $620 million with the addition, were approved unanimously.
"Our student leaders and our universities would be extremely grateful to be involved in further conversations going forward regarding the specific allocation of this funding and offer their insight as to what specific mental health related resources, programming or staffing might do the most good at their respective institutions," Crow said.
Representatives from the universities spoke to regents Wednesday about efforts to make campus mental health resources more accessible to students in need, from offering telehealth options to partnering with national nonprofits.
University of Northern Iowa Vice President for Student Life Heather Harbach said in the meeting that the college has begun offering an app for students seeking immediate mental health assistance. Students have access to the app from anywhere and can use it at any time to speak with a mental health professional.
This is an option students can use an unlimited amount of times, lessening concerns among students that they only get so many sessions with a counselor on campus. The app is available in addition to in-person counseling services, groups and other mental health services.
Over the past decade, Harbach said, mental health needs on college campuses have evolved from more traditional counseling sessions to services that provide immediacy, so students dealing with mental health issues can get help quickly. This is evidenced by usage of the app so far.
"We're already seeing many of our students utilizing this service," Harbach said.
Iowa State University Senior Vice President for Student Affairs Toyia Younger said the university has partnered with the Jed Foundation to create a strategic approach to promoting mental health and suicide prevention. The Jed Foundation is a nonprofit that partners with high schools and colleges across the U.S. to aid in supporting mental health of student bodies, implement suicide and self-harm prevention programs and reduce substance misuse.
This partnership is part of the university's 2022-2031 strategic plan, and received $47,418 in funding.
University of Iowa Vice President for Student Life Sarah Hansen said a new peer-to-peer support program will be embedded in the Office of Student Care and Assistance for students who feel more comfortable speaking with a fellow student rather than a counselor or other professional.
Research shows young people are more likely to go to a friend or peer first when having issues relating to life disruptions or mental health, rather than a professional, Hansen said
UI program addresses rural mental health
The University of Iowa is also working to address mental health needs among all Iowans with its rural health care partnership. University of Iowa President Barbara Wilson spoke during the meeting about the rural health care partnership and how it will address mental health, maternal health and primary care and substance abuse across the state.
The university is seeking $10 million a year for the program for the next five years, The largest share, $4.1 million, will go to educating and graduating more psychiatric mental health providers and clinical mental health counselors and training more non-clinician providers of mental health services. Another goal is to bring mental health services to more K-12 schools, around 80% of the state's schools each year.
The university will also put $3.75 million into maternal health and primary care, and $2.15 million will go toward addressing substance abuse.
"Our goal is to not get rid of local health care, it is to bolster the impact and effectiveness of it and really make a network of strong providers with Iowa City being the place that you come if it's really too complex for local situations," Wilson said.
Iowa Capital Dispatch is part of States Newsroom, a network of news bureaus supported by grants and a coalition of donors as a 501c(3) public charity. Iowa Capital Dispatch maintains editorial independence. Contact Editor Kathie Obradovich for questions: info@iowacapitaldispatch.com. Follow Iowa Capital Dispatch on Facebook and Twitter.
Support The 74's year-end campaign. Make a tax-exempt donation now.