Star Wars 101: How 3 Teachers Are Using The Force to Teach Politics, Myths and Monsters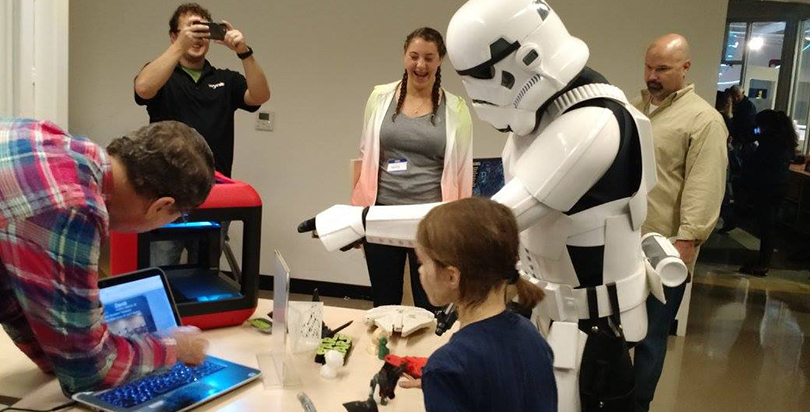 In order to amp up student engagement in their classrooms, these teachers aren't using any Jedi mind tricks. But they are using The Force.
When Thomas Riddle and Wes Dodgens were both teachers at Mauldin High School in Greenville, S.C., the duo discovered they had a shared passion for Indiana Jones and Star Wars movies. So they built websites highlighting how to integrate a transdisciplinary approach to teaching around the films — launching "Adventures in Learning with Indiana Jones" in 2007 and "Star Wars in the Classroom" in 2012.
"Wes and I both believe in hands-on learning experiences, not so much traditional sit-and-get," said Riddle, who is now an assistant director at Roper Mountain Science Center in Greenville. "Pop culture is a great hook to bring kids into learning — whatever subject you're trying to teach them."
With the website, they took some advice from Yoda: "Always pass on what you have learned." Incorporating a professional learning network called "The Rogues," to share Star Wars-themed lesson plans, Riddle and Dodgens quickly learned a whole galaxy of similarly obsessed teachers wasn't so far, far away.
The website now highlights more than 450 teachers in 20 countries who are either using Star Wars as a teaching tool, or hope to. Many shared lesson plans to help other teachers learn the way.
"At first, we were getting a lot of teachers that you'd expect from subject areas that you'd expect: ELA, and science, and social studies," Riddle said. "And then we began to see a lot more math teachers who were joining in and using Star Wars in some really creative ways."
With the upcoming release of "Star Wars: Episode VII" (in theaters Dec. 18), here's how three teachers are using The Force in their classrooms:
Episode I: Craig Dickinson, Pasco High School
Craig Dickinson, who teaches English at Pasco High School in Washington state, has been hooked on Star Wars since he saw "The Empire Strikes Back" in 1980. But his "Star Wars Teaching Story" began in 2009.
With his students, Dickinson uses Star Wars to teach famed scholar and mythologist Joseph Campbell's "Hero's Journey" concept — a 12-step
literary pattern
that appears again and again in literature and film and traces the trajectory of how an ordinary person is transformed into a savior.
Dickinson created PowerPoint presentations that explained how the concept was used in "The Lord of the Rings," "Harry Potter," and other popular movies. With working knowledge of the concept, his students then analyze how it's used in the first movie, "Star Wars Episode IV A New Hope," showing how their own knowledge of storytelling and symbolism has deepened.
"When we finally got to viewing the film, students began tracking not only Luke's heroic journey, but would make note of color schemes, camera work, music cues and motifs, dialogue/body language, and general characterizations," Dickinson explained in his profile on the Star Wars in the Classroom website. "It was a fully holistic analysis of the film and a huge success with the students."
Along with the PowerPoint presentations and quizzes Dickinson uses, his Star Wars in the Classroom
profile
also includes notes from students who appreciated the lessons.
"Mr. Dickinson, you were right. Star Wars is Awesome!" one student wrote. "On the 6th episode I thought we still had one more episode in class to watch but no we have to wait until the end of 2015! It's so unfair."
Episode II: Rebecca Thomas, West Career and Technical Academy
Rebecca Thomas, a high school social studies teacher at West Career and Technical Academy in Las Vegas, shows the Original Trilogy in her comparative politics and U.S. government classes.
Along with identifying key vocabulary terms, such as imperialism and fascism, her students research U.S. history at the time the films were released in the late 70s and early 80s. The discussions mine how current events could have influenced the particular fight between good and evil that plays out in each of the installments.
"We go further into discussion of the popularity of science fiction during tense times in international politics," she explains. "Each year students always look forward to my Star Wars government lessons."
Episode III: Ryan Croft, University of Wyoming
Ryan Croft, who teaches in the English department at the University of Wyoming, is proving that Star Wars education isn't just for kids.
At the university, Croft teaches two highly popular classes that explore the influences medieval and Renaissance literature — think "Beowulf", "Dante's Inferno" and the Arthurian legends — has on the Star Wars movies.
Students create video essays on topics such as female heroism, monsters, and medieval religion in both Star Wars and literary texts, Croft explains on his Star Wars in the Classroom profile.
Croft gave a September 2014 interview where he talks about the Star Wars monsters and what they represent — from Darth Vader and his issues of wrath, envy and lust for power to the slug-like Jabba the Hut as a stand-in for the seven deadly sins, including greed and lust.
---
---
"So monsters — they are great to look at and kind of buy the toy of — but they represent ethical dilemmas," Croft explains. "It's something the hero has to defeat and really what the hero is defeating is not just the monster but something inside themselves."
Get stories like these delivered straight to your inbox. Sign up for The 74 Newsletter