Novel Idea: Texas Teachers Turn Middle School Hall Into Library for Giants With Painted Literary Lockers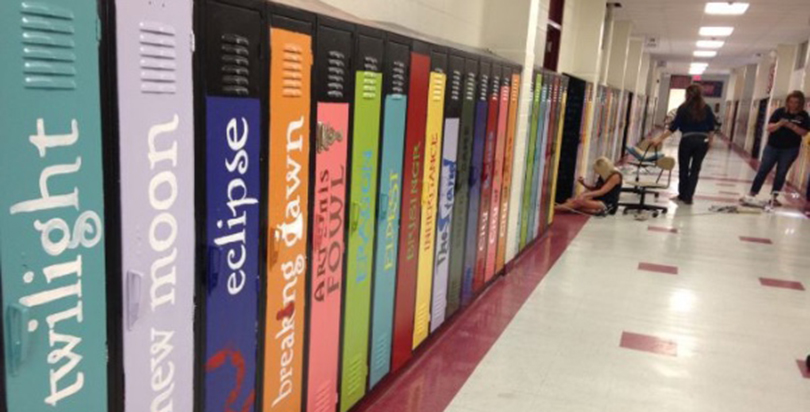 This article is one in a series at The 74 that profiles the heroes, victories, success stories, and random acts of kindness to be found at schools all across America. Read more of our recent inspiring profiles at The74million.org/series/inspiring.
The teachers at Pat M. Neff Middle School in San Antonio worked hard to win grants to beef up the school's stash of brand-new novels. Then, they decided to create something special to celebrate those novels, all while giving the 55-year-old school's hallways a distinct look: literary lockers.
---
#NISDInspired– check out the literary locker makeover at @NISDPatNeff! These teachers are awesome! https://t.co/kpUi8a664V

— Northside ISD (@NISD) July 4, 2017
---
Following a successful fundraising campaign that easily more than met the $400 goal to pay for supplies, teachers from a variety of departments donated a week of their summer vacation to repaint the school's blue lockers as spines of popular books: Matilda, The Hobbit, Tom Sawyer, The Giver, The Diary of Anne Frank, the Twilight series.
Think of it as a life-size library, for a giant.
Teacher Vanessa Mercedes wrote on her GoFundMe page that the staff of the Title 1 school strives to give students everything that wealthier schools enjoy and that the teachers remain "hungry to make a positive impact in each student's life as they grow."
---
---
The project started in the sixth-grade hallway, teacher Jessica Sweeney told KENS 5 News, with books traditionally read in sixth-grade English Language Arts classes. But the literary-minded artists mixed in books found in both seventh- and eighth-grade classrooms — and they plan to expand the project into multiple hallways.
"Even though this is mainly [the] sixth-grade hallway, all grades walk through here," Sweeney said, "so when they see those book spines, our hope is that it kind of reminds them, 'Oh, hey, I've read that book!' or, 'Hey, we're reading this book now! We're reading this book next.'"
Get stories like these delivered straight to your inbox. Sign up for The 74 Newsletter