Special Delivery: Denver Teacher Goes Into Labor at School — and Soon, Baby Zara Is Born on the Sidewalk Outside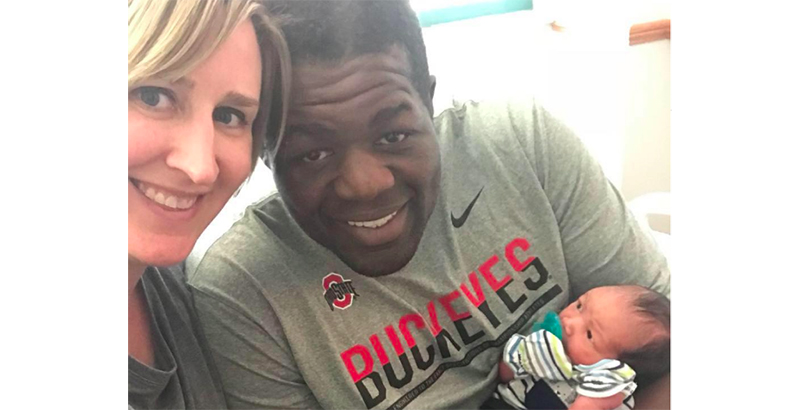 This article is one in a series at The 74 that profiles the heroes, victories, success stories and random acts of kindness found at schools all across America. Read more of our recent inspiring profiles at The74Million.org/series/inspiring.
When reading teacher Lindsay Agbalokwu felt minor cramps one morning before school, she brushed them off and headed to work. After all, the baby wasn't due for a couple more weeks, and the students at her Denver charter school needed her.
There's such a thing as being too conscientious.
After giving out "core value" awards during morning assembly, she went to her homeroom, where the contractions started again.
"The pain felt different," Agbalokwu told Yahoo Lifestyle. "In the classroom, the pain went from 0 to 100."
She asked co-teacher Marissa Kast to notify the principal and dean at DSST: Conservatory Green. They helped Agbalokwu outside while Kast ran to get her car.
But there was no slowing down the 8-pound, 6-ounce baby girl who was rushing her way into the world. Making it to the hospital was out of the question, so Kast threw a sleeping bag on the sidewalk. Soon, with the aid of Principal Natalie Lewis, Dean Chris Earls and some firefighters who showed up at the last moment, baby Zara was born.
"I was just telling her you're going to be OK, women have been doing this forever, giving her reassurance, telling her to breathe," Lewis told Chalkbeat.
"Everyone had tears running down their faces," Lewis said. "It was so beautiful."
"I just like randomly think about it and text my mom, 'I just gave birth on the sidewalk outside my school!'" Agbalokwu told KDVR-TV. "This is so crazy!"
It would have been crazier if the students had witnessed the birth as well. Luckily, there were no windows overlooking that side of the school.
Zara is Agbalokwu's second child. She and her husband, Chi, also have a son named Zeke, who was born in more conventional surroundings.
"When she was ready, she just said, 'Boom. I'm coming out,'" Agbalokwu told UPI. "I think it will be indicative of her personality to come. That she will be a firecracker. She's going to do great things."
Get stories like these delivered straight to your inbox. Sign up for The 74 Newsletter