South Dakota Unveils $3 Million Grant Program for Community Child Care Solutions
The deadline for communities to apply for the new grant program is Oct. 27. Awardees will be notified the first week of November.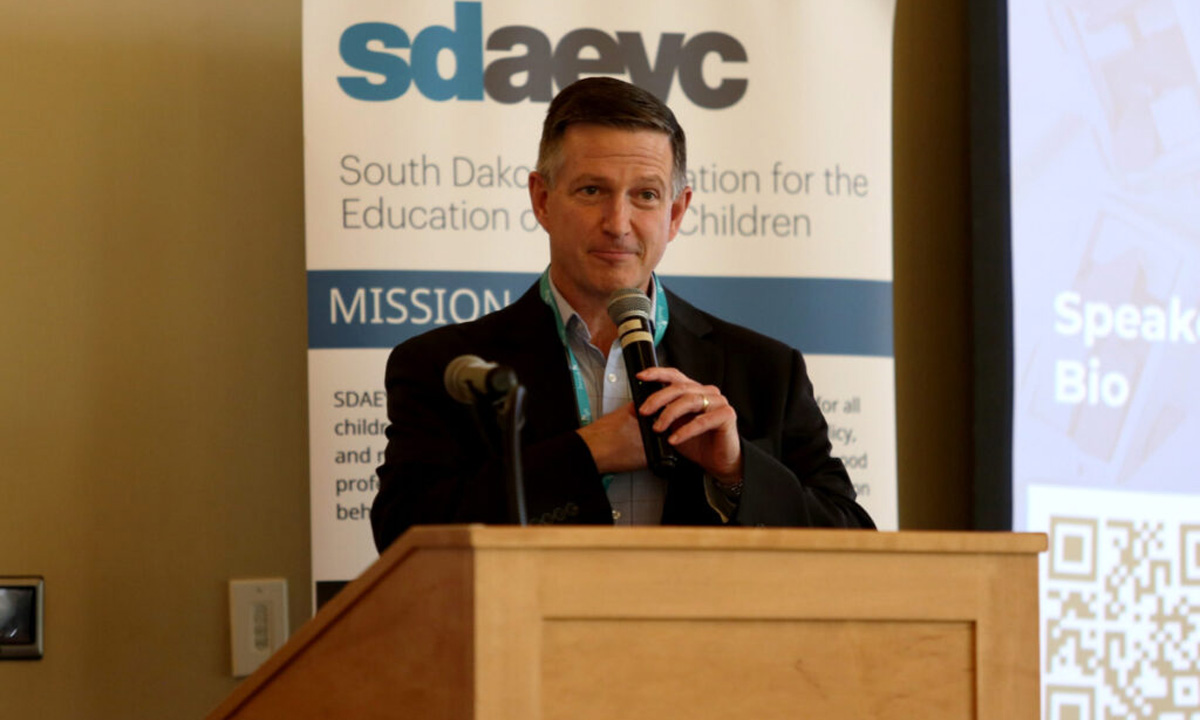 Support The 74's year-end campaign. Make a tax-exempt donation now.
Child care is a workforce issue. Providers, business professionals and experts have been saying that for years.
On Thursday, the Governor's Office of Economic Development and the Department of Social Services announced a $3 million grant program to expand child care in the state.
The Community Based Child Care Grant, which uses federal American Rescue Plan Act (ARPA) dollars, will be awarded to communities that bring several entities together — providers, economic development organizations and governments — to present innovative solutions to child care problems, said Joe Fiala, partner relations director for GOED.
"Child care impacts business, so it makes sense that we would at least be involved to some extent," Fiala told child care providers and experts at the Early Learner Summit in Brookings on Thursday.
States have to obligate or commit ARPA dollars to specific projects by the end of 2024, or the money will be returned to the federal government.
The deadline for communities to apply for the new grant program is Oct. 27. Awardees will be notified the first week of November.
Unaffordable and inaccessible child care has been widely covered by state and national media in the past couple of years. The issue gained attention during Gov. Kristi Noem's reelection campaign and was a topic of discussion during the 2023 legislative session. The city of Sioux Falls released a child care report this summer highlighting the issue at a local level.
Planning grants will be awarded up to $50,000, which can cover consultant costs, survey and data costs or providing stipends to volunteers, Fiala said. Implementation grants will be awarded up to $500,000.
"Three million dollars is a nice pool of money and we're excited for that," Fiala said, "but I think it will go relatively quickly once we start approving grants. When you think about the whole state, that's probably a drop in the bucket compared to what's needed."
Examples of ideas across the state include the development of an early childhood and youth development office in Sioux Falls, which was one of several recommendations from the Sioux Falls Child Care Collaborative report, and Madison's new tax increment financing (TIF) district that will help fund a child care center in that city. It has a population of over 6,000 but only has in-home child care operations.
TIF districts provide upfront financing for public improvements and then capture the new and higher property taxes generated by a development project to pay off the financing.
"If we view child care as basic infrastructure," said Brooke Rollag, executive director of the Lake Area Improvement Corporation, "just like roads and streets or any other tool we use to get to work, then we can utilize a TIF for this project as well."
There should be several entities engaged in applying for each grant, Fiala said, such as local economic development organizations, community coalitions, local governments, businesses, school districts, nonprofit organizations and existing child care providers.
"I do not want 25 applications from Sioux Falls," Fiala said. "That's not going to work. I need Sioux Falls to come together tightly and maybe come up with only three or four."
South Dakota Searchlight is part of States Newsroom, a network of news bureaus supported by grants and a coalition of donors as a 501c(3) public charity. South Dakota Searchlight maintains editorial independence. Contact Editor Seth Tupper for questions: info@southdakotasearchlight.com. Follow South Dakota Searchlight on Facebook and Twitter.
Support The 74's year-end campaign. Make a tax-exempt donation now.