Smartstones Technology Gives Voice to Students Who Cannot Speak Themselves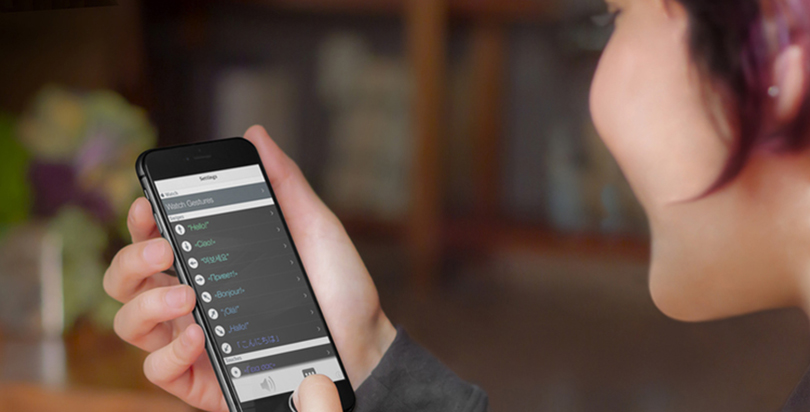 Mia has severe autism. In seven years working with her, Mia's teacher had never seen the nonverbal girl put together a complete sentence. But using
Smartstones
' EEG headset and :prose app, after just three attempts, the elementary school student formed her first complete sentence. And she made eye contact the entire time.
"It is a pretty exciting innovation," Andreas Forsland, Smartstones' founder, told The 74. "We are offering a solution in think-to-speak for folks who could really use that. We are trying to bring super-advanced technology and make it very affordable."
That technology — which in April won Smartstones the 2016 Edison Gold Award for Social Innovation — turns finger swipes, arm movements and even thought patterns into spoken words, phrases and sentences, enabling special-needs students to talk through iOS devices.
Other assisted-communication programs involve complicated graphics and buttons and, often, outdated models, Forsland said. But the :prose app allows kids to associate phrases with simple gestures and store as many as 40 or so in a personalized library.
"What do we want a swipe up to mean? Up is yes, right is no, left is good," he said as an example. "You can use diagonals, circles to say you are hungry, thirsty or have to pee — whatever is unique or important for those children to communicate."
For kids who find swiping difficult on an iPad or iPhone screen, there is Smartstones Touch, a handheld, remote-control sensory device. Shaped like a river stone, the device has an internal trackpad that recognizes touches, taps and fingers scribbling across the surface. It also has an accelerometer and gyroscope, so it can detect motion if it's lifted, lowered or moved around. All the data connects with :prose to turn those movements or gestures into speech.
And for those with extreme physical challenges, :prose can connect with an EEG headset that reads brain-wave patterns associated with specific thoughts and translate them into verbal speech. If a person is thinking "up," it records the pattern and then matches that command in :prose, which speaks the thought.
The inspiration for this technology came to Forsland during seven weeks he spent in 2012 watching his mother struggle for life in intensive care, unable to move, talk, write or use any fine motor skills. "Literally millions of people in the world" could benefit, he said, but Smartstones focused specifically on education, to reach people in need as young as possible to increase their chances for a "great life."
With about 1 percent of the world's population on the autism spectrum, and with autism being the fastest-growing known disability, "There are a lot of kids that are K-12, early-childhood development, and they are being marginalized," Forsland said. "A lot of these kids have really incredible minds but are really limited on their ability to speak. All the things they are thinking, they can't get out. We are trying to unlock the minds and increase their ability to engage with the people around them."
Schools often introduce :prose individually to students as a technology component of an Individualized Education Program, Forsland said, and kids with autism or deficits in fine motor skills take to it immediately.
"The directors of technology at school districts, the special education teachers and the therapists that work with kids love to use our technology," Forsland said. "The main users and buyers are within the ed tech space, and the teachers work with the kiddos to use it."
Smartstones also sells the app directly to parents, he said, but selling to schools offers a more affordable way to assist communication. The app is a $59 purchase, and the entire package, including the headset, costs just under $360.
Based in Santa Barbara, Calif., the company won an entrepreneur challenge in 2014 and soon after started working with school districts in the state. Patrick Myers, a middle school special education teacher near Sacramento, was the first to use :prose in a classroom, in spring 2015. "The intuitive, ubiquitous nature of Smartstones :prose allows students almost effortless opportunities to communicate," he said.
Now, Smartstones is expanding beyond the West Coast. The company just signed an agreement with the New York City Department of Education to provide technological assistance to about 24,000 special-needs students, about 8,000 of them autistic.
Districts of all sizes from California to New York and across the country are calling, hoping to provide their students with a seamless transition from frustration to successful assisted communication. They all want a story like Mia's.
Get stories like these delivered straight to your inbox. Sign up for The 74 Newsletter