Six Years After Judge Said Texas Is Violating Foster Children's Constitutional Rights, Court Monitors Warn State Is Continuing to Place Kids In Harm's Way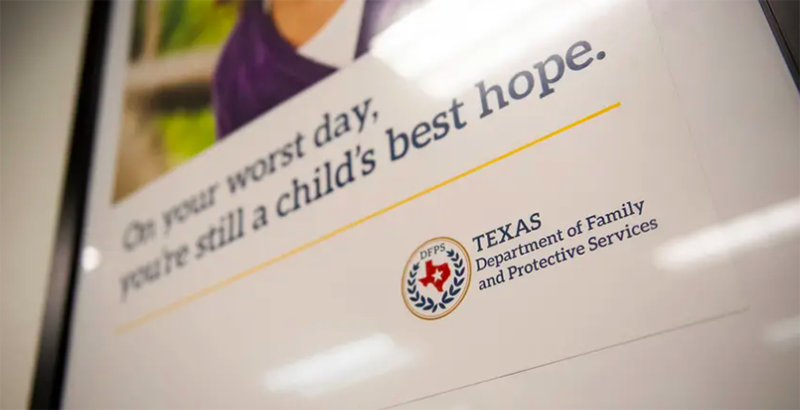 This article is published in partnership with TexasTribune.org. 
At least 23 children have died in Texas' long-term foster care system since summer 2019, according to a new report by court-appointed monitors for state agencies in charge of the system.
Six of the children died as a result of either neglect or abuse by caregivers. Another is suspected to have died from abuse. Five more deaths are also still under investigation.
"It's the safety of these children that's at stake here," U.S. District Judge Janis Jack said during a federal court hearing following the release of the report. "That's the most important thing we have … and I expect Texas to live up to its duties to keep these children safe."
The 387-page report was released ahead of a hearing in the decade-long lawsuit over foster care in Texas. It detailed "some progress" state agencies have made toward improving foster care but stated that "serious risks of harm to children persist."
Jack previously ordered the state to stop putting children in placements that "create an unreasonable risk of serious harm." But the report found the state "appears to have done so repeatedly, with serious, harmful consequences to the children in its care."
This week's hearing comes over two years after Jack ordered the Department of Family and Protective Services and the Health and Human Services Commission to address a long list of reforms for the state's foster care system after she found in 2015 that Texas violated foster children's constitutional rights.
The court has twice held state agencies in contempt for failing to meet reforms ordered by Jack. She did not issue another contempt order during this week's hearing.
During the hearing, which lasted all day May 5 and part of May 6, Jack acknowledged that there has been progress but highlighted several areas that continue to endanger children.
Jack grilled several state and provider officials about placement facilities reopening under different names — a phenomenon that the monitors surfaced last year. According to the report, several operations with histories of abuse, safety and neglect violations closed and reopened under a new name to escape citations from the state.
State officials said they have addressed the issue with an emergency rule to ensure this can't happen. A permanent rule will go into place this summer.
"I mean it's just stunning to me that these rules are even necessary," Jack said. "Because for something to close one day and open the next day with the same children, the same owners, the same operators and the same staff — and nobody picks it up? It's just bizarre."
The report also said three contractors responsible for finding living arrangements, including foster homes, for children in state care placed children in unlicensed facilities.
"We are glad to see the areas in which the state is improving," Marcia Lowry, executive director of A Better Childhood, a national nonprofit child welfare advocacy organization, and a co-counsel in the lawsuit, said in a May 4 press release. "However, we are very troubled that almost two years after the court's remedial orders went into effect, children are being placed in unlicensed placements and being subjected to many dangerous, damaging conditions."
The report includes a 3-year-old boy who died after being found unresponsive on the floor, bleeding from his ear and showing signs of abuse. His day care had reported previous injuries to his case worker. One teenager died by suicide when left alone, despite her case requiring that she be under constant supervision because she was at risk for self-harm. Other cases include negligence by the caretakers for medical needs or in one case when a toddler was able to climb into a pool and drown.
Other deaths not deemed from abuse or neglect include a teenager who drowned, children with severe medical conditions and a 15-year-old girl who had run away from care and was found murdered on the side of the road. One child was in a placement in another state and wasn't investigated by Texas officials.
Eleven of the deaths were also included in the monitor's first report last year. The data was collected after Jack ordered that child fatalities be reported to the court monitors.
The court monitors analyzed tens of thousands of pages of documents, conducted hours of interviews and probed various aspects of the foster care system.
Texas Health and Human Services did not revoke any licenses for placements — whether a foster home, a group home or an agency — in the five years prior to July 31, 2019. But between then and April 23, the department initiated revocation proceedings or denied licenses for eight group facilities that house seven or more foster children.
The Texas Department of Family and Protective Services canceled contracts with three of these facilities, while five others voluntarily relinquished licenses after being placed on heightened monitoring or another type of enforcement action due to suspected malpractice.
Jack blasted one provider in particular, Family Tapestry, for failing to meet minimum standards and prevent abuse within a shelter in San Antonio.
"You are running a dangerous, unsafe operation, and now you want more money to continue doing it," Jack told Annette Rodriguez, chief executive officer of the Children's Shelter and Family Tapestry. "You were unprepared to take care of those children, and you're still unprepared to take care of those children."
The Children's Shelter created Family Tapestry and won a state contract in August 2018 to manage and place foster children. But Jack said there were persistent problems there that "are serious and an incredible safety issue."
The shelter was cited 239 times for failing to meet minimum standards from 2016 to 2020, according to the report. Monitors detailed "substantiated" findings including one for physical abuse, one for sexual abuse, 10 for neglectful supervision and three for medical neglect.
Family Tapestry voluntarily surrendered its license for the shelter, but later continued to place children there, according to the court monitors. Rodriguez said at this week's hearing the organization chose to do that because of a lack of other options.
"We are diligently working with providers to try to open up more capacity, as we have done all along," Rodriguez said.
Jack said it is "absolutely astounding" that the organization has told officials that it needs more funding when defending itself from the reports.
"I hope that that doesn't occur for the safety of these children," she said.
After the Tribune requested an interview, Rodriguez responded in a statement that they are "deeply concerned" and working to address the issues raised.
"It would not be appropriate to comment further at this time. We remain committed to all the children we serve," Rodriguez said.
During the hearing, Jack also instructed state officials to take action to better protect children from sexual abuse within the foster care system and to document when children have a history of abuse or sexual aggression, so they can be placed with precautions in mind.
A future hearing date for the ongoing case has not yet been announced.
The parents of one of the children who died while in foster care is suing ACH Child and Family Services, the organization who managed their son's case, after he died, succumbing to injuries.
Amari Boone was three years old when he died in state custody. He had two emergency visits to Cook Children's Medical Center in Fort Worth while in foster care before his death from a brain injury, according to The Dallas Morning News.
"Nobody should ever have to lose a child. We are still heartbroken but making sure that Amari did not die in vain gives us a reason to get through each day," Amari's parents said in a written statement to The Texas Tribune. "The Texas foster care system needs to change."
The Boone family alleges that ACH Child and Family Services — the provider that managed Amari's case — "cut corners to focus on profits over people, ignored multiple obvious signs and warnings of abuse, and kept haphazard records that resulted in Amari's death."
"We remain heartbroken over the loss of Amari Boone and our deepest sympathies are with his family and friends," a spokesperson for ACH said in a written statement. "We are fully cooperating with authorities involved in the case and wish we could comment more, but now as a defendant in this case, we are not at liberty to discuss any information in public."
The two foster caretakers, Deondrick Foley and Joseph Delancy, were arrested earlier this year and indicted on several counts of injury to a child by omission resulting in bodily injury, according to The News reported.
Neelam Bohra contributed to this report. Reese Oxner is the breaking news reporter for the Texas Tribune, the only member-supported, digital-first, nonpartisan media organization that informs Texans about public policy, politics, government and statewide issues.
Get stories like these delivered straight to your inbox. Sign up for The 74 Newsletter