Sibilia: Flint's Water Crisis, Failing Schools, and the Lines That Divide Us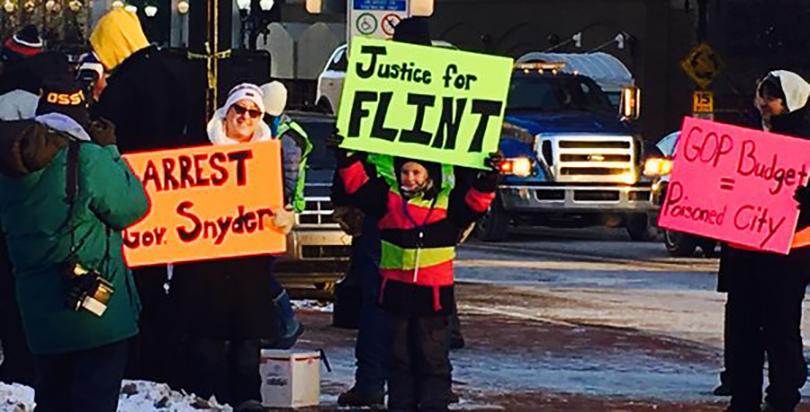 The toxic water scandal now unfolding in Flint, Michigan is a large-scale human-rights crisis happening in our own backyard, and it's particularly devastating for the children living within the geographic area. And I've found that — as someone whose work is principally focused on the inequities of and created by our education system — there are striking parallels between the ways governments neglect their poorest citizens, whether in infrastructure or public education.
What's happening in Flint did not happen overnight. This crisis has
been building for months
, and political leaders have repeatedly failed to act on it. And – as with too many of our schools — every day that goes by without correcting the current conditions is one more day of injustice to children. Exposure to high levels of lead and other contaminants in drinking water can have
long-term consequences
for children, impacting their ability to learn and function for years.
From my perspective, the harm being done in Flint is most frustrating because it reflects so clearly the historical and systemic lack of access to opportunity afforded to those in poverty. Whether the public good is safe, clean drinking water, or a high-quality, rigorous, public education, this issue clearly illustrates the failure of the local, state, and federal government to provide for its constituents. And in both cases, when government fails to deliver it utterly neglects the needs of the poorest among us, and creates conditions in which they are not able — in a sense, not even allowed — to escape.
Consider: The poorest of Flint's residents are now effectively imprisoned by our collective failure to solve their water problem. Most cannot afford to move — not only because the homes of these already-struggling residents have plummeted in value, but because
federal law prohibits
selling a lead-contaminated home without disclosing its problems, and no Flint homeowner can afford to clean up the government's mess. This means that, though Flint residents are, of course,
frustrated and
would like to move
, it's impossible for them to escape without either breaking the law or breaking the bank.
Likewise, parents and children across the country are imprisoned by the often-arbitrary borders of their school districts. Governments literally
draw district boundaries around poor communities
, and then fail to effectively serve children in low-income districts. And they prohibit those children from crossing district lines in pursuit of a better education. Flint parents could dare to enroll their children in the higher-performing schools in Grand Blanc — a
tony suburb right next to Flint
— but they would have to declare a false address and
risk criminal prosecution.
Instead of being able to send their kids to great schools, they're fenced into failing schools by the arbitrary and inequitable process through which school districts are defined and funded.
This correlation isn't coincidental; it's systemic. This is about the way governments choose to treat communities; the way services look very different across municipal and district borders. It's a disturbing reminder of the disparities across the
lines that divide us
.
The Flint water crisis is about the lack of agency afforded to those in poverty, and the government's unwillingness to allow people to escape its own failings.
We should all be outraged by this.
So I urge my colleagues fighting for radical change in our public schools to take up the call to action in Flint. This is an opportunity for those of us devoted to social justice to join forces against the structural inequities that deny our neediest and most vulnerable citizens the most critical services for public welfare.
Support The 74's year-end campaign. Make a tax-exempt donation now.