Shivji & Krever: 'Montessori-Inspired' Is Not the Same as Montessori. Please Don't Pretend That It Is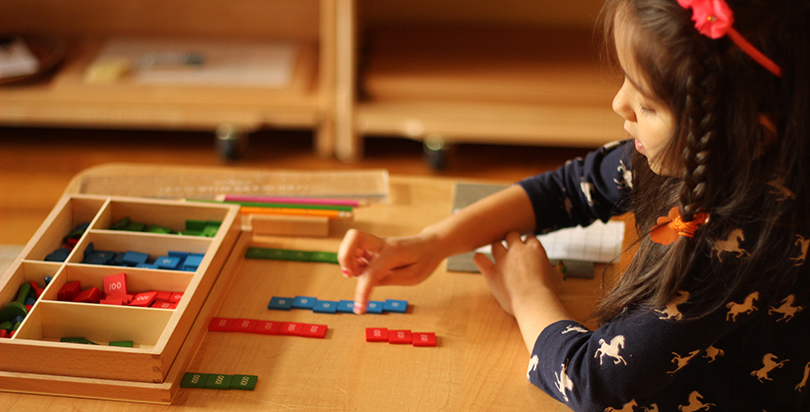 Sept. 13 marked the first anniversary of the announcement that Amazon founder and chief executive Jeff Bezos had pledged $2 billion to create and operate the Bezos Day One Fund. Part of it, the Day 1 Academies Fund, will create a network of full-scholarship Montessori-inspired preschools in low-income communities. In the Montessori world, the news was met with excitement but also hesitation. Organizations such as the American Montessori Society have been working to effect public policy changes in ways that benefit high-fidelity Montessori programs and the children they serve — but programs that are "Montessori-inspired," a term that can be interpreted in many ways, can muddy the waters.
So, too, can programs that present themselves as Montessori even if they are not actually so. This happens all too often, as any school can call itself Montessori. Not long after education pioneer Maria Montessori opened her first school in Rome in 1907, her innovative method began to attract the attention of educators worldwide. By 1910, there were Montessori schools on five continents. Dr. Montessori never trademarked or copyrighted the name; thus, schools were (and are) able to use it regardless of their fidelity to the approach.
Incorporating hallmarks of Montessori into any classroom is an opportunity to cultivate critical thinking, collaboration, creativity, empathy, independence and other competencies that Dr. Montessori recognized as being critical to success, so we enthusiastically encourage other schools to borrow from them.
Many schools already do — and perhaps don't even know it. For example, consider the child-size tables and chairs ubiquitous to any preschool today and those of your childhood. It wasn't until Dr. Montessori introduced the idea of "the prepared classroom" that learning environments for young children were outfitted with proportionally sized furnishings that students could easily move around, rather than stationary desks and benches.
Other hallmarks of Montessori include hands-on learning; mixed-age groupings (in a Montessori environment, this would typically happen across a three-year age span in a classroom; in a non-Montessori school, it could be incorporated into recess or an afterschool program); cooperative learning (a natural outgrowth of mixed-age groupings); and giving students agency — the opportunity to pursue work of their own choosing within stated ground rules. Also fundamental to Montessori is the importance of honoring intrinsic motivation. This is present from birth — babies need no encouragement to learn how to sit, crawl, babble, walk — and is key to cultivating curiosity and inspiring learning for learning's sake, rather than for empty rewards such as gold stars and grades. Finally, providing opportunities for children to do work that is real and purposeful, such as building, organizing bookshelves or watering plants, can be eminently satisfying and empowering.
Other tenets of Montessori, such as the use of specialized learning materials, are best left to authentic Montessori classrooms, as the lessons that reside within them are complex, relating, as they do, to multiple levels of abstraction — something that would not be obvious to anyone but a properly trained and credentialed Montessori educator.
We want educators from all disciplines to borrow from Montessori, as we want all children to benefit from the practices that can reasonably be incorporated into non-Montessori classrooms, and we are not concerned with being credited. Our vision is that these practices become mainstream. But incorporating some or even all of the principles and practices into a program doesn't qualify it as truly Montessori. Therefore, a school's name or literature shouldn't be labeled as such.
We at the American Montessori Society, along with other Montessori advocates, have made tremendous inroads in petitioning state legislators to recognize Montessori credentials as equivalent to state teaching licenses (currently recognized in five states at the K-12 level and 18 states at the early childhood level), along with other measures that help make quality Montessori education available to more children nationwide, regardless of their socioeconomic circumstances. Concurrently, state Montessori organizations are working to align the Montessori curriculum with state learning standards. Vital to our shared work is our ability to demonstrate Montessori standards that are academically rigorous and consistently applied. Regardless of their quality, programs that appear to be Montessori but lack the standards and rigor confuse the issue and threaten progress.
In a tweet soon after the announcement about the Day 1 Academies Fund, Bezos quoted the poet William Butler Yeats: "Education is not the filling of a pail, but the lighting of a fire." Our organization shares this belief, which aligns with the Montessori approach of inspiring and guiding children to explore and discover knowledge on their own, so they may become resourceful, curious and independent citizens of the world, rather than filling them with rote facts. We applaud the intent to make this a foundation of the Day 1 Academies and hope that in evoking it, Bezos was inspired by his own Montessori preschool education.
Munir Shivji is president of the board of directors of the American Montessori Society, headquartered in New York City, and executive director of The Institute for Montessori Education in Houston. He has experience as a Montessori school founder, head, director of toddler and primary programs, teacher and teacher educator. Marcy Krever is chief communications officer for the American Montessori Society.
Support The 74's year-end campaign. Make a tax-exempt donation now.