Sharma: Online Testing Is Great. But Traditional Pencil-and-Paper Work Gives Insights That Digital Can't, Especially in Math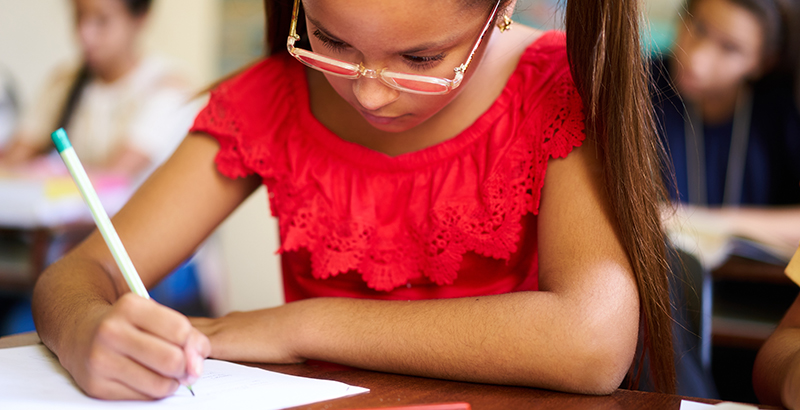 Think about the first month in a classroom during a normal year. Teachers are learning so much about their students — their interests, strengths, motivations and mindsets. It's a critical time for gauging how students are learning, to figure out which topics need catch-up or extra work and which a student is ready to be challenged on.
It's always a time of rapid adjustment. But this year, educators are facing an unprecedented challenge: assessing students' social, emotional and learning recovery needs from the months of interrupted schooling in the spring, while juggling a new hybrid learning and teaching model.
Given the uncharted territory we're all navigating, this might seem like the perfect year to rely on a quick, standardized digital test to determine where students are and help them hit the ground running. There's no question that digital tools have been lifesavers, especially for teaching math, during coronavirus. They're helpful, efficient and key for remote learning.
But quick digital tests can provide only a partial picture at best, and this year especially, it won't be enough to support kids or their teachers. The good news is that there is a simple and effective alternative that offers a better way: combining digital assessments with traditional paper-and-pencil work.
Think about what happens in a traditional classroom setting. As teachers work through each lesson with their students, they gather hundreds of nuanced insights. Each activity and problem provides an opportunity for students to show their work, explain their thinking and demonstrate their understanding. Teachers can therefore adjust their approach in real time in order to provide more support when kids need it and to introduce new concepts when they're ready.
That dynamic can be lost when relying too heavily on simple digital tools. A 30-minute digital diagnostic test cannot replace 30 minutes in a classroom working through problems together. We wouldn't teach that way in a normal year, and this year requires more of us.
To better support students' learning recovery, and to make informed decisions on which lessons or concepts to prioritize, schools need to support teachers in balancing ongoing digital assessments that span weeks of learning alongside open-ended paper and pencil work.
What does this look like in a fully virtual environment? Many school districts have already adopted a learning management system for students and guardians to communicate with teachers. I've witnessed myself how simple this can be: Last spring, my twin sons, then in third grade, would complete their math work with paper and pencil or by using objects around the home (often Legos) and send a photo to their teacher for feedback.
It may seem counterintuitive for a nonprofit software company that creates digital math lessons to be touting the benefits of paper assessments and modeling math with objects. But we've seen firsthand how bringing together hands-on teaching and immersive digital learning creates multiple pathways into math concepts and more opportunities for support for each child. We've learned from students and teachers that it's crucial for digital tools to mimic the equivalent of "showing your work" or writing out the answer to a question in a classroom.
There are also broader benefits to varying lesson plans in a digital age. Paper assessments (and personalized grading on them) help students feel as if they're getting more specialized attention from teachers, which in turn can help bolster kids' overall social and emotional well-being and allows them to feel a sense of connection in an otherwise isolating remote learning environment. It also offers parents more insights into understanding how their children are faring in class, creating more ways for parents to play an active role in supporting them or troubleshooting issues with their child's teachers.
There's no easy fix to the challenges classrooms will face this year, or to the disruption in learning over the past several months. But there are better solutions than quick digital tests that could lead to wasted classroom time for students and teachers. Even as we rely on digital tools more than ever, a critical part of supporting the learning recovery for all children must be to continue a holistic approach to assessing student learning.
Shalinee Sharma is the CEO and co-founder of Zearn Math. 
Support The 74's year-end campaign. Make a tax-exempt donation now.