Senator: Schools Should Use Pandemic Money for Lead-Free Water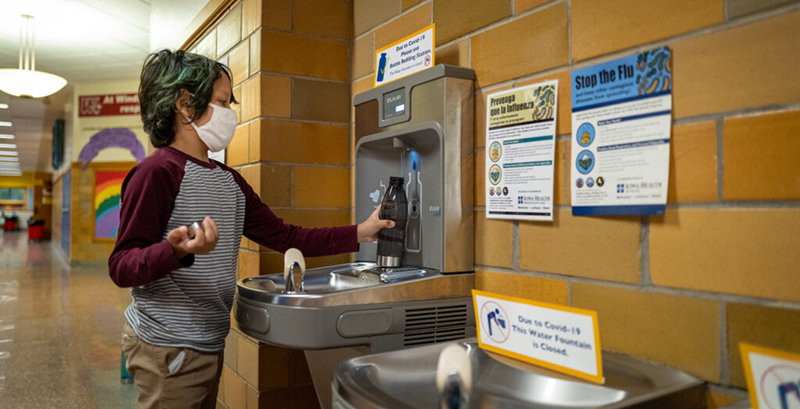 Support The 74's year-end campaign. Make a tax-exempt donation now.
There's a looming new federal requirement to test school drinking water for lead — a dangerous toxin for children that can damage their brains — that has the potential to cost Iowa districts millions of dollars to mitigate contaminations.
But there are many uncertainties because school districts have largely been left to unilaterally decide how to tackle the issue.
"We know any amount of lead is bad," said state Sen. Joe Bolkcom, a Democrat from Iowa City who works for the Center for Global & Regional Environmental Research. "We need to address it in every school building. We need a comprehensive plan to do so, not a helter-skelter approach."
Here's his solution: School districts should spend a small portion of their $775 million of federal pandemic relief funding to install bottle-filling stations that filter out contaminants such as lead and also reduce the risk of disease transmission among students.
In a state Department of Education survey this year, about 80% of school districts said they have some level of need for touchless water bottle fillers.
The 288 districts that responded to the question asked for more than 2000 of the bottle fillers. Nearly 60 districts indicated they don't need the fillers, but the reasons were unclear. It was also unclear how many of the existing bottle fillers also filter the water.
There were 39 districts that didn't respond to the question.
The prominence of the fillers in schools had grown in recent years leading into the coronavirus pandemic. School officials say it's a generational shift away from waiting in line to sip the fountain in favor of toting a bottle.
"Kids aren't typically going to bend over the drinking fountain anymore," said Kimberly Lingenfelter, superintendent of the Cherokee Community School District in northwest Iowa.
She said the district's switch to bottles began several years ago with two donations of bottle fillers — one from an athletic booster club and the other from a local dental clinic. The filling stations were popular, so the district added them to all school buildings to encourage students to drink more water at the cost of about $1,500 apiece.
Lingenfelter said the district doesn't regularly test its water for lead but that its insurance carrier does for audits.
In Iowa Falls, a sky-high lead concentration in water at the middle school about two years ago — which was caused by work on a city water main — prompted school officials to regularly test the water going forward, Superintendent Tony Neumann said.
In 2016, Des Moines Public Schools launched a testing program in which water is sampled at its more than 60 buildings on a five-year rotating schedule. It publishes the results of the tests on its website.
"We've had a handful of instances where the lead test exceeded 15 parts per billion," said Phil Roeder, a spokesperson for the district.
That concentration is a U.S. Environmental Protection Agency "action level" guideline, for which the district might replace plumbing fixtures to mitigate the problem. It started to install filtered bottle stations in 2018 and has replaced 100 fountains with bottle stations since the start of the pandemic, Roeder said. The district plans to use about $1.8 million worth of pandemic relief money to replace about 600 more in the next two years.
It's unclear whether the Department of Education will push other districts to do the same. A department spokesperson hasn't responded to questions from Iowa Capital Dispatch about the issue.
EPA rules on hold
The EPA revised its Lead and Copper Rule in late 2020 to require lead tests of water at elementary schools and licensed child care facilities, which was initially set to take effect in 2024.
The change was put on hold this year amid criticism that it doesn't do enough to protect children's health. For instance, the changes did not lower the action-level threshold of 15 parts per billion.
"There's no safe level of lead exposure for children," said David Cwiertny, director of the Center for Health Effects of Environmental Contamination at the University of Iowa. "Once they start testing, they're going to find lead, and there won't be money to help schools once they find that lead."
The center has a standing offer to school districts to test their water for lead and to help mitigate contaminations. Cwiertny said it's important to test all water outlets in a building because the contaminations can be sporadic. The sources of lead are often in the water fixture itself or the plumbing connections nearby, he said.
This article originally appeared in Iowa Capital Dispatch
Support The 74's year-end campaign. Make a tax-exempt donation now.