Sen. Lieberman: Why Is the Government Sitting on $35 Million Set Aside for Poor Kids in Washington, DC?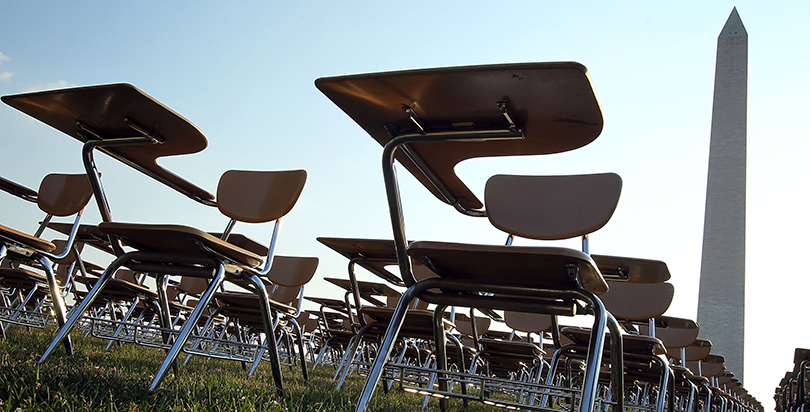 It continues to be puzzling why this Obama administration has consistently denied low-income minority students in the District of Columbia the chance to get a quality education. A quality education is the key to the American dream; it is the on-ramp to success, and it is often the difference between a life of dependency and a life of success.
At this moment, the U.S. Department of Education is sitting on some $35 million in funds specifically appropriated by the U.S. Congress for the D.C. Opportunity Scholarship Program. For years, former Speaker John Boehner and I fought for the reauthorization of this successful program. We finally got it done in 2011 thanks to the Speaker's perseverance during the FY2011 budget negotiations.
The Opportunity Scholarship Program offers low-income families in the District of Columbia the opportunity to receive a scholarship for their child to attend a D.C. K-12 private school of their choice. It is part of a three-pronged program, authorized by the U.S. Congress in 2004, to provide new funds in equal amounts to the D.C. public schools, D.C.'s charter schools, and opportunity scholarships.
By any objective standard, it is a program that is working for disadvantaged children.
The average annual household income of families participating in the scholarship program is under $22,000 a year. Ninety-seven percent of families in the program are African-American or Hispanic. Sixty percent of participating families receive SNAP benefits (food stamps). Most notably, the high school graduation rate for students using an opportunity scholarship is over 90 percent. Compare that to the overall D.C. graduation rate of 62 percent, not to mention graduation rates of 40 to 50 percent in the public high schools where participating families live.
This program is keeping at risk students away from drugs and out of jail. A 2013 report by the Alliance for Excellent Education cited several studies with varying estimates but the same general conclusion: completing high school reduces the likelihood of a young person turning to crime. For example, according to one source, a 10 percent increase in the male high school graduation rate would reduce murder and assault arrest rates by about 20 percent. A study released earlier this month by the University of Arkansas specifically found that participation in school voucher programs resulted in male students committing fewer crimes. In fact, male students participating in these programs were less likely to be accused of any types of crimes, including felonies.
And yet, the Department of Education has thus far without explanation refused to release these funds to allow for new scholarships for needy families. In doing this, I fear it is buckling to the powerful teachers' unions.
The need is there: thousands of low-income minority families in the District of Columbia are applying for these scholarships. Already, for the 2016-2017 school year, there are 2,000 new applications. But the vast majority of them will be denied a scholarship unless the administration releases these previously appropriated funds.
I urge newly confirmed Secretary of Education John King to release these funds immediately and give these children the same educational opportunity that current Opportunity Scholarship students now enjoy. He will thereby give them a better chance to receive a quality education, graduate from high school, go on to college and reach their full potential in life.
Support The 74's year-end campaign. Make a tax-exempt donation now.