My First Solar Eclipse! 17 Eye-Opening Photos of Kids Experiencing Science Along the Path of Totality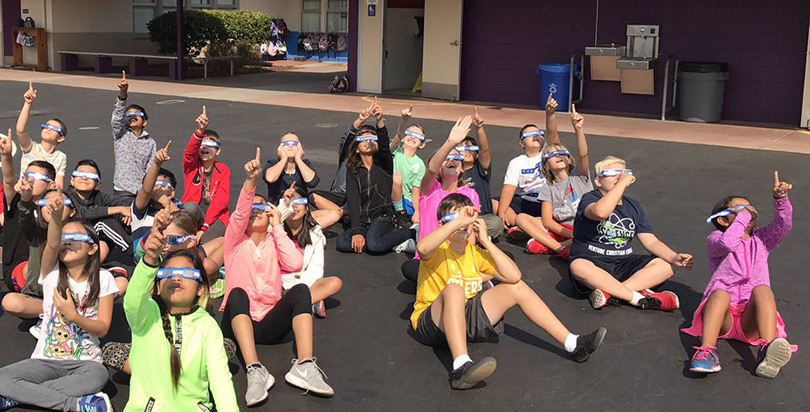 Armed with space-themed snacks, special glasses, and lots of curiosity, students and teachers across the country stepped outside their classrooms for Monday's spectacular solar eclipse. Whether in the Path of Totality or on the partial-eclipse sidelines, educators took the opportunity to deliver lessons in astronomy and got to see wonder on their students' bright faces as they watched the rare celestial event unfold.
Here is a sample of 17 tweets from schools around the nation celebrating #SolarEclipse2017.
Welcomed Cornerstone students to Naval Observatory to witness the wonder of our universe in motion. Fun & educational event! #Eclipse2017 pic.twitter.com/gFl7W5MuJ4

— Vice President Pence (@VP) August 21, 2017
2nd grade students are super excited in the STEM Lab about the solar eclipse! It's only hours away! #SolarEclipse2017 @ecwestwildcats pic.twitter.com/Y4iMfnYkHX

— Natasha Smith (@SmithTeaches2) August 21, 2017
Grizzlies experiencing the #solareclipse2017 Thank-you Science Department for prepping our students for today! #grizzlystrong pic.twitter.com/AjxgtqHwws

— GrizzlyNation ? (@GrJHSGrizz) August 21, 2017
Great instruction today #totalsolareclipse pic.twitter.com/YB31DrJiOS

— Liberty Elementary (@fssdLES) August 21, 2017
#SolarEclipse2017 is underway in #Tucson and students across our district are excited to observe it in a safe environment! #DiscoverAmphi pic.twitter.com/QnskQN59C9

— Amphi Public Schools (@AmphiSchools) August 21, 2017
With the solar eclipse coming make some cookies like students did in Oregon. #FizzyPartyChat #SolarEclipse2017 pic.twitter.com/fjT10cvHKd

— Fizzy Party (@FizzyParty) August 16, 2017
@SandersElem the #EclipseDay activities are safely underway. Our principal is leading the way!! #SolarEclipse2017 @JCPSKY #JCPS #WeAreJCPS pic.twitter.com/nS5pvTBj6P

— Carey Miller, Ed.S. (@CareyRMiller) August 21, 2017
Our students at Robinwood Elementary are getting their first look at the #SolarEclipse2017 ! pic.twitter.com/rubOwNkLhb

— Ferguson-Florissant (@FergFlorSchools) August 21, 2017
Solar eclipse greatness! North Elementary students are spending today learning about this incredible phenomena. #SolarEclipse2017 pic.twitter.com/3GjkPkQsvs

— Rapoport Academy (@RapoportAcademy) August 21, 2017
Now students, who can tell me where the sun is hiding? #lietzpride #usdlearns #SolarEclipse2017 pic.twitter.com/9BeCWExLRD

— Mr. C (@TeacherMPC) August 21, 2017
Forget milk and bread @spann Capri-SUN and MOON pies are all we need @RiverchaseElem for the #SolarEclipse2017 #GreatAmericanEclipse pic.twitter.com/eNgqhGd5Hj

— Abra Wallis (@WallisKids1) August 21, 2017
Wow…Ohhhhh! Ahhhh! are the sounds of these @fssdFMS students watching the #Solareclipse2017 pic.twitter.com/WWXMIc4vzP

— Franklin Special SD (@franklinspecial) August 21, 2017
Science teacher Erica Bentley explains to students how an eclipse occurs #solareclipse2017 pic.twitter.com/zuAQXN4nkv

— Faiza Mahamud (@faiza_mahamud) August 21, 2017
Former Education Secretary @JohnBKing rocking the #EclipseGlasses pic.twitter.com/UK1cSY8iAx

— Emily Wilkins (@emrwilkins) August 21, 2017
Once in a lifetime. Thank you to our parents and students for letting us share this historic moment with you! #SolarEclipse2017 pic.twitter.com/d7Tw1b6q0W

— SDPC (@PickensSchools) August 21, 2017
From Baton Rouge to NY, our scholars & teachers came together to watch #SolarEclipse2017! #STEM #scienceiscool pic.twitter.com/6ow7d255Sz

— DEMOCRACY PREP (@DemocracyPrep) August 21, 2017
At @KIPPDCHeights students have #Eclipse2017 fever too! #KIPPDC #STEM pic.twitter.com/UueWmOHCwj

— KIPP_DC (@KIPP_DC) August 21, 2017
Support The 74's year-end campaign. Make a tax-exempt donation now.