Schools Have Plenty of Good Ideas, but They Don't Always Know How to Implement Them. New Report Aims to Improve 'Fragmented' Education Systems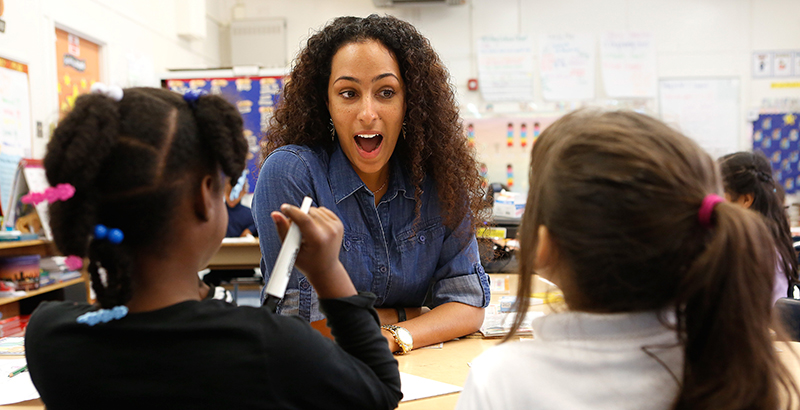 Baltimore City Public Schools had a problem: Its first-year teachers had too many mentors.
Mentoring can be a good thing for new teachers, but the city's novice educators were, at one point, receiving up to 10 visitors — principals, district leaders, academic specialists — all giving different, and sometimes contradictory, feedback about how to improve their teaching.
But the problem in this case may be less telling than how the district found out about it, according to a new report from the philanthropic foundation Carnegie Corporation of New York. To help discover the mentoring redundancies, the district used "Improvement Science," a method the health care industry often uses for solving problems. The district asked first-year teachers to track how the visitations were going. Not only did it discover that the overwhelming number of visitors was distracting teachers from focusing on students; it also found that schools were wasting money on repetitive mentoring programs.
Baltimore is one of several districts that used this method to analyze how it implemented education practices through a project coordinated by the Carnegie Foundation for the Advancement of Teaching.
The report argues that these types of system-wide analyses of program implementation are necessary if new school reform efforts are to survive. The idea behind the work is that education is not lacking in solutions but is doing a poor job of executing them.
"Disappointing results lead reformers to abandon their strategy and try something new, but without changing how they work to implement it," the report's authors wrote.
The reason for these disappointing results is "fragmentation," said LaVerne Srinivasan, a co-author of the report. The education system is set up to support local control, but that often means the layered levels of governance — from classroom teachers to school principals to district leaders and state administrators — don't communicate effectively about their work.
To break through such obstacles, education leaders should borrow best practices other industries use — like Baltimore did with health care — to create systems that are more connected, said Srinivasan, vice president of the Corporation's national program and the program director for education.
"What I think is most important about the report is remembering that the work that we're all trying to do touches the lives of people, and if we do it in a thoughtful way that takes stock of how people experience education …. we'll do a better job of making a much more pleasant and coherent experience for them," Srinivasan said.
The report points to several improvement strategies. One is human-centered design, which means thinking about how a program will directly impact the people involved. An example would be Baltimore, where the district thought of how its teachers were affected by all the mentors visiting their classrooms. Another is systems thinking, which involves looking at how different people and departments in education are connected and affect one another. The report recommends that educators follow three main principles embodied by these approaches:
1. Build a shared understanding of purpose — Ensure everyone in the education system understands and works toward a common goal.
2. Understand the circumstances of the actors involved — Consider how everyone in the education system, from students to teachers to parents, will be affected by a program or policy.
3. Integrate repeated adjustments based on experience — Attempt an improvement strategy multiple times to see the successes and challenges before attempting a large-scale solution.
Carnegie launched the Integration Design Consortium last year, a two-year grant that is funding five groups to help make the fragmented education system more cohesive. Srinivasan said she hopes the report can help spur collaboration on this type of work.
"This is something that has been looming at the edges, and I think people really haven't tackled it yet," Srinivasan said. "I think this is the time for this work."
Disclosure: Carnegie Corporation of New York provides financial support to The 74.
Get stories like these delivered straight to your inbox. Sign up for The 74 Newsletter