School Principal Dresses Up as Real-Life Elf on the Shelf, Turns Last Week of School Into a Ho-Ho-Ho-Holiday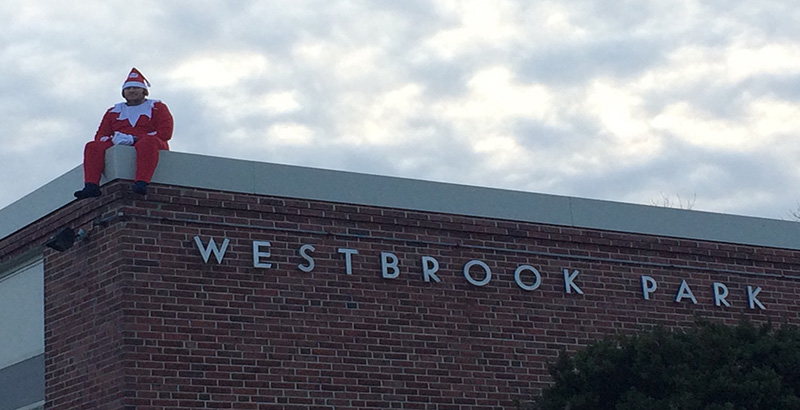 This article is one in a series at The 74 that profiles the heroes, victories, success stories, and random acts of kindness to be found at schools all across America. Read more of our recent inspiring profiles at The74million.org/series/inspiring.
Last week of school before winter break. Just a few more days before sleeping in, TV, candles, presents. So hard to wait for the holidays to come …
But the students at Westbrook Park Elementary School in Upper Darby, Pennsylvania, didn't have to wait. On Monday, the holidays came to them.
Welcoming early arrivals at the school: Principal Marc Comfort, in full-on elf regalia, looking down from his perch on the corner of the building, his feet dangling over the edge.
"For me, it was a really positive way to start the school day, and that's how it was for kids," the second-year principal told the Delaware County Daily Times. "If they're talking about fun things like this, that's the best thing."
And then, like the elf who was his inspiration, he placed himself — Amazon-bought costume and all — inside, outside, and all around the school.
"The complete idea is that this will get kids really excited and come here the next couple of days before the break and get our parents excited and build up the good will of the school," Comfort told the newspaper. "School should be fun … a place kids love to come to."
Comfort's efforts hit the mark. Rave reviews on Facebook ranged from calling his work the "best Elf on the Shelf ever" to praise for his dedication and for the "leadership, energy and laughs" Comfort provides to the entire school community.
Get stories like these delivered straight to your inbox. Sign up for The 74 Newsletter