'School Is the Task, I Can Do This Math!' — Watch Alabama 3rd-Graders Rap to Their Own Remix of 'Old Town Road' Getting Ready for State Exam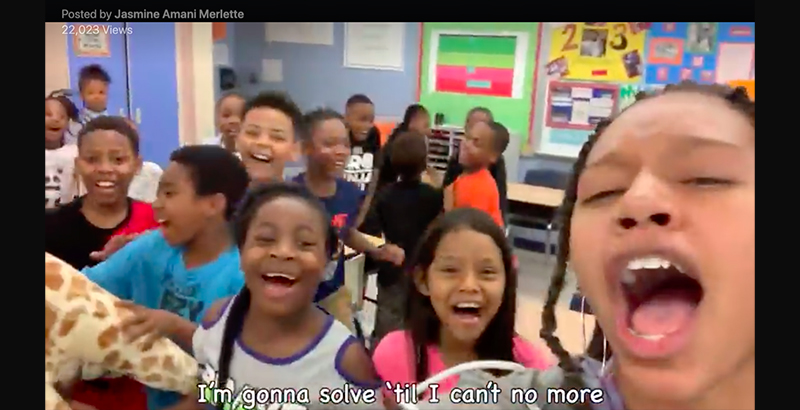 This article is one in a series at The 74 that profiles the heroes, victories, success stories and random acts of kindness found at schools all across America. Read more of our recent inspiring profiles at The74Million.org/series/inspiring.
Most students sharpen their pencils, roll up their sleeves and take practice tests to prepare for their annual statewide exams.
Jasmine Merlette's third-grade class did a remix.
After one of her students at Sun Valley Elementary School in Birmingham, Alabama, shared her nervousness about the exam, Merlette realized the class needed a confidence boost — and rewriting the lyrics to Lil Nas X's hit "Old Town Road" seemed like the perfect way to do it.
"I'm gonna ace my test, I'm gonna raise my score, I'm gonna solve 'til I can't no more," she and the children sing in a video that has logged more than 22,000 views on Facebook and more than 52,000 on Twitter.
"The video was kind of a motivation, a reminder, that my kids got this and they have nothing to fear," Merlette told Good Morning America, with the students collaborating on the rewritten lyrics and substituting the class mascot, a stuffed giraffe, for the horses in the original video.
"Music is a fun and easy way to remind them that they possess the tools for success," she told CNN.
The video quickly became an internet sensation. It even caught the attention of the original songwriters, Lil Nas X and Billy Ray Cyrus.
But the thing that means the most to Merlette is that her fellow educators are turning her idea into "a movement," she told Good Morning America. "The thing that brings me to tears is that fellow classroom teachers have been sending me their versions of 'Old Town Road,' but they have tailored it to their classrooms," she said.
To top it all off: Her students crushed the exam.
Support The 74's year-end campaign. Make a tax-exempt donation now.