School Bullying After the Election: Students and Parents Recount Rising Anxiety and Intimidation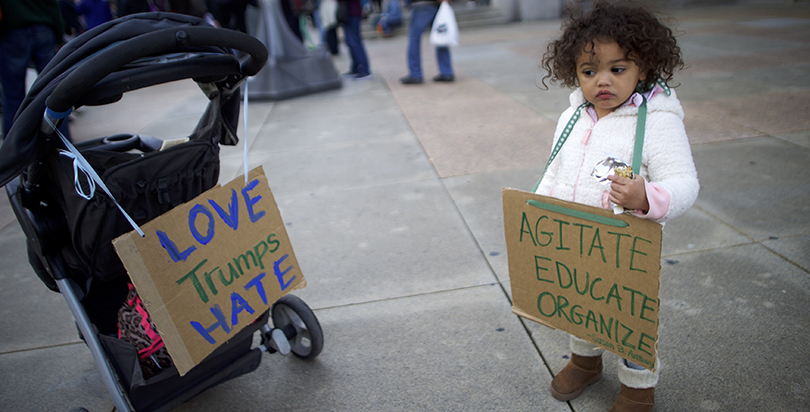 Updated Nov. 16
In the days after last week's presidential election, The 74 was shocked to see students and parents take to Twitter in droves to report incidents of bullying in their schools. Surprised by the sheer volume of complaints, The 74 began
documenting
posts on social media and created an email account —
bullying@The74million.org
— for students, families and educators to tell us what was happening in their schools.
Our inbox was flooded.
From around the country came tales of children targeted by classmates with hate-filled language because of their ethnicity, racial slurs anonymously scrawled inside school buildings, open expressions of bigotry spoken by children within classroom walls, and teachers and principals struggling to reassure their students not to be afraid.
Below is a sample of these experiences as told to our reporters, filled with pain and fear. As difficult as these stories are to read, it is important to share them. They are part of a renewed national dialogue about who we are and what it means to be an American. If you or someone you love has been the victim of school bullying post-election, please email us at
bullying@the74million.org
. We want to hear your story.
East Allegheny Junior/Senior High School, North Versailles, Pennsylvania
Chantelle Bellavance said her little cousin got teary-eyed recounting to her how classmates called her racist because she supported Donald Trump for president. It got worse when her teacher backed them up, she said.
Just before Election Day, the 8th-grader wore a Trump for president T-shirt to East Allegheny Junior/Senior High School in North Versailles, Pennsylvania. A confrontation ensued after her classmates asked why she was wearing it, Bellavance said.
The younger girl started to tell her fellow students that she watched the presidential debates and attended rallies for both Trump and former Democratic presidential candidate Hillary Clinton to help her make a decision.
"She was trying to talk to students to say, 'This is what I learned and this is what I liked in general,'" Bellavance said.
But students started to shout at her that she was sexist and racist. She shot her teacher a look for help, Bellavance said, but her teacher told her, "No sweetie you don't know what you are talking about."
That's when the students started calling her a "racist white girl." Not only did the teacher not stop the students from taunting her, Bellevance said the teacher also called her cousin a "racist white girl."
The day after the election, Bellavance said her younger cousin called, asking how she could get the kids to understand that she is not racist.
"She was scared to go to school. She didn't want to sit in that teacher's class."
The family complained about the incident to the principal, who said nothing could be done to the teacher because she has tenure, according to Bellavance. Calls to the school and a district spokesperson were not returned.
"I was furious because I said as an educator, she should get fired," Bellavance said. "That teacher should have never done that. That teacher had such an opportunity to bring those students together."
Shenendehowa Central Schools, Clifton Park, New York
After noticing a uptick in the number of students expressing racist rhetoric, Shenendehowa Central Schools Superintendent Oliver Robinson sent a note home to parents.
"Please talk to children about respecting others and also about being resilient when faced with bigotry or other forms of ignorance," Robinson wrote. "Bigotry and misogyny, in any form – words, action, or demonstration – has no place in Shen schools, buses or otherwise."
Among the comments reported to district officials are students saying "All hail Trump" and "We're gonna build a wall," said district public information officer Kelly DeFeciani.
Shenendehowa parent Jessica Cordova wrote a letter to the district, saying children were chanting "Build a Wall! Kill 'em all! And all hail Trump!," according to
The Daily Gazette
. Cordova's 14-year-old son, whose father was born in Mexico, was told by fellow students at Shenendehowa's High School West that he would be deported, according to the newspaper.
So far, DeFeciani, the spokesperson, said none of the incidents have been classified as bullying or harassment, which requires continuous behavior, as opposed to a one-time comment. If a formal complaint is filed, the school principal will determine a consequence or refer the student to the superintendent if a suspension of more than five days is warranted.
"It will get to a point that students will be disciplined if it becomes a harassment or bullying issue," she said. "A lot of what we are doing right now is more using it as a teachable moment."
Anne Dirilgen, mother and teacher from Cary, North Carolina
Eight-year-old Fiona Dirilgen didn't want to go to bed. She wanted to stay up until America's next president was named — to see if she'd have to leave the country.
"She said 'Donald Trump can't win, because if he wins, then I'm going to have to go back to Turkey where I was born,' and her dad is going to have to go back to Turkey too, because that's where he was born, and her sister was born in China and she's going to have to go back to China," said Anne Dirilgen, Fiona's mother. "I'm the only one who can stay because I was born in the United States."
Fiona, a third-grader at Brair Cliff Elementary School in Cary, North Carolina, was crying. She didn't want to be forced from her new home country. But after calming her daughter's fears, Dirilgen got Fiona to go to sleep. Still, when she told her daughter the election results the next morning — that Trump had indeed won the election — Fiona became upset all over again.
And that's just part of what her third-grader has been experiencing, she said.
"This boy also told her that Hillary Clinton likes to kill babies, so I've emailed the teacher and the teacher said that she took care of it, but she didn't give me any further information," Dirilgen said. "We can't talk like this, especially when you're 8."
Dirilgen did say the teacher adjusted the seating chart so the boy was no longer assigned a desk next to Fiona. Even as a teacher herself, Dirilgen said she doesn't know how educators should best respond to the bullying incidents that have swept through schools across the country post-election.
She said walking into the school where she teaches last Wednesday, the day after the election, was difficult. After a week, her school is starting to calm down, she said, but her students are still talking about the results.
Dirilgen, an art teacher at Garner Magnet High School, said her school's population is majority minority, and while she heard kids make jokes about being deported, she didn't hear any bullying like her daughter endured.
For teachers who are trying to cope with the post-election animus, Dirilgen offered some advice: Let the students talk, so long as the discussion remains civil.
"You let them have discussions because it's a good outlet for them," she said. "Even in my art classroom, like we're not talking civics, we're not talking about government, but on Wednesday, people were just crying, like, you just let them vent."
Fallston High School, Harford County, Maryland
It wasn't the first time Brendon Smith had encountered students saying n****r at Fallston High School. Twice during football games against mostly black teams, he had heard students in the stands say, "Go home, n****rs."
But when he saw the word scrawled on a school poster on Friday, it seemed like a new low. Smith, whose name has been changed to protect his privacy, had just finished using the bathroom when he saw a poster advertising a blood drive. Scrawled on the bottom of the poster were the words, "P.S. Not For N*****."
He ripped it down and showed it to "one of my more progressive teachers," who decided it should be referred to administrators.
Harford Public Schools spokeswoman Jillian Lader said in a statement the district was aware that a flyer had been "defaced with a racial slur."
"This is not acceptable, and the flyer was immediately removed. Administration is investigating to determine who wrote on the flyer, as they will face disciplinary consequences," she said. "The principal has reached out to the Fallston High School community in order to assure them that this will not be tolerated and to ask for their assistance in identifying who wrote on the flyer as this behavior is not representative of Fallston High School students."
Smith said he was "unsurprised" but still disappointed by the poster.
Joanne Smart, parent from Brookfield, Connecticut
Even before election night arrived, Joanne Smart and her daughter saw the signs that Brookfield High School leaned right. Recently, students had started a Young Republicans club; posters supporting Donald Trump were plastered on the school bulletin board. A popular senior boy wore a "Hillary for Prison" shirt.
Still, they thought there were limits to the conservatism in their town.
A day after the election, Smart's daughter's gym class was split up into seven-member volleyball teams. The players had to come up with names for their teams. The students' suggestions included Team Trump, the Wall and the Ku Klux Klan. Her daughter spoke up, telling her classmates they couldn't choose the KKK as their team name.
To Smart, the story was just another example of contentious campaign rhetoric gone amok.
"I think the team is now called the Tyrannosaurus rexes or something," Smart said. "I feel like kids are being more emboldened for sure. I just can't imagine. I can't imagine someone thinking that was OK."
Reginald Richardson, principal of New Rochelle High School, New York
As New Rochelle High School Principal Reginald Richardson watched the presidential election results unfold on television last Tuesday, he felt a mixture of anger, anxiety, fear and worry. Instead of going to bed that night, Richardson stayed up thinking about his students.
About three-quarters of the student body is minority; President-elect Donald Trump had bolstered his campaign through support for increasing deportations and building a wall along the Mexican border to keep immigrants out.
"How would they react? How would they be feeling?" Richardson wondered. "I really didn't even know what to say to them."
The four-year principal would soon find out. In his morning African-American studies class, about 32 seniors were somber and quiet at first. Not knowing quite how to begin, Richardson asked for their thoughts about the election.
One female student said she was surprised that so many women supported Trump. Others said they were saddened by the racial rhetoric expressed during the campaign. An undocumented student wondered out loud what was going to happen to loved ones who were undocumented.
Others worried that they wouldn't be comfortable at the colleges they had applied to.
"A lot of them were watching the election map, and some of them are applying to schools in areas that are 'red' states," Richardson said.
He later wrote a
letter
to all students, telling them to continue to be hopeful about the future of the country and their own lives.
"I want you to know that despite the divisive tone that defined much of the election process, our country is a place for all of the people and that our success as a nation is not dependent on any particular individual no matter their title or office. 'We the people' are collectively greater than any singular person," he wrote.
"I want you to know that you have a powerful voice and that you should never allow yourself to be silenced, marginalized or limited in any way. Each and every one of you has unlimited potential to contribute positively to our society in any way that you can, and in fact you have the obligation and the right to do so. I encourage you to read everything that you can. Dedicate yourself to being fully informed active participants in our civic life."
Ashby Gurgon, parent of Lowell, Indiana, middle school student
Ashby Gurgon was almost in tears when she heard the news. Little kids are innocent, she said, and don't harbor divisive opinions on race or sex until they're influenced by others. But after a presidential campaign that relied heavily on personal jabs and divisive rhetoric, students in her daughter's middle school seemed to have their minds made up.
"Build a wall," students at Lowell Middle School chanted in the cafeteria last Wednesday, the day after Donald Trump was elected president. Throughout lunch break, white kids told Hispanic classmates that they had to sit at the other end of the cafeteria. Although Gurgon's 12-year-old daughter Laci Little wasn't in the cafeteria at the time, she'd soon hear about it during an "emergency in-service" with the superintendent of the Tri-Creek School Corporation, Debra Howe. Throughout the day, Laci heard students tell their Hispanic peers that their parents would be deported, Gurgon said.
In a districtwide email to parents, Howe wrote that school officials observed "divisiveness and comments made that are making others fearful."
"Our priority is to provide a safe and engaging learning space for all students," Howe wrote. "Divisive and hateful language will be considered bullying and harassment."
Gurgon said she thought the response from school officials was positive, but the true issue lies with parents at home.
"It's just completely unacceptable and it shouldn't even be happening in the first place," she said. "A lot of people who supported Trump aren't saying anything about it because they don't want to talk about it."
From across the nation, tales of ugliness aimed at children
In the week since the election, The 74 has received a constant stream of emails from readers concerned about increased bullying in our nation's schools. Some people shared news articles they had read, like one story about Pennsylvania high school students who celebrated Donald Trump's victory by calling black students "cotton pickers" and by saluting "heil Hitler." Some provided links to tweets and Facebook posts that they felt were out of line.
Others shared personal experiences. One girl said her little sister was taunted on the school bus for supporting women's rights. One mother said her third-grade daughter came home crying, terrified she'd have to leave the United States because she was born in Turkey. A father from Wisconsin said he was walking his 6-year-old son to school when he heard other children playing the "illegal immigrant game" as they chanted, "Trump, Trump, Trump" and "Build the wall, build the wall, build the wall."
This is not to say the bullying has all been one-sided. A few people wrote that their children had been victimized for supporting Trump. One reader reported a nephew being punched in the stomach and called a bigot by children at school.
Have you experienced post-election bullying firsthand, or do you know someone who has? Email your story to
bullying@The74million.org
. We'll be listening.
Get stories like these delivered straight to your inbox. Sign up for The 74 Newsletter