Saving L.A.'s Kids From Failing Schools: Behind the Scenes with Michelle King and Myrna Castrejon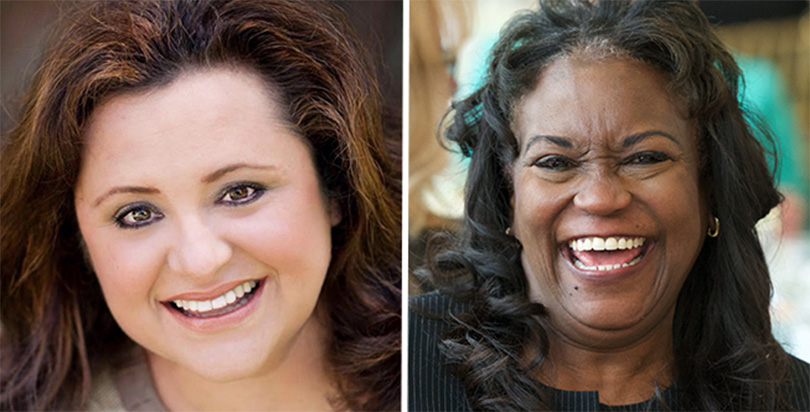 This article originally appeared at LA School Report
At a recent town hall held by Great Public Schools Now, Myrna Castrejón, the leader of the nonprofit seeking to expand excellent schools in Los Angeles, waded into the audience of parents, community members and LA Unified officials to ask what kind of schools they wanted for their kids.
One parent whose son has a learning disability and is being bullied was frustrated that he is not getting the services or protection he needs. One mother feared her daughters won't get the right classes to get into college, which happened to her nephews. Another said she can't help her son with homework and wanted advice from the school.
Castrejón, who introduced the nonprofit's mission as replicating high-quality schools in disenfranchised neighborhoods of LA, then asked if anyone sitting at the two tables occupied by district officials wanted to respond.
Cara Schneider, an LAUSD administrator and former principal, said in talking to parents at the event, she found everyone has the same intentions: good schools for children.
"It's wonderful to keep hearing we have the same priorities so we can continue to work together as a team," Schneider said.
It was a scene that might not have happened 10 months ago.
As the year opened, the LA Unified Board of Education in the same week hired a new superintendent and unanimously voted to oppose a $490 million draft plan from the Eli and Edythe Broad Foundation that sought to rapidly increase the number of charter schools in the city so that charters would encompass half the "market share" of the entire district.
Criticism of the leaked document was fierce and widespread. The teachers union raised its dues to fight it and commissioned a study to battle charter expansion. Hundreds of charter supporters flooded board meetings, and charter leaders banded together with complaints of bias from the district.
But behind the scenes, two women were building a bridge, and within weeks, the new superintendent, Michelle King, was declaring, "It's not us versus them." And Castrejón, at the helm of Great Public Schools Now, the reincarnation of Broad's charter expansion plan, had rewritten the plan to embrace successful district schools as well as charters.
If King and Castrejón can rise above the attempts to drive a wedge into the partnership they've established between the district and GPSN, LA will be the first city in the nation where high-performing traditional and charter schools are replicated in the most poverty-stricken neighborhoods.
The stakes are high. GPSN estimates 160,000 students are attending struggling schools in 10 low-income neighborhoods of Los Angeles. The district of 665,000 students is saddled with immense unfunded pension liabilities and is headed into the red. An independent report commissioned last year on the district's finances predicted LA Unified would face a $450 million budget deficit by 2018–19.
The first fruit of partnering with the district came in September, when GPSN issued a joint news release with King announcing that up to $3.75 million in grants would be available for high-performing, district-run schools. The grants, to support school leaders who have shown success educating high-needs students, could fund the opening of new schools or a significant enrollment boost in existing programs.
It could not have happened without King and Castrejón at the top of their respective organizations, watchers say, and the combustion of pairing their collaborative styles.
Education leaders in Los Angeles say Castrejón and King both have an "emotional intelligence" and can understand where people are coming from in order to get them to do what they need to do. Neither leader comes to the boardroom table with a predetermined mind-set. Both are smart, well-educated minority women, single mothers in their early 50s and genuinely likeable and down-to-earth. And, importantly, at their core, they are each driven by a mission to ensure there is equity for all students.
Both leaders are trying to work past the sometimes vitriolic rhetoric that has pitted the district against the growing charter sector. Earlier this month, teachers at four schools overwhelmingly voted to reject the GPSN grants. The leader of United Teachers LA, the teachers union, called the grants "a PR stunt, not a genuine effort to fund schools in need" and called "on the district to uphold the vote by not accepting the grant money from GPSN, in any way." The teachers union took issue with the funding coming from Broad and the Walton Family Foundation, of Walmart, both organizations that have funded charter schools. Broad and Walton representatives sit on the GPSN board.
Los Angeles already has the highest number of independently run charter schools of any city in the nation: 228, with 107,000 students. The schools, nearly all operated by nonprofit organizations, are free from some of the regulations that traditional district schools must follow, and most of their teachers are not in unions. Twenty years ago, there were just four charter schools in LA. A decade ago, the number was 93.
But the bulk of public K-12 students in LA — more than 550,000 — are in a school district where only 28 percent of students met math standards this year and 39 percent met the standards in English. Latino students, who make up 74 percent of the district, fare worse, with only a third meeting English standards and 23 percent meeting math standards. LA's English learners trailed badly among other large districts in the state: 6 percent were proficient in math, only a single-percentage-point improvement from last year.
All eyes are on King and Castrejón to see if the new relationship they have begun through back-channel meetings will result in success — by no means a guarantee, as other LA reform efforts have proved mostly unsuccessful, such as the oft-criticized Annenberg Challenge grants in the 1990s.
'In each other's face'
In an interview, King said she's learned that people have to be brought together "to have dialogue and to be in each other's face to work together to really start to break down some of these walls and barriers."
She said some of the rhetoric that's been created isn't even true.
"I am hopeful that through the partnership with GPSN, we can begin to do that. And there's a lot of skepticism around that: 'Is it real? Is it true? Is that going to really happen? You should be looking out.' You know, those kinds of things, and I say, 'No, you have to enter agreements and collaborations with positive intentions.' I believe both Myrna and I have done just that."
King became the first female African-American superintendent of the second-largest school district in the nation and its first female superintendent in 80 years. King said she believes this is the "year of the woman."
"Sometimes in life, we don't think that certain positions are available to us — particularly if you're a youth, a minority, that job or that position or that role might not be for you because you don't see many role models, you don't see many folks in those positions," King said.
"I feel that the appointment has said to particularly young women that anything is possible."
Castrejón was named GPSN's executive director the same week King became superintendent. Castrejón has spent her career as an education advocate, first in El Paso, Texas, then in Los Angeles and Sacramento. She held top positions in the California Charter Schools Association, including interim CEO.
She left Mexico on her own when she was 17 to go to college in the U.S., where she felt she would have more opportunities as a woman. She attended a small liberal arts college in Michigan.
"There was a lot of culture shock," she said.
At the end of the first semester, she had a 4.0 GPA and was called into a counselor's office.
The counselor told Castrejón that she "just had to meet her," saying that "your people don't tend to do well at this school," Castrejón recalled.
"That made me immediately aware that opportunity is not equal," Castrejón said.
Castrejón and GPSN board chairman Bill Siart met with King in her office just a few weeks after King was appointed.
Siart said it was Castrejón's idea to include LA Unified as part of GPSN's investment, so that the organization would replicate not just high-performing charter schools but successful district schools as well.
Siart said at the meeting he and Castrejón were taking King's temperature and he expected King was doing the same.
"Clearly they developed some rapport. I think it's probably because they've both been involved in education long enough, they both know the difference between good and bad schools," Siart said. "They saw we didn't have some separate agenda, and I think that's what they concluded."
Fellow GPSN board member Yolie Flores, a former LA Unified school board member, said King's attitude toward working with GPSN was not surprising because during her time on the board she saw how collaborative King was.
"She's not one of these individuals that comes in with a set mind and isn't willing to consider and explore," Flores said. "And she's so committed to what's good for kids. She's just not as dogmatic as some could be."
Flores recalled that former Superintendent Ramon Cortines would sometimes take hard-line positions.
"He would sometimes say, 'I feel strongly about this, and I'm going to move on it, and if it's not what you think is right, then you can fire me,'" Flores said.
But she added that King must be strong because the board of seven elected officials can be very difficult to work with.
"The fact that she took a stand says to me that she's strong and independent and was able to convey to the board her position, because I'm sure she had to bring them along," Flores said.
Flores, who worked with Castrejón at Los Angeles Annenberg Metropolitan Project (LAAMP) in the late 1990s and early 2000s, said Castrejón is smart and a great communicator.
"She's a good person with great intentions and strong values and a real commitment to children and families, and that's first," Flores said.
Flores said she is glad the two women are working together on the initiative, even though it wasn't planned that way.
"You just immediately feel the collaborative spirit, versus the ego-driven," she said. "I just don't feel or see that with either one of them. They're really about purpose and mission, and there's some real synergy there."
LA Unified school board member Ref Rodriguez, a charter co-founder who has known Castrejón for years, said he sees an "emotional intelligence" with both leaders.
He said instead of "ramming [their own ideas] down people's throats," Castrejón and King like to understand where people are coming from.
"They're very good about assessing groups' and individuals' willingness and readiness" and getting someone to move, he said.
'It's not us versus them'
In the first few weeks of King's tenure, her attitude toward charter schools became clear.
At her first community town hall as superintendent in March, she told a crowd of about 700 parents, teachers, principals and local residents in Pacoima: "We are all LA Unified school students. It is unfortunate we have labels, saying that this one is better than that one. It's not us versus them."
She continued to call for unity in July at a forum dubbed "Promising Practices," where district leaders and charter school operators participated in workshops aimed at sharing best practices. King was praised by charter school leaders.
"I'm so excited about what Michelle King is doing, because for the first time since I was on the board, we have a superintendent who is saying, 'Hey, we can learn from each other,'" Caprice Young, CEO of Magnolia Public Schools and a former LA Unified school board member, said at the time.
Rodriguez said each candidate for superintendent was asked during interviews about how he or she would deal with declining enrollment and the charter sector.
He said he recalled that King's answer then was in line with her public statements since her appointment.
King's daughters' educational experiences might give some insight into King's approach to charter schools.
At a town hall event in May at Nightingale Middle School, King told the audience she learned through her three daughters, whom she raised as a single mom, that one size does not fit all.
One of her daughters went to the all-girls, private Archer School in Brentwood, which King has said taught her the benefits of single-sex education.
"All three of them were different and really had different interests and different needs, and so that really became a part of me and my philosophy about making sure that we design, cultivate based on the school's needs and on a community's needs," she said.
An LAUSD lifer
King describes herself as an LAUSD "lifer." She has spent her entire career in the district. She attended district schools and even worked as a teacher's aide while a student at Palisades High School.
She said she didn't always aspire to be superintendent, even when she was a principal.
"It's something that just kind of evolved," King said.
King grew up in a largely middle-class and African-American neighborhood of South Los Angeles.
After graduating from UCLA, majoring in biology, she taught science and math at Porter Middle School in Granada Hills.
She was promoted to a coordinator for the math, science and aerospace magnet at Wright Middle School in Westchester and then served as assistant principal and principal at Hamilton High School in Cheviot Hills.
She then joined the ranks of LA Unified administrators in positions heading the division of student health and human services, as interim chief instructional officer for secondary education, and was superintendent of a western and southwestern region of the district.
She then was chosen by Cortines to be his chief of staff. She served as deputy superintendent under John Deasy and was named chief deputy by Cortines in October 2014 when Cortines came back to the district to replace Deasy, who resigned under pressure.
She served under two very different superintendents and carried out their vision for the district.
She told the Los Angeles Times she learned to "overly communicate," particularly with the Board of Education, from Cortines, and she learned from Deasy's "unrelenting focus on youth and poverty."
As she moved up the ladder, she said people began asking her if she had thought about becoming superintendent. Once her daughters graduated from school, she gave it more serious thought, though she imagined she might have to leave LA Unified to do so.
"I was as shocked as everyone," she said of being the board's pick.
In her 11 months as superintendent, King has visited about 100 schools, according to a district spokeswoman, conducting a "listen and learn" tour to hear from students, teachers and parents. Observers say this is reflective of her collaborative style. She doesn't want to impose her own vision on the district; rather, she wants the mission to reveal itself.
When she visits schools, she's treated like a rock star. Students and staff ask to take selfies with her. On the stage of the Garfield High School auditorium where she gave the "state of the district" speech in August, she crouched down to pose for selfies, flashing a bright smile.
Having worked in the superintendent's office before she took the job, she knew that it would be a 24/7 job.
"I think the difference for me has been the publicness of the position and how recognizable I have been when I go different places, and that basically what I say, people hold on to, and you kind of know that from a distance, but until you're actually in the position, it becomes more real to you," she said.
At a strategic planning retreat this fall, board president Steve Zimmer told King that teachers have more confidence in her than any other superintendent that he's worked with in his 17 years in the district.
"You inspire trust amongst our ranks," he said.
Siart, who was a candidate for LA Unified superintendent in 1997 and founded ExED, a nonprofit organization that provides back-office services for charter schools, said the school board smartly appointed an insider to the position.
In his observations of King and her team, he said he has seen a lot of people connection.
"They selected someone who really knows the people, who knows where things are and knows how to get things done," Siart said.
Speaking for the underdog
In a news release announcing Castrejón's appointment as GPSN's executive director — just 48 hours after the school board voted to oppose the early draft plan for charter expansion — Castrejón said she was looking forward to working with King "as we seek to improve education for all students throughout the district."
"I think their background and their experience allowed them to feel comfortable that they were both trying to achieve the same objective," Siart said of the first meeting between King and Castrejón.
In her semester of college and first months living in the U.S., although she was a strong student, Castrejón said she felt like she was mute and was self-conscious about her English skills. She was a work-study student and paid her way. It was very tough, she said.
She, like King, grew up in a home where it was expected that she would go to college.
She said she has always been someone who was interested in equity and those who had the least.
When she was in seventh grade, school officials decided for the first time that the students could go on an out-of-town field trip, but they had to pay for the trip themselves or they couldn't go. When there were students in the class who couldn't afford the trip, Castrejón said she banded together her classmates and they smashed their piggy banks so everyone could go.
"We're all in this together," she remembered telling her classmates.
It was perhaps then that her lifelong passion of speaking for the underdog began.
She describes herself as a storyteller by nature and an advocate by vocation.
She stumbled upon education reform while she was a doctoral student in El Paso, Texas. She started working to organize parents for the Alliance Schools Initiative.
Castrejón is also a single mom. Her son is in sixth grade in Burbank Unified. At the GPSN town hall event, when a mom said she had trouble helping her son with his homework, Castrejón said she could relate.
"I can't keep up with my sixth-grader's Common Core math," she said. "Let's just say that's not a strong subject."
"What you want is somebody that has special talents," said Siart, who was part of the team that hired Castrejón. "In her case, she has very strong speaking and talking-on-your-feet skills, and part of that is because you have to have a thick knowledge base and you have got to be good at it."
He said she is good with people and can recruit talented people to her team because she has knowledge and passion.
"She has an absolutely strong belief in exactly where we're going, and that's necessary," he said.
In May, a few weeks before GPSN came out with its new plan, the school board unanimously directed the superintendent to come up with strategies to replicate high-performing schools in areas of high need and to "seek outside support for the funding of such replication," seemingly aligning directly with GPSN's mission.
Rodriguez said by working with Castrejón, King is carrying out the board's directives through the resolutions.
Despite the announcement that it was investing in district schools, some have doubted the sincerity of GSPN's plan.
Zimmer told the LA Times: "I am skeptical that opening dozens or hundreds of new schools is the answer. Any effort at any large-scale expansion of charter schools within LA Unified is a signal that whoever is behind that expansion is purposely and intentionally trying to bring about the end of this district."
Rodriguez said he understands why board members might be skeptical, because they are elected officials who are held accountable. But he said he's more optimistic about the collaboration than skeptical.
"We can't have any outside organization be the person that drives it," he said.
Flores said that in joining the GPSN board of directors, she committed herself to making sure the nonprofit distributes an equal amount of money to district schools and the charter sector.
Siart said there's still much work to be done in the execution of the collaboration with the district.
"Our interests are aligned," he said. "I am hopeful."
Eyes on L.A.
School districts across the nation are trying to forge a new path as charter schools have grown in the past three decades and enrollment in traditional schools has declined.
Robin Lake at the University of Washington's Center for Reinventing Public Education has been at the forefront of research on charter and school district collaboration.
She said those in education around the nation are looking at Los Angeles and the partnership with GPSN.
Traditionally, nonprofits will either create more high-performing charters or give money to improve district schools, Lake said.
"The support organizations don't typically come together around this common cause in the way LA has," Lake said.
"I haven't heard before about a nonprofit-led effort around replicating great schools in districts and charters."
Charters have expanded their high-performing schools, which is the model of charter management organizations, but districts have often just accepted that some schools are high-performing and everybody wants to get into them.
"I like [that] the attention is moving now toward more of the great schools rather than just focus on closing down low-performers," Lake said.
The Eli and Edythe Broad Foundation, which contributes to Great Public Schools Now, also funds Spanish translation on LA School Report en Español. The Walton Family Foundation supports The 74, parent of LA School Report.
Support The 74's year-end campaign. Make a tax-exempt donation now.