Sandelius: Schools Were Caught Short When the Pandemic Hit. We Must Plan Now So We're Not Scrambling Again When They Reopen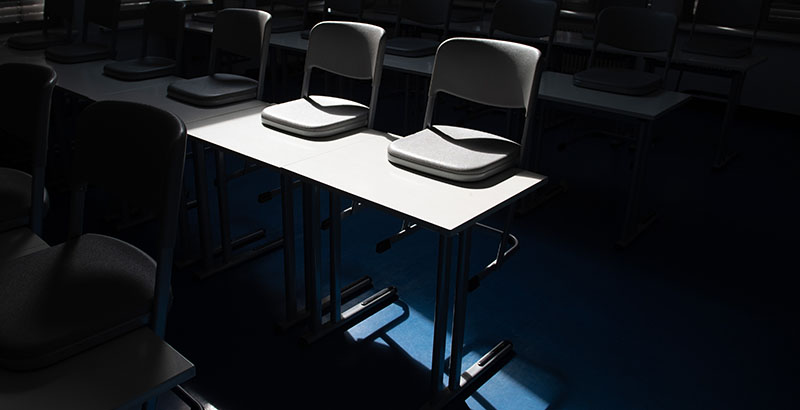 Our education communities are caught in a potentially long-lasting period of transition. Schools as we knew them were suddenly shuttered, and we're faced with providing education in a context that reveals just how inequitable our prior systems were. The overwhelming uncertainty and constantly changing landscape make it incredibly challenging to plan for what's next.
Research shows that as the number of schools a student goes to increases, the odds of earning a high school diploma decrease and the chances of dropping out or earning an equivalency diploma rise. While these studies are typically conducted with students who transition between many different schools, there are lessons that pertain to today's educational landscape. Right now, and when they return to school, students may experience similar challenges, and it is the responsibility of educators, families, administrators and policymakers to start planning for the transition back to school as soon as possible to mitigate the risk of having a generation of children fall even further behind.
That's not to say teachers should stop serving students remotely, but it isn't possible for educators (and parents-turned-teachers) to do it all. To minimize the potential damage of school closures for all students, especially the most marginalized — those from low-income communities, African-American and Latino students, and children with disabilities — there are steps we can start taking now to prepare for when schools reopen: Work collaboratively, design equitable policies and create a plan for every student.
Work collaboratively
For students who are exposed to multiple transitions — in temporary housing, foster care or the juvenile justice system, for example — the most successful programs are those that start early, building relationships that facilitate free and regular communication across school communities (teachers, administrators, families). This creates trust and ensures that everyone is on the same page as to what the students need during times of transition.
Improving collaboration now will maintain the continuity and structure that benefit everyone throughout these uncertain times and will be critical when schools reopen. Parents can continue encouraging children to keep up with remote learning; educators can focus on teaching resiliency and skills needed for dealing with change; administrators can create policies and contingency plans to transition more seamlessly back to school settings. Collaborating now honors the expertise of all stakeholders and facilitates collective work to get schools and students back on track later.
Design equitable policies
Right now, remote learning varies from district to district and from school to school. Some are not offering any distance learning, while many are still struggling with electronic formats. But at schools that were able to quickly move to the delivery of grade-level content, students with disabilities are receiving additional support and staff are still collaborating during what would have been planning periods. Overwhelmingly, schools that had the most robust systems for serving students with varied learning needs before closing have been able to provide more continuity and structure amid school closures.
It may be tempting to wait and see what the summer (and potentially fall) brings and then resume business as usual when schools reopen. But rather than return to the status quo, let's take stock of where we are now, value and build practices that embrace equity and get rid of everything else. Many students will have some degree of learning loss; most will need explicit social-emotional skills building. Administrators should begin planning now to speed the pace of learning and catch students up with the natural cadence of the school year. For example, lengthening the school day, offering Saturday classes, using gamification and bringing in specialists may be in order. Schools that plan for a sequenced, long-term approach to what learning could look like will do more to build continuity and educational stability.
We have an advantage right now — processes that used to be driven by inertia are now at a standstill, and many educators are generating creative ideas for building new policies to support equity. Focusing on students at the margins will ensure that no child falls through the cracks and will build programming that works for everyone.
Create a plan for every student
As soon as possible, administrators should start developing processes that provide guidelines for conducting recovery planning, setting clear expectations and setting aside resources to help transition students back to supportive learning environments, whether it's in a school building or a hybrid of in-person and remote education. This sort of recovery planning is a chance to convene students, families, teachers, counselors, aides and other school staff to get a better sense of the students' academic progress while schools were closed, set learning goals, and determine which additional services are required. It is possible that every student will need increased support, such as time with a counselor, explicit instruction around school structures/norms or time with a reading specialist upon returning to school.
A recovery plan should be a living tool, with coaches or other mentors helping to ensure that each plan is implemented and adjusted as necessary. Getting the right set of supports in place might require some trial and error, so it is essential to quickly identify what is working and what isn't and then use the information to change course when needed. Educators are already used to individualized planning for students receiving special education supports; now is the time to flex those muscles and meaningfully plan for the needs of all students when school buildings reopen.
We had little time to plan for shutdowns, and we're left struggling now, doing what we can. With so many uncertainties, it feels hard to focus on what's next — but we know school will reopen and that doing right by our students will require well-planned transitions that compensate for potentially substantial learning loss. Working together, crafting policies with our most diverse learners in mind and engaging in individualized goal-setting for every student will change the trajectory for millions of kids. Starting the hard work now may ensure that when we do return, we're not left scrambling again.
Sarah Berger Sandelius is founder of The Ability Challenge, which provides tools and information that close the gap between compliance and quality. She also serves as an independent strategic consultant to schools, districts and nonprofit organizations through her firm, FlipTurn Education Consulting.
Get stories like these delivered straight to your inbox. Sign up for The 74 Newsletter