Sandelius: Collaboration, Consistency, Continuity Are Keys to Adjusting and Making up for Lost Learning as Schools Reopen After COVID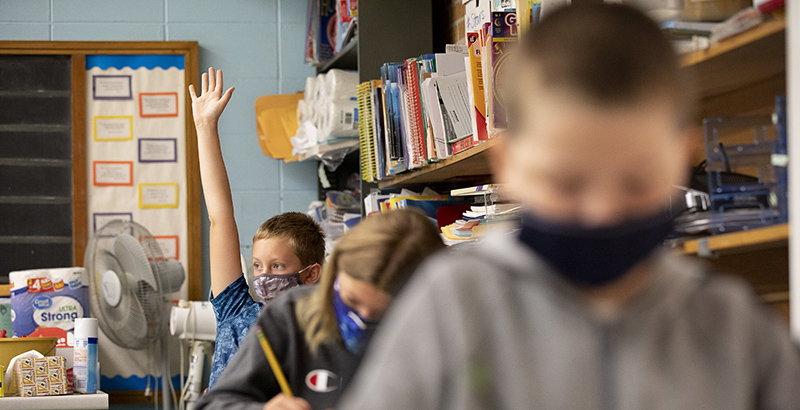 One year ago, when school buildings shuttered due to COVID-19, the education community was immediately confronted with the task of reimagining what schools must look like to ensure students were getting what they needed despite what was happening in the world. Schools were forced to reevaluate and restructure educational services while having to adjust, sometimes by the minute, to the latest health mandates and guidance.
Now, a year later, with schools in various stages of reopening, we have an opportunity to reflect on the elements of COVID-era schooling that are working for students and educators. This is our equity moment, a chance to build back with a focus on supporting the most marginalized and diverse learners.
One pocket of promise? Collaboration.
As a nonprofit school support organization, The Ability Challenge has worked with schools and educators who, because of stronger collaborative practice pre-COVID, were able to transition to remote and hybrid instruction more seamlessly, supporting sustained student learning and continuity in working conditions for their educators. And throughout this past year, schools that have embraced community and doubled down on working together to ensure students, families and staff are getting what they need have been better able to adjust procedures when faced with new pandemic realities and/or bring students back to buildings safely, when appropriate.
Collaboration between educators and with families is certainly not new. Countless studies prove that collaboration has tremendous benefits for instruction, service delivery and equitable education for diverse learners, especially students with disabilities.
Students with Individualized Education Programs often have a broad range of needs that extend beyond academics, and shared efforts between the special education and general education teachers allow for more effective support, with responsibilities divided across roles. Successful collaboration happens when teachers work together to share the workload and delegate tasks according to the personality and expertise of each team member, instead of duplicating efforts. When educators work together, they build relational trust, which has significant impacts on both job satisfaction and performance.
All of which raises the question: Are all forms of collaboration created equal?
Not really. Particular collaborative practices focused on creating consistency across classroom and school settings have proven helpful. Consistency and continuity, especially for students who require the most tailored support, means ensuring that all of a student's teachers are engaged, directly or indirectly, in planning toward specific learning goals. A shared vision for collaboration keeps the work focused on students and their needs. The same case can be made for implementing and monitoring the effectiveness of student interventions. A great behavioral intervention can do wonders for one teacher who identifies the root causes or triggers of a student's disruptive behavior, but use that intervention across all the student's teachers and classes, and see the student thrive. Carrying over strategies helps students acquire new skills and apply them in other classes and environments. For students with disabilities, this may be a particularly challenging task, so when they experience more consistency in the school setting, it gives them additional opportunities to practice and increases their chances of using those skills beyond school. The key is tapping into each educator's expertise, planning together and regularly reviewing implementation and impact data.
Creating that coherent experience for students includes engaging parents and families in instructional planning. There is urgency in these relationships now, as we navigate unprecedented conditions for teaching students. Family/school trust and collaboration can lead to meaningful understanding of where students are struggling, and it can capture moments of opportunity. For example, some parents of students with disabilities say their children are thriving with remote learning because they don't have to navigate sensory-heavy school hallways or manage the social challenges of working in groups. Building sustainable family partnerships that have positive impacts on students includes understanding one's own background and lens and connecting with families from a place of empathy. Asking families how they'd like to engage, operating with transparency, building connections and empowering their voices at the table can help build that team approach to planning, especially as schools reopen with COVID-related processes and procedures in place.
Collaborative practices are happening all around us right now, but being more intentional about using collaboration to create more consistency and continuity is essential for meeting the needs of diverse learners, especially as we consider accelerating learning as school buildings reopen. No doubt it has been a tough year, but it's time to enter recovery promoting practices that help educators work better together, empower families to be part of the solution and drive results for all students, especially those who need it most.
After nearly 20 years in education, as a lawyer and special education administrator, Sarah Sandelius founded The Ability Challenge, a nonprofit partnering with educators to develop strong, efficient systems that meet the needs of students with disabilities in inclusion settings. The Ability Challenge recently developed an asynchronous online course that supports general education teacher practice with diverse learners.
Get stories like these delivered straight to your inbox. Sign up for The 74 Newsletter