Sahm: New NYC Computer HS Pairs Charter School Flexibility With Career & Technical Education. Charter Leaders Should Take Notice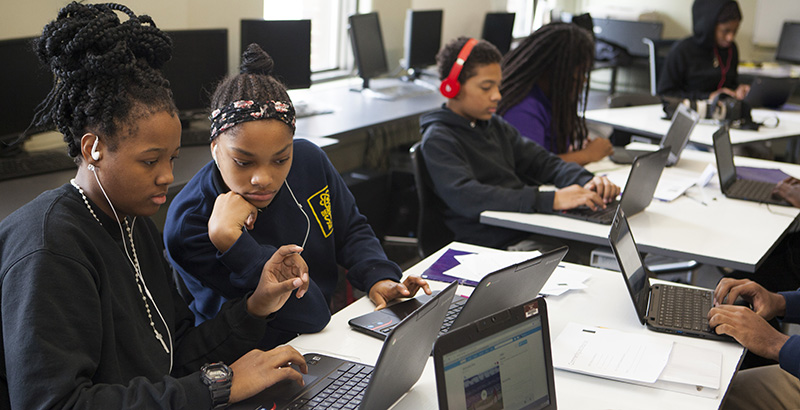 When the Urban Assembly High School for Computer Science opens Monday morning in the South Bronx, it will be New York City's first charter school for career and technical education. It's an important milestone: CTE is a promising vehicle for students to build successful futures — and charter schools are uniquely positioned to deliver on that promise.
The city's CTE high schools have more than tripled in number in recent years. Of the roughly 450 city high schools, 47 are dedicated to CTE. These aren't the "voc-tech" schools of old, into which academically struggling students were often shoved and poorly served. Today's best CTE schools combine strong academics with work-based learning and industry-recognized skills certification.
The nonprofit Urban Assembly has been at the vanguard of the city's CTE renaissance. Its first CTE effort was the Harbor School on Governors Island, offering programs in fields ranging from vessel operations to marine biology. Today, Urban Assembly's 22 middle and high schools include eight CTE schools focusing on everything from health care to emergency management to 3-D printing.
The newest addition to the Urban Assembly network, Comp Sci High, will offer a traditional academic curriculum side by side with training in computer science, and students will graduate with both a high school diploma and industry certifications. Partners are still being secured, but the plan is to give students work-based learning experiences in New York's booming technology sector.
Comp Sci High is already making waves in the South Bronx: The school received more than 1,000 applications for its initial 110-student freshman class. Given the current debate over the city's selective-admission schools, it's worth noting that Comp Sci High is unscreened and its incoming class reflects the Bronx's racial, economic, and academic diversity.
Comp Sci High will be Urban Assembly's first charter school. Kristin Kearns-Jordan, the network's CEO, says: "We're excited about the flexibility that the charter structure will provide as we recruit teachers who deeply understand the computer science field and as we create work-based opportunities for our students." Asked if there's resistance from educators in the network's other district schools — which, unlike the charter school, are unionized — Kearns-Jordan acknowledges some grumbles but says Urban Assembly is uniquely positioned to "build bridges" between districts and charters.
As Kearns-Jordan notes, the freedoms of a charter school structure are well-suited to CTE. The longer school day and year that charters typically provide allow time for everything that CTE students must accomplish: earn academic course credits, prepare for state Regents exams, fulfill work-based learning requirements, and obtain industry certifications. (To be fair, district schools can negotiate with the teachers union to extend school hours, but it's often difficult and schedules are much more constrained.)
Comp Sci High will utilize a 9-to-5 school day and 12-month school calendar to implement its novel curriculum. All students will have daily computer science classes. Ninth- and 10th-graders will also take a specially designed two-year physics and engineering course. Eleventh-graders will major in networking, security, computer engineering, or web development.
The year-round model allows for summer work experience. Even at the city's strongest CTE schools, internships, especially paid ones, are hard to find. Comp Sci High will attempt to find summer employment for every student — from basic summer jobs for ninth-graders to tech industry internships for 11th- and 12th-graders. (Students not making sufficient progress during the traditional school year will receive remediation over the summer.) A full-time director of partnerships will secure internships and other work-based learning opportunities.
Charter flexibility also makes it easier to bring industry experts into the classroom. Charters can, for example, offer a computer scientist a slightly higher salary than a first-year teacher would normally make. In addition, charters offer more leeway when it comes to state requirements for teacher certification, which can take more than a year of classwork to acquire.
Shilpa Agrawal, an MIT graduate who left her job at Google to teach at Comp Sci High, says "the direct pathway" into a school whose mission and leadership she found inspiring made teaching a "more attractive option." She intends to become a state-certified CTE instructor but is pleased to be able to do so on her own timeline.
David Noah, Comp Sci High's founding principal, holds a law degree from Yale and a master's in education. He's taught math at district schools and charters and served as a Success Academy middle school principal. Noah notes that most charters, locally and nationally, have focused on a "college for all" model: getting kids from underserved communities to and through college. But even the best charter schools achieve this goal only 60 percent of the time. "That's an incredible achievement," notes Noah. "But what about the other 40 percent?"
It's not that Noah doesn't want his students to go to college. He envisions most obtaining four-year degrees. For some, however, "a high-quality two-year program might be a better fit," while others might defer college and use a technical certification to work for a year or two before continuing their education. "There are many paths to a successful life," notes Noah, "and kids deserve access to all of them." He's planning a sophisticated counseling program to help each student chart the best individual path.
Most of all, Noah sees his school as a "good value proposition." Computer science is where the jobs are, especially in New York, he explains: "Finance companies are tech companies; health care companies are tech companies." He notes that a third of the employees at Goldman Sachs, one of Comp Sci High's industry partners, are computer engineers.
Other industry partners include Verizon, Univision, and BlackRock. Board members from Google, Microsoft, tech venture capital firm Union Square Ventures, and video game company Muse Games will help mentor students, secure internships, and oversee design competitions for students to apply their knowledge in a realistic context.
The best CTE programs feature strong industry engagement. In New York, companies are slowly beginning to play a role in preparing the workforce of tomorrow; the number of CTE internships has doubled in the past three years.
Tamar Jacoby, president of Opportunity America, a nonprofit that promotes economic mobility, has found that there are now about 100 CTE charter schools across the country. But that's just a small fraction of the 7,000 charter schools nationwide. "The charter movement is coming late to CTE," says Jacoby. "But that's starting to change. A lot of exciting work is being done around the country."
Some in the charter sector strongly resist the combination of charters and CTE, worrying that it will lead to lowered expectations for students. But New York's CTE high schools now boast higher graduation rates than traditional high schools, and national studies suggest positive long-term outcomes for CTE students regarding postsecondary education attainment, employment, and earnings. (A major MDRC/NYU study of New York City CTE student outcomes is underway.)
Policymakers and philanthropists should keep a close eye on Comp Sci High. Hopefully, the school will deliver on its ambitious plans and illustrate how the creativity and flexibility of the charter model can help CTE schools reach their full potential. Perhaps, too, Comp Sci High will encourage many others in the charter sector to think more broadly about all the pathways to prosperity available to students.
Charles Sahm is a senior fellow at the Manhattan Institute.
Support The 74's year-end campaign. Make a tax-exempt donation now.